Safe Water in the Era of Climate Change
Podcast: Play in new window | Download
Safe water mission
(January 20, 2019)  Question: what local organization is charged with keeping our water safe, has an annual budget of $1.2 billion, employs a staff of about 2,000, makes decisions that affect nearly 10 million residents, and flies beneath pretty much everybody's radar?
Can I see some hands? Bueller? Bueller?
Of course, I'm referring to the Metropolitan Water Reclamation District of Great Chicago, or the MWRD, as most of us fondly refer to it. To get a better idea of the function of this elected body, remember that it was originally called the Sanitary District of Chicago when it was created in 1889. It now encompasses 883.5 square miles of Cook County. It states as its mission:
The District will protect the health and safety of the public in its service area, protect the quality of the water supply source (Lake Michigan), improve the quality of water in watercourses in its service area, protect businesses and homes from flood damages, and manage water as a vital resource for its service area.
For starters, it runs seven water reclamation plants, controls the flow of Lake Michigan water into the Chicago River system, and manages the District's Tunnel and Reservoir Project (TARP or Deep Tunnel), one of the country's largest public works projects for pollution and flood control. TARP consists of four tunnel systems total 109 miles of tunnels, 8 to 33 feet in diameter and 150 to 300 feet underground. The Majewski, Thornton and first phase of the McCook reservoirs are in operation. The second phase of the McCook is scheduled to be complete in 2029.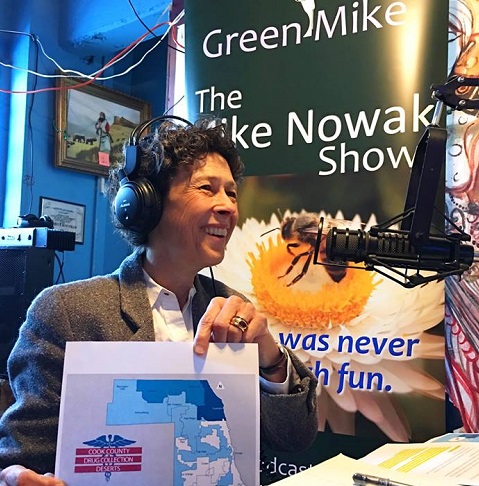 Like many other governmental bodies, the MWRD held elections in November of 2018. The top vote-getter once again, with more than a million Cook County votes, was Commissioner Debra Shore, who was elected to her third six-year term. She visits us this morning, and I can't believe that it's been more than two years since she was last on the program. Among the topics I hope we can cover:
The appointment of Brian A. Perkovich as new executive director of MWRD, and the election of Kari K. Steele as president, what that means for the direction of the organization, and the cloud under which former executive director David St. Pierre resigned from the executive director job last year.
The possibility of further disinfection technologies at its water reclamation plants, particular the Stickney facility.
Why the MWRD voted to authorize an easement across the Canal Shore Golf Course on the Wilmette-Evanston border that reversed an earlier decision and would cause potential damage to wetlands and open space in the area.
Has climate change rendered the Deep Tunnel project obsolete before its completion? Does the same thing apply to the effort to reduce the number of combined sewer overflows (CSOs)?
And here are some goals that Debra Shore states on her own website and in an interview for the Chicago Sun-Times she did as a candidate for the MWRD.
Establishing an independent inspector general for MWRD to provide additional oversight, transparency and accountability for a $1B annual budget
Keeping an eye on the effectiveness of the Watershed Management Ordinance (WMO) in Cook County
Training young people to join the water and wastewater workforce of the future
Of course, there's no way we'll get to all of this in a half hour conversation. But we'll give it a go. We hope you can tune in.
Back to Perennial Basics
The Perennial Plant Association has been around officially since 1984, with the expressed mission of connecting professionals and providing education in the service of…well, herbaceous perennial plants. Now the PPA is teaming with The Morton Arboretum to present a day long symposium called "Back to Basics." The event happens on Saturday, February 2 from 8:30 a.m. to 3:30 p.m. at the Thornhill Education Center The Morton Arboretum, Lisle, IL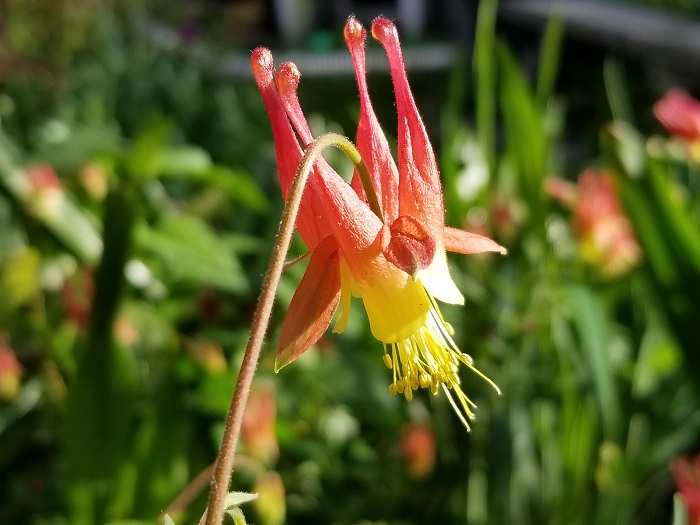 The PPA says that
Some of the best writers and most knowledgeable experts in the business will be here, and you're invited to listen, learn, and ask questions. Horticulture professionals and garden enthusiasts can meet well-known authors, discover great plants, and get ideas and inspiration for the 2019 growing season.
There are still some seats available (for a fee), and you can register for the symposium here. Today, with the event a couple of weeks away, we thought it would be a good idea to talk perennial plant gardening with two women who will be making presentations at The Morton Arboretum.  
We start with Susan Martin, who you can follow at Gardener Sue's News. She is also a blogger for Garden Crossings. She's doing a presentation called "Lessons Learned Under the Trees," and if you haven't figure it out, it's about
Shade. Most of us have it, but many of us are unsure what to do with it. Over a decade of experience gardening in every degree of shade near the Lake Michigan shoreline has taught Susan many lessons and ignited her passion for shade gardening. Much of what she has learned, you'll never find in books about shade gardening, and she's ready to share the inside scoop. Learn how to take advantage of the conditions you have, not those you wish you had, and discover life beyond hostas in the shade garden.

She is joined by Laura Deeter, PhD, Professor of Horticultural Technologies, and Program Coordinator for Landscape Horticulture and Horticulture Science at The Ohio State University. She says that her job is "teaching landscape design, construction, plant identification and whatever else they need me to teach. And I'm a self-professed plant geek who then takes all the rules of design and breaks them in my own garden." She also notes that she is sometimes known as "The Garden Hoe."
Uh…in that case, it's probably a good thing that her talk, as she describes it,
is a humorous take on what we do as designers, both the good and the bad/silly. It will take the audience through some of the basic design concepts by showing various gardens I've visited throughout the country. My point is to show landscape design as an art form, and art is very personal to the viewer.
Hmm. Do you think she's seen my yard?
I have a feeling that I'm going to get a taste of my own medicine this morning, which is not necessarily a bad thing.