Why Recycle? Hosta Finale
Why can't we figure out how to recycle?

(September 2, 2018)  Anybody who has listened to my show over the years know that I have a particular passion for trying to solve our recycling problems. In the interest of full disclosure, for about a decade I was on the board of the Chicago Recycling Coalition, and for six year of that time, I was it's president.
During that time, did we solve the recycling problem in Chicago?
AHAHAHAHAHAHAHAHAHAHAHAHA!!!!!
Whew! Sorry! I kind of lost it for a few moments. Let's get back to reality.
Chicago has long had a reputation as a city that can't figure out how to recycle. Its own numbers bear that out. The official citywide recycling rate in 2017 was a dismal 9.21%. And the City of Chicago hasn't even bothered to post any numbers for 2018! By comparison, San Francisco claims to have an 80% diversion rate, meaning that that some 80% of its trash and/or recycling avoids ending up in landfills.
But numbers have a way of dodging the truth, and there are people who say that the diversion success of cities like San Francisco has a lot more to do with the way they count their disposables than with what is actually diverted.
In fact, there are people who have been claiming for decades that there is little point to recycling at all.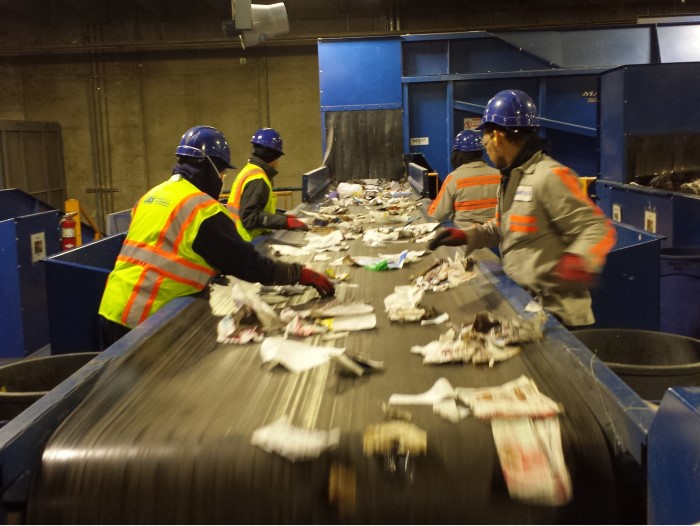 According to the E.P.A.'s estimates, virtually all the greenhouse benefits — more than 90 percent — come from just a few materials: paper, cardboard and metals like the aluminum in soda cans. That's because recycling one ton of metal or paper saves about three tons of carbon dioxide, a much bigger payoff than the other materials analyzed by the E.P.A. Recycling one ton of plastic saves only slightly more than one ton of carbon dioxide. A ton of food saves a little less than a ton. For glass, you have to recycle three tons in order to get about one ton of greenhouse benefits. Worst of all is yard waste: it takes 20 tons of it to save a single ton of carbon dioxide.
And yet, when China announced on January 1 of this year that it would stop accepting much of the world's scrap, there was much hand wringing in and around the recycling industry. Some of that concern is misplaced, according to Adam Minter, who writes for Bloomberg News and who is the author of Junkyard Planet: Travels in the Billion-Dollar Trash Trade. In a recent online conversation with Bloomberg Opinion columnist Faye Flam, he stated,
I think there are two misconceptions surrounding responsibility for the plastics and recycling crisis. The first is that it originates out of individual actions. In fact, less than 10 percent of the waste generated in the U.S., Canada, and the EU comes from households. Instead, it's further up the production chain — farms, factories, distribution points, retailers. So that means addressing the problem more systematically.
The second misconception is that developed countries are the source of the problem. A 2015 study points out that the vast majority of ocean plastics actually originate in developing countries without good waste management systems. No trash pickups, informal landfills. By contrast, the U.S. contributes roughly 2 percent of the problem. That's too much. But individual actions in the U.S. won't change much.
Minter elaborates on that second point in another story, titled How to Solve the Plastic Crisis:
Just eight countries in the region are responsible for about 63 percent of total plastic waste flowing into the oceans. Little of that junk has been exported by rich economies. Instead, it's almost solely generated by Asia's newly minted consumer classes, the vast majority of whom lack access to garbage collection, modern landfills and incineration. Any progress in reducing ocean plastic will have to start with them.
A boom in garbage is almost always the result of two related phenomena: urbanization and income growth. Rural dwellers moving to the city shift from buying unpackaged goods to buying stuff (especially food) wrapped in plastic. As their incomes rise, their purchases increase. That growth in consumption is almost never matched by expanded garbage collection and disposal. In typical low-income countries, less than half of all garbage is collected formally, and what little is picked up tends to end up in unregulated open dumps. In 2015, scientists estimated that as much as 88 percent of the waste generated in Vietnam is either littered or tossed into uncontained dumps. In China, the rate is about 77 percent. By comparison, the U.S. rate is 2 percent.
If all of this is true, why do the debates about recycling rage on? There are recycling myths to be debunked; there is "wishful recycling," a term that I have only recently become aware of; there is the argument that because the same companies that own landfills are also recyclers, there is a conflict of interest that leads to lackluster results; and more.
Which leads us to Marta Touloumes Keane, who is Recycling Program Specialist for Will County, just outside of Chicago. She has spent the last couple of decades working in solid waste disposal operations. One of the ways she works with citizens is through WillCountyGreen.com, which offers information  to residents of all ages, businesses, schools and community groups.  This information provides techniques to reduce energy consumption and provides examples of numerous ways anyone can do more to green their life.
She writes that Will County has been doing
textile collection since 2010 – started with Gym Shoes in 2005. We have a diversion rate average of 43% – passed a new Solid Waste Plan Update in Dec, with a goal of 55% diversion by 2022. We own a landfill with methane recovery that currently powers about 3,000 homes annually. We use funds from the landfill to pay for one-day Household Hazardous Waste events, electronics collections, a pumpkin collection to encourage composting, a School Environmental Education person and much more!
Marta is also a past president of the Illinois Recycling Association, where I was a board member from 2016-2017. She knows her stuff, and it's great having her on the show this morning.
A Hosta Happening and the end of an era
If you're a horticulturist in the Chicago area, you know Rich and Susan Eyre. For thirty-five years, they have operated Rich's Foxwillow Pines Nursery in Woodstock, Illinois, where they have sold conifers and rare trees for retail customers and the wholesale trade.
Dwarf conifers are perfect for small urban or suburban gardens. Landscape size specimens are grown for the collector, homeowner, or landscape contractor/architect. We can provide the right tree for the right place for home owners, landscapers, landscape architects, rock gardeners, perennial gardeners, garden railroad enthusiasts, conifer collectors, arboretums, commercial projects, rooftop gardens, gardens with a small footprint, shady sites or full sun areas.
Each spring we get a shipment of mini conifers in small pots. These are perfect for container gardens, fairy gardens, model railroad gardens, and small rock gardens. These can also be used as beginning bonsai stock.
If you want even more information about growing conifers, check out Unique Conifers Make Gardens Special Handout.
Starting with Rich's stint in the Peace Corps in the 1960s, he and Susan have found ways to share their success with organizations like Heifer International and Mano a Mano International Partners, a small yet powerful organization working to improve lives in rural Bolivia. Previous efforts raised enough funds to build and dedicate a school in Sora Sora in honor of Rich's mother Margaret Eyre, who died a couple of years ago, but who was a key figure in the regular Hosta Happenings at the nursery.
They Eyres announced earlier this year that they would be hanging up their, uh, spades, so they are calling this the Hosta Finale. It happens Saturday, September 8, 2018 from 9am to 4pm at 11618 McConnell Road, Woodstock IL, 815-338-7442.

Hostas will be available from minis to large forms, with leaves of green or blue. Many other hostas have fabulous variegations of white, cream, or chartreuse. Bolivian handicrafts include scarves, sweaters, tablecloths, bags, coin purses, and more. Vases, frog figures, pots and other garden items will also be for sale.
As I said earlier, it's the end of an era, so you might want to stop by. Rich and Susan join us this morning to talk about the Hosta Finale and their plans for Rich's Foxwillow Pines Nursery.