A Species Friendly Holiday Season
Fishing and eating responsibly

 (December 16, 2016)  If you listened to The Mike Nowak Show on July 22 of this year, I suspect that, like Peggy and me, you learned a lot about about seafood. I could be wrong. Our guest that day was Dr. Nicolaas Mink, Chief Executive Officer of Sitka Salmon Shares, who waxed poetic about how sustainable fishing, social justice and even venture capitalism are all somehow related to something that ends up on your dinner plate.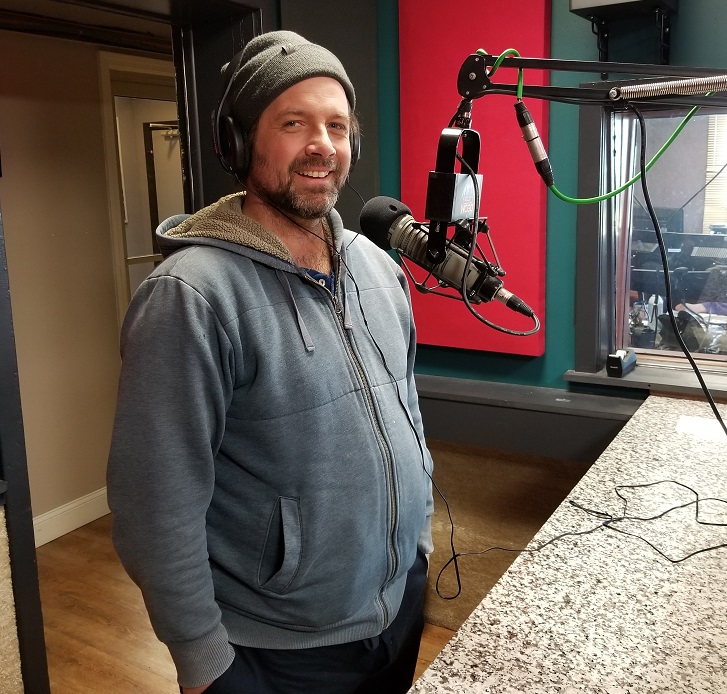 This is where, in the interest of full disclosure, I reveal that Sitka Salmon Shares is a sponsor of The Mike Nowak Show with Peggy Malecki. But I should also point out that we look for sponsors of products that we believe in. That might not be a good business practice for a radio program, but it does save us from answering questions like, "Why the heck are you letting those people advertise on your show?" It also makes it much easier for us to promote those products.
Here's one of the reasons why we love our relationship with Sitka Salmon Shares.
At Sitka Salmon Shares, we believe that sustainable food systems are built on the principles of accountability and transparency. Many of our members come to us because they know our current seafood system is broken—filled with rampant fraud, poor-quality fish, and, frankly, deceit. Almost monthly, a new study appears that suggests that somewhere between 20 and 60 percent of U.S. fish is mislabeled. This is a moral and ethical failure, produced by an opaque system that seizes opportunities to put profits ahead of the health of consumers and fishermen alike. We don't believe that this type of system is sustainable, which is why we commit ourselves to educating our members about the process of harvesting and distributing their fish.

When you purchase fish through Sitka Salmon Shares, you're becoming part of a CSF. If you're not familiar with that acronym, it stands for Community Supported Fishery. It's basically the same as a CSA–Community Supported Agriculture–but with fish instead of land-based farm food. And just like with CSAs, there are benefits to purchasing shares, just as there are challenges to both the consumer and the businesses. In the July 22 blog, I linked to the healthyish blog on the BonAppetite.com site, which outlined some advice about shopping for seafood. Some great advice.
The backdrop for a conversation about seafood must start with climate change. Reuters has a terrific series of articles called Ocean Shock: The Climate Crisis Beneath the Waves, that helps put this into perspective. In an article called Fleeing Fish, Upended Lives, they write,
Reuters has spent more than a year scouring decades of maritime temperature readings, fishery records and other little-used data to create a portrait of the planet's hidden climate disruption – in the rarely explored depths of the seas that cover more than 70 percent of the Earth's surface. The reporting has come to a disturbing conclusion: Marine life is facing an epic dislocation.
The U.S. North Atlantic is a prime example. In recent years, at least 85 percent of the nearly 70 federally tracked species there had shifted north or deeper, or both, when compared to the norm over the past half-century, according to the Reuters analysis of U.S. fisheries data. But this great migration is not just off the coast of America. Pushed out of their traditional habitats by the dramatically rising ocean temperatures and other fallout from climate change, summer flounder are part of a global disruption of marine species that threatens livelihoods, cultures and the delicate balance of the oceans themselves.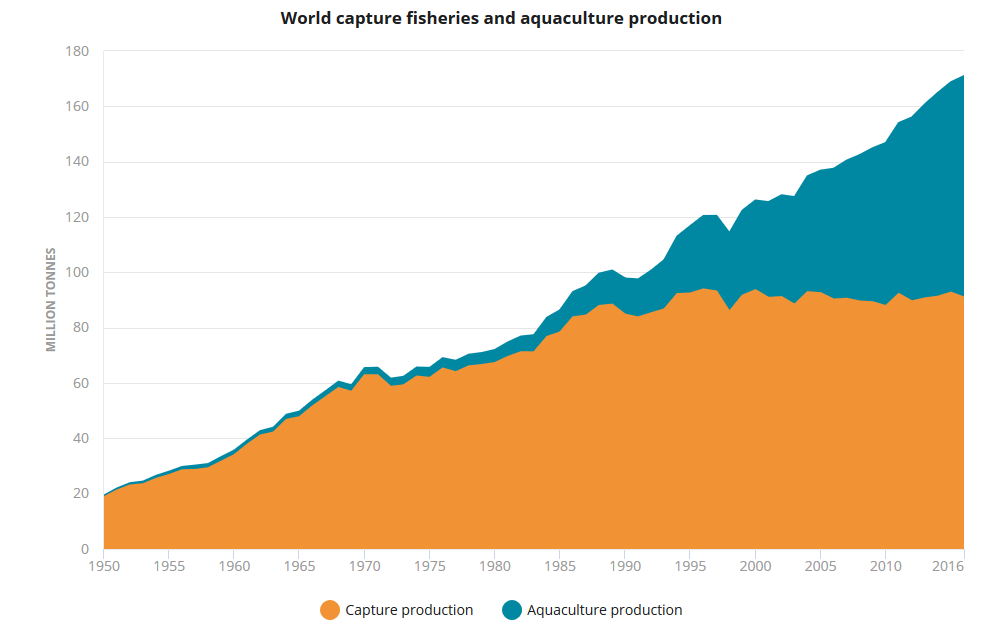 At the same time, over-fishing is taking its toll, though the rise of aquaculture–noted in this report, 2018 The State of the World Fisheries and Aquaculture, by the Food and Agriculture Organization of the United Nations–is hoping to bring that into some kind of balance.
And the Sustainable Fisheries partnership states that "our Target 75 initiative is challenging the global seafood industry to work toward the goal of seeing 75 percent of the world's seafood by volume produced in a manner that can be labeled sustainable or improving toward sustainability, all by the end of 2020.
That doesn't mean that we know what's good for us when it comes to protecting valuable species:
This past November, Alaska voted on Measure 1, an initiative brought to the ballot by nearly 50,000 signatures, my own included, to protect the state's salmon habitat. If Measure 1 had passed — it didn't — Alaska would have become the first territory in the world to treat each of its ocean-run streams as salmon waterways, ensuring healthy fish for generations to come.
This move to protect king salmon would have been timely for Puget Sound, where orca pods have experienced a precipitous decline. Just 75 of the black-and-white predators continue to cruise the waters outside Seattle, a 30-year low. Orcas depend on king salmon as their main food source, while Seattleites depend on the orcas for names of sports teams, transit passes and a sense of identity.
Since Sitka Salmon Shares works with Alaskan fishing companies, I'm sure that Nicolaas Mink will have plenty to say about that measure. And, best of all, he's in studio this morning!
Saving threatened species, one photo at a time
We have not one, but two people returning to the show to talk with us this morning. As I wrote in April of 2017,
What do you do when you're a photographer, self-professed lover of nature and live in a state that has 483 threatened and endangered species? You photograph them all, of course, and our second segment guest, Glenview photographer Carol Freeman, is on her way to do just that.
In 2004, Carol launched The Endangered Species Photography Project. She set the goal to capture and archive images of Illinois's fragile eco-system and the various species of animals, insects and plant that are struggling to survive. So far, she says, she's about a third of the way through the list.
You can have a lot of these images for yourself by visiting www.teamgreenweb.org. There, you'll find the new 2019 Calendar, as well as holiday cards, trading cards and more.
It's great to have nature photographer Carol Freeman back on the show this morning. It's her fabulous photo that graces the top of the blog post.