Saving Trees; Eating Animals
Podcast: Play in new window | Download
Welcoming Bartlett Tree Experts
(February 10, 2019)  The juxtaposition of the phrases "Saving Trees" and "Eating Animals" might seem a little jarring. But, in a sense, that's the way we roll on The Mike Nowak Show with Peggy Malecki. The first hour of our program today features an arborist from Bartlett Tree Experts. In the second hour, we switch gears and discuss animal welfare. From plants to animals, it's all about sustainability. So let's dive in.
Peggy and I started this year with some great news. The good folks at Barlett Tree Experts signed on with us for 2019 as a primary sponsor. They are an international company that has four offices and 80 tree care employees in the Chicago area alone. Their history goes back to 1907 when Francis A. Bartlett started the company in the New York area. The company now extends to more than 100 offices in the United States, Canada, England, and Ireland.
Bartlett is dedicated to developing environmentally sound products and promoting their use on our clients' properties. With the Bartlett Legacy Tree Program, Bartlett provides tree seedlings to help with reforestation efforts, and teaches people how to care for trees.
The backbone of Bartlett's work is science. Much of their research is done at The Bartlett Tree Research Laboratories and Experimental Grounds in Charlotte, North Carolina.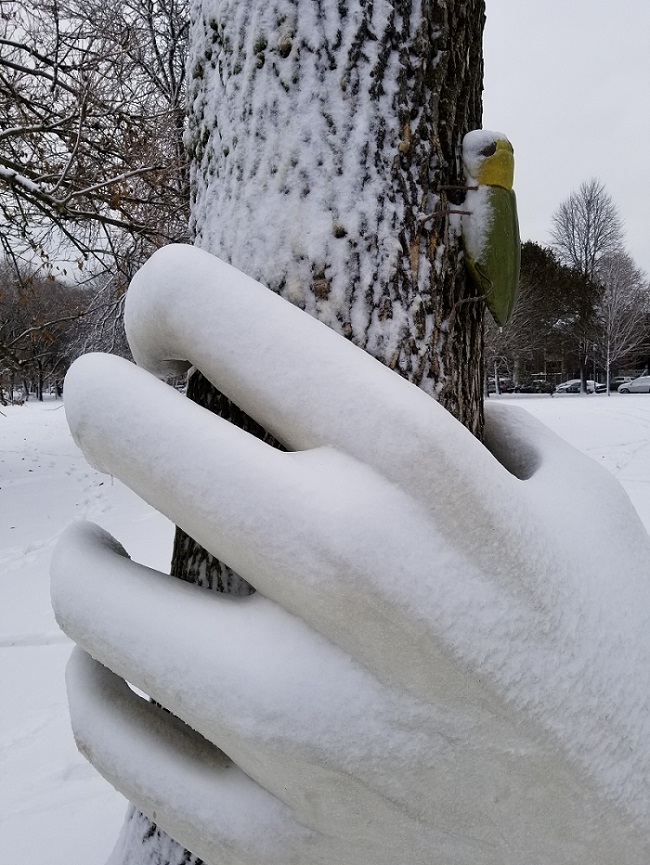 The Bartlett Tree Research Laboratories is capable of evaluating plant samples, culturing and identifying disease-causing organisms, identifying insects, and performing complete soil analysis services. Staffed with scientists in fields such as plant pathology, entomology, and horticulture, the laboratories advise our arborists on the latest advances in arboriculture for the benefit of our clients. Each year the clinic receives more than 7,000 plant samples for analysis for insect pests, diseases, and cultural and environmental problems. Over 12,000 soil samples are processed from our clients' properties annually.
In the course of this year, we will have regular visits from some of Bartlett's certified aborists. One of them is M.D. Skeet, known simply as Skeet, who appears on our show from time to time. Today, however, we welcome David Story from the Bartlett Northbrook office.
To begin, he has been a certified arborist for more than 30 years. He describes himself as "a son of an agricultural economist father, and a seventh generation family fruit farming mother." His earliest memories are about harvesting fruits and vegetables as part of a family of nine.
He graduated from Cornell University with an undergraduate degree in psychology. Later, he attended Cornell as a post-graduate in landscape horticulture.
That led to stints as a golf course greenskeeper, working in research rearing arthropod pests and growing tissue cultured plants. He also has experience working in garden centers and as a landscape contractor—both self employed and as a manager.
For the past 25 years, he has worked with Bartlett Tree Experts. In 2016, he received the International Society of Arboriculture (ISA) True Professional of Arboriculture award. And now, he plans to retire as quickly as possible and head up to Door County in Wisconsin.
But before he does, he will be discussing tree care with us this morning. Here are some of the topics we might hit.
Winter tree/shrub work
Tree Preservation
Tree Risk Assessment
Root Invigoration
Boxwood Blight
Size management of trees and shrubs
Conifer challenges
Pollarding trees
However, a lot of that is up to you. If you have tree care questions, we'll get to those first. The phone number is 877-711-5611. You can also write to us on Facebook and Twitter, and we might even glance at Instagram.
Eating Animals Screening and Fundraiser
Over the past couple of years, Peggy and I have been proud to work with a group called Crate Free Illinois. As they state on their website,
…factory-farmed animals are the most exploited and least protected group of animals on the planet……unfortunately, most meat eaters have no idea of what happens to food animals before they get to the plate.
There is something seriously wrong with a food system where the best day of an animal's life is the day that life is taken. Our purpose is to change this through consumer education, activism, and by supporting farmers who treat animals and the environment with respect.
That's it in a nutshell. I will phrase it in my own words. There is NO animal on this planet that is not worthy of respect. NO animal's life is worth less than any other life–and that includes human life.
Over the years, a number of documentary films have illustrated this fact. Many do it brilliantly. But apparently, it takes more than film making to change meat production practices in this country.
Eating Animals is a 2017 film by Christopher Dillon Quinn, narrated by Natalie Portman, and based on the 2009 book by Jonathan Safran Foer. That book was written in collaboration with Farm Forward, a group dedicated to creating strategies to promote conscientious food choices, reduce farmed animal suffering, and advance sustainable agriculture.
This Tuesday, February 12, Crate Free Illinois and The Humane League are presenting Reduce Farm Animal Suffering in Illinois:  "Eating Animals" Screening & Fundraiser. Following the screening, a panel will discuss the issues surrounding farm animal welfare. The panel will feature Bill Turck from Playtime with Bill Turck and Kerri Kendall as moderator. The panelists are
The Mike Nowak Show with Peggy Malecki is a sponsor of the event, along with Dovetail Brewery, 1800 W. Belle Plaine Avenue in Chicago, where the event will be held. The time is 6:30 to 9:30 p.m. on Tuesday, February 12, 2019. Today, we welcome Jessica Chipkin and Josh Richards to our program to preview Tuesday's event.
Meanwhile, it's good to see that at least one presidential candidate for 2020–Corey Booker–has been associated with a screening of Eating Animals. The intersection of meat production, animal cruelty, farmer exploitation and corporate monopolization is a complex one. I don't have time to go into all of it in this blog post.
However, it is encouraging that the new farm bill rejected some horrible anti-animal provisions by the horrible human, Representative Steve King of Iowa. And if you want to get a good sense of how monopolies are crushing farmers in America, check out this article. There's a lot to be discussed, and we promise to get to that on our show.
By the way, there will be another screening of Eating Animals on Saturday, February 23. It's part of the Annual Luncheon for Illinois Citizens for Clean Air & Water. That event will be held at Kickapoo Creek Winery, 6605 N. Smith Road, Edwards, Illinois 61528. For tickets, contact Karen Hudson, karenh@sraproject.org, or call her at 309-208-8846.
Their special guest will be Craig Watts, a former North Carolina contract poultry producer, who is featured in the film. He is now a consultant for Socially Responsible Agricultural Project (SRAP), and was named Whistleblower Insider's 2015 Whistleblower of the Year. He appeared on our show almost exactly a year ago today.