Bats: Perhaps the most misunderstood of all mammals

(October 28, 2018)  This is absolutely the best and simultaneously the worst time of the year to talk about bats. With Halloween a couple of days away, it isn't necessary for me to explain why it's the worst. But our most ridiculous holiday also presents an opportunity to dispel some myths about bats. Here are some from Bat Conservation International:
Blind as a bat
Forget it. Bats not only see as well as just about any other mammal, but most bats also use a unique biological sonar system called echolocation, which lets them navigate and hunt fast-flying insects in total darkness. Basically, the bat emits beep-like sounds into its path, then collects and analyzes the echoes that come bouncing back. Using sound alone, bats can see everything but color and detect obstacles as fine as a human hair.
Bats are flying mice
Nope. Bats are mammals, but they are not rodents. In fact, they are more closely related to humans than to rats and mice.
Bats get tangled in your hair
Get real. This was a common myth a few decades ago, but bats are much too smart and agile for that.
Bats are blood suckers
Well, there really are three vampire bat species (out of more than 1,300 bat species) that feed on blood; only one targets mammals. All vampire bats are limited to Latin America. Oh, and they don't suck blood, they lap it like kittens with milk. And a powerful anticoagulant found in vampire saliva, which the bats use to keep blood from clotting, has been developed into a medication that helps prevent strokes in humans.
All bats are rabid
Not even close. Bats, like other mammals, can be infected with the rabies virus and some of them are. But the vast majority of bats are not infected. However, a bat that can be easily approached by humans is likely to be sick and may bite if handled. Simply do not touch or handle a bat or any other wild animal and there is little chance of being bitten. Teach children to never handle any wild animal.  
To shed even more light on this much-maligned animal, we welcome Joy O'Keefe to the show today. Not only is Joy an Associate Professor in the Department of Biology and the Director at the Center for Bat Research, Outreach, and Conservation at Indiana State University, she just happens to be hobnobbing with 300 of her fellow biologists in Puerto Vallarta, Mexico at the annual meeting of the North American Society for Bat Research (www.nasbr.org).
We're very grateful that, before she grabs a flight back to Indiana, she is spending a few minutes to talk with us about this very important species. Why important? Well, did you know that bats are great plant pollinators?
There are more than 530 species of flowering plants that rely on bats as either their major or exclusive pollinators. Some of these plants include agave (which are harvested to supply the multimillion dollar tequila industry), bananas, and balsa trees (which produce the world's lightest timber).
Which takes us back to my opening premise, that this is the best and worst time to celebrate Bat Week. But since I have no say over when Bat Week occurs, I might as well give a shout out to the great folks in Will County, who are celebrating it with a website they call Let's Go Batty for #BatWeek. On that site, they list the bats that you are likely to find in Illinois:
Big brown bats
Hoary bats
Red bats
Silver-haired bats
Little brown bats
Tricolored bats
Evening bats
Indiana bats
Northern long-eared bats
Gray bats
Southeastern bats
Rafinesque's big-eared bat
Small-footed bat
Tune into the show to hear Joy O'Keefe tell us even more about these remarkable creatures.
The Green Living Expo is back!
If you're interested in learning about the latest in sustainable living, get ideas for energy saving, shop for green gifts, and want to view educational exhibits,, you need to join Peggy and me next Saturday at the McHenry County College Green Living Expo, 8900 US Hwy 14, Crystal Lake, Illinois 60012-2761, from 10am to 3pm. Here are some of the reasons to attend:
Clean transportation exhibit featuring electric cars (BMWs and Mini Cooper), electric bikes, charging stations, bicycles and bike racks
Plus Tesla Model 3s, Mitsubishi PHEV, a Volt, a Bolt and the Fox Valley Auto Club
Ask the Recycler! Chat with recycling experts from Chicago Logistic Service and Behr Iron and Metal from 11 a.m to 1 p.m.
Meet area college/university solar and super mileage team race cars and team members
McHenry County College Director of Sustainability Kim Hankins joins us this morning to preview this great event, and she says that she's excited about the…
Fish Tank!  2,500 gallons, IDNR brings fish to the college for the day and we get to enjoy and learn about what's in our waterways!  We are grateful to Sitka Salmon Shares and Magitek Energy solutions for helping to sponsor the tank!  Friends of the Fox will be there too to help you identify any fish that don't look familiar.
Branching off of that is our informational posters on sustainable seafood you will find around the Expo.  There is so much confusion about what seafood is safe to eat we plan to provide some information and spark some conversations. The Shedd Aquarium will be at the Expo too and will share information about the Seafood Watch app and their Shedd the Straw campaign!
Holding Chicago accountable for its failed recycling program
Less than three weeks ago, the Better Government Association ripped the cover off one of Chicago's worst kept secrets–namely, that in almost thirty years, the City has learned nothing about recycling, and has been, in fact, defrauding its citizens, who have been blamed for the lack of the program's success.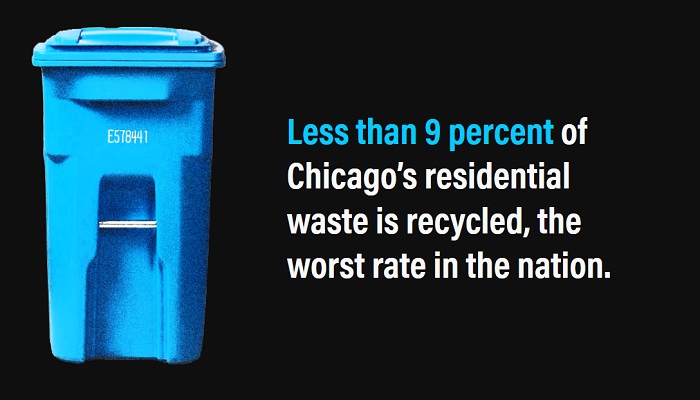 If you read the investigation by Madison Hopkins of the Better Government Association (BGA), you will realize that not only has the City of Chicago's "managed competition" recycling program been incompetently executed, it has allowed one of its contractors to game the system:
Under city rules, one plastic bag or food item improperly placed in a recycling bin could mean the whole bin is labeled "grossly contaminated" and its contents taken to a landfill.
Waste Management is the only recycling hauler that operates a for-profit landfill where a portion of the city's garbage is dumped.
That means the company — which gets paid city recycling fees whether its crews pick up a bin or tag it — gets paid again on those occasions when the contents of tagged bins are taken by city trash crews to its landfill, the BGA investigation found.
Since 2014, private and municipal waste hauling crews labeled at least 577,886 recycling bins as "grossly contaminated" with improper items, records show.
Of those, 514,239 — almost 90 percent — were tagged by workers for Waste Management, even though the company's green trucks cover only half the city.
That's enough Blue Cart bins to completely fill Wrigley Field from the playing surface to over the top of the iconic manual scoreboard.
You're probably not as angry about this as I am, if only because you didn't spend six years as president of the Chicago Recycling Coalition, waving your hands and trying to get the City and the media to notice that something was dreadfully wrong.
While some people look at these dismal numbers as an opportunity to renew the way we approach the issue of recycling, with the advent of China's recent rejection of most of the world's recycling materials, the truth seems to be a lot darker. As I wrote on September 2 when Marta Keane, who is Recycling Program Specialist for Will County, was on the show:
There are recycling myths to be debunked; there is "wishful recycling," a term that I have only recently become aware of; there is the argument that because the same companies that own landfills are also recyclers, there is a conflict of interest that leads to lackluster results; and more.
It is the latter point that seems to be one of the main revelations of the BGA story, and the key player is Waste Management.
Waste Management, the largest garbage handling company in the nation, has a past filled with controversy dating back decades. In addition to its role in Chicago's controversial Blue Bag program, the company endured numerous federal antitrust cases and settlements and one $6 billion investor fraud scheme in the 1990s that forced the ouster of five top executives who were forced to pay back more than $30 million dollars.
In 2014 — the first full year the Blue Cart program went citywide — the company accounted for about 70 percent of all contamination reports. But by 2017 and into the first half of 2018, the Waste Management share of those reports grew to 95 percent.
Pushing past the raw numbers, the disparity is even sharper when considering the rate at which Waste Management labels bins contaminated compared to its rivals.
In the first six months of 2018, records show, Waste Management tagged bins contaminated at a rate 20 times greater than the other crews combined.
I could go on but what's the point? Here's what it boils down to, and these are my own opinions, not anybody else's:
Richard M. Daley never gave a rip about getting recycling right.
Rahm Emanuel cares about it even less about it than Richie did.
Somebody prove me wrong.
Madison Hopkins joins us on the show this morning.