Five Easy (Garden Design) Pieces
Podcast: Play in new window | Download
Keeping garden design simple
(January 6, 2019)  I recently received a message from a guy named David Pearling. I once interviewed him about garden design when I was at Gargantua Radio down the dial. He reminded me of that radio appearance, though I can't tell you exactly when it took place. However, he has a quote from me. "Your ideas are terrific!" In fact, that quote is at the top of his LinkedIn profile, so I must be a pretty fancy guy. I need to start charging more for my garden talks.
Anyway, Pearling has spent the past several decades hop-scotching between the Southwestern U.S. and the Midwest. He originally had a small garden center and landscaping business in Phoenix, AZ. He then moved to the Chicago area, where he practiced garden design and construction. That led to features in Chicagoland Gardening Magazine, NBC News, and even with Mike Nowak on WGN Radio.
A few years ago, he headed back west, to San Diego, CA. He put together a small book he calls Garden and Landscape Design – A 'Quick Start' Guide. It features his personal list of "do's and don'ts" for creating good landscapes. He also has a Garden Design Quick Start Guide blog, and a Facebook page, where he talks about the same things.

When he was on my show all those years ago, he had 13 recommendations for good landscaping. Now he's narrowed it down to 5. This is the condensed version of Pearling's list:
1) Have a plan. That involves a plat-of-survey enlarged to at least 1/8 scale, planning your overall spaces depending their purposes, and having as little lawn as possible (one of the reasons that David is on the show this morning).
2) Planted beds are everything. Use wide, sweeping beds filled with massed plantings of "workhorse" plants, put taller plants behind shorter ones (a punch line I use at garden talks), and by more smaller plants than fewer larger ones.
3) Three things to never use: plastic lawn edging, gaudy colored mulch or stone, cheap concrete block retaining walls. (I would add "landscape fabric" to that list, but Pearling mentions that in his section about planted beds.)
4) Hardscapes will make or break your garden. He's referring to patios, decks, walls, boulders and other vertical elements. (This is something with which I take issue, but we'll duke it out on the show.) Pearling says to design brick paver surfaces so that no brick cutting is needed. Locate all brick or concrete patios at least a few feet from the home. Leave space for planting…it cools.
5) Finishing touches. Pearling likes objet d'art and objet trouvé (found objects) like driftwood. He's a fan of container gardens, low voltage (LV) lighting–especially solar, and drip irrigation–easy, no tools, perfect for containers.
That's our starting point this morning. I asked him to explain the difference between gardening/landscaping in the Midwest and he says that the "practices of good home garden and landscaping design are the same no matter where you live." He goes on to say that
Most of us want to protect our environment, have clean water, clean air, and support sustainable practices. But…and this is a BIG but….far too many of us blow it in our own back yards. Literally! Examples: having way too much lawn. My recommendation is to "have as little lawn as you can stand." That is still an uncomfortable idea to many in the Midwest…However, here in SoCal many of us realize that minimizing our eliminating lawns altogether is a good thing. This is mainly due to our on-again, off-again droughts. Many of our municipalities and water agencies offer rebates to homeowners and owners of commercial properties to remove lawn spaces. These are very popular programs. They often exhaust the available funds every year. SoCal lawns and yards tend to be much smaller than suburban Chicago yards. But most are similar in size to the yards in many City of Chicago homes.
Could rebates like this work in the Midwest? Perhaps. Many towns there restrict watering now. Why not simply eliminate the need where possible?
Well, it ain't gonna happen in the Midwest, if you ask me. But, again, it's a good starting point for a conversation about smart landscaping, and a great way to start the new year.
Tom Tresser: Civic Warrior
If you're a regular listener to The Mike Nowak Show with Peggy Malecki, you know that we have been reporting on various issues related to open spaces in the City of Chicago. One is the Obama Presidential Center that might or might not end up in Jackson Park, depending on lawsuits and other actions. Peggy and I have had Friends of the Parks Executive Director Juanita Irizarry on the program four times in the past two years to discuss that and other matters related to open spaces.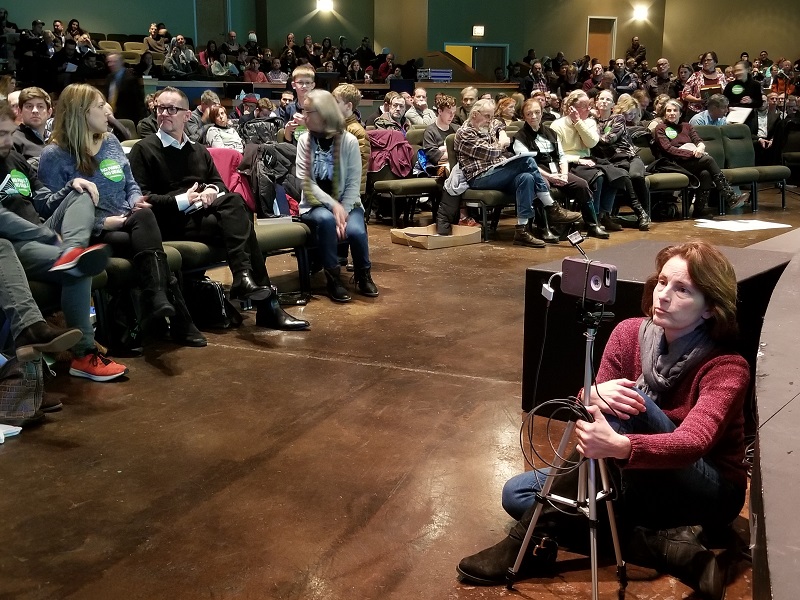 Then there's the looming transformation of Chicago's near northwest side, in the form of a whole neighborhood plopped down in what is now called the North Branch Industrial Corridor and will likely be called Lincoln Yards. The Mike Nowak Show was at contentious community meetings on November 14 and 29, and we even streamed about two and a half hours of live video on Facebook at the latter event. Alderman Scott Waguespack, whose 32nd Ward will be unduly impacted by this development, has been on the show a couple of times to talk about the issue.
First, in April of last year, he appeared with Alderman Michele Smith from another adjacent ward–the 43rd– to talk about their support for the North Branch Park & Nature Preserve. which would create a contiguous 24-acre open space area within Lincoln Yards. He returned in November to warn that the whole process was moving too fast, and that the citizens of Chicago would be the losers in an expedited approval of the project.
Another person who was at both of those November meetings–and who has been at many, many others–is Tom Tresser. who describes himself as a public defender and civic educator. That's an understatement. I've known Tom for more than 35 years, but this is the first time that he's been on the show. That's mainly because his area of expertise is politics, finance and civic engagement. But I'm finding that, in the 21st Century, as our natural resources are being consumed and our open spaces squeezed, that kind of knowledge comes in handy when you're fighting for the planet.
Here is just some of the work that Tom has done.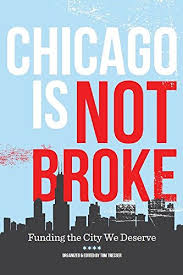 In 2008 he was a co-founder of Protect Our Parks, a neighborhood effort to stop the privatization of public space in Chicago. He was a lead organizer for No Games Chicago, an all-volunteer grassroots effort that opposed Chicago's 2016 Olympic bid. With Benjamin Sugar Tom co-founded The CivicLab, a co-working space where activists, educators, coders and designers came to work, collaborate, teach, and build tools for civic engagement. He is the lead organizer for the TIF Illumination Project that is investigating and explaining the impacts of Tax Increment Financing districts on a community-by-community basis. Tom is the organizer and editor for Chicago Is Not Broke. Funding the City We Deserve. 
If you look at some of the stories that Peggy and I have been covering, you will note that Tom's organizations are right in the middle of those battles. For instance, Protect Our Parks is one of the entities involved in the legal action against the Obama Presidential Library. And Tom, along with Chicago Reader columnist and recently-fired radio host Ben Joravsky, has been one of the chief critics of Tax Increment Financing districts in Chicago, mainly through the TIF Illumination Project. If you've been paying attention to the Lincoln Yards story, a brand new TIF district is smack in the middle of that controversial development.
I could go on, but there's already enough here for us to talk for a few days. Oh, and did I mention that before he was a civic educator, Tom Tresser was an actor and worked as an actor for my theatre company in 1982? We'll probably talk about that, too.