Fall is for Planting Bulbs…and Votes
The Bonsai Guy is also the Bulb Guy

(October 21, 2018)  A lot of homeowners know what it means when the leaves start to fall from Midwest trees–and, no, I'm not talking about football. It means that it's time to run out to your local garden center or big box store–more on that in a second–to load up on spring blooming bulbs. If you're a novice, or even a horticultural veteran who needs a refresher course, here are a couple of websites that will provide that information:
Bulbs & More: Planting and Care (Illinois Extension)
Tips for Planting Your Favorite Bulbs (Better Homes & Gardens)
Critter-proof, spring-flowering bulbs (Michigan State University)
Spring Bulbs – When Is The Best Time To Plant? (Very interesting article at Garden Myths)
That brings us to our guest this morning–Dan Kosta from for Vern Goers Greenhouse in Hinsdale, Illinois, who many of you will recognize as a regular on The Mike Nowak Show with Peggy Malecki. However, because he is a member of the Prairie State Bonsai Society , he usually shows up to extol the virtues of growing and tending bonsai plants.
As a matter of fact, Dan is still in possession of a bonsai that I won–fair and square–at the Prairie State Bonsai Society's annual show
…in 2016, which means that it's time for me to claim my precious plant.
But I digress.
What I meant to say is that Dan is also the bulb expert at Vern Goers Greenhouse, which is why, when we have a few weeks left in the spring-blooming bulb planting season, we are calling on him to offer his expert advice.
The growing season isn't over, thanks to Happy Leaf LEDs
The Mike Nowak Show with Peggy Malecki is pleased to have Happy Leaf LED, Inc. return as a sponsor of our program. If you aren't familiar with the power of 21st century LED technology for growing plants, you need to catch up: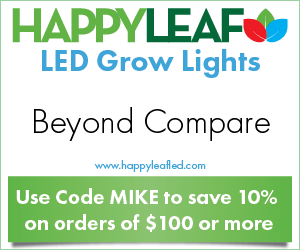 "I used the original Happy Leaf LED light when I was offered a sample to try out, and I was immediately hooked! It's not just the great results I saw from giving my plants optimum light spectrums, but there is not heat from the lights, they're energy efficient, and they're so much easier to adjust and store than my fluorescent light setup. Because they are compact and lightweight, I can move my Happy Leaf lights anywhere."
— Susan Appleget Hurst, Editor of Country Gardens© magazine
I didn't realize until I went to their Testimonial page that I'm quoted, too. Well, whaddya know.
On today's show, we welcome B.J. Miller, who is a horticulture consultant with HappyLeaf LED. She has worked in many sectors of the horticulture industry for the past 20 years including wholesale nursery grower, greenhouse and gardens manager, and production supervisor at a large hydroponic baby greens producer. She earned her B.S. from Purdue University in Horticultural Production and Marketing.
She's here to tell us that there are many applications for the lights beyond just seed starting. BJ and Victor Zaderej from Happy Leaf LED are now conducting trials and experiments to grow strawberries and tomatoes inside. They are also working on growing different spinach and lettuce varieties which will allow people to push the envelope on their indoor gardening.
Happy Leaf LED, Inc. will be appearing at the McHenry County College Green Living Expo on Saturday, November 3. You might know about it because Peggy and I will be there, too, and we've been promoting it on the show. We hope can come up and join us for a terrific day of the latest in sustainable living, ideas for energy saving, green gifts and fun, educational exhibits.
Are you voting for the planet?
"Elections have consequences," we are often told. And while our previous national election has had profound consequences for our country in many ways, you could make a reasonable argument that nowhere has the effect been greater than on our environment.
I ran across this particular series of articles perhaps a year ago and I suggest that you bookmark it as we move forward. It's called A running list of how President Trump is changing environmental policy and it's a project of National Geographic. I lists the good, the bad and the ugly of the current administration. It's not hard to figure out that most are on the "bad" and "ugly" lists, though I could also create a "weird" category as well.
Which leads us to several organizations that want to help you make the best choices when it comes to saving what's left of our planet. One of them is the Illinois Environmental Council (IEC), which has  produced the IEC 2018 Environmental Scorecard, allowing Illinois citizens to see just how their representatives and senators voted on crucial issues that affect the earth, air and water of the Prairie State.
Note that this is a report and does not contain recommendations, As a non-profit organization, the IEC does not make endorsements.
IEC has also released a report which includes recommendations for how the Illinois Governor can become an Environmental Executive. They believe that our next governor should
Commit Illinois to 100% renewable energy and join the US Climate Alliance.
Enforce environmental laws and appoint qualified staff.
Provide opportunities for citizen input and approval of permits, particularly in environmental justice communities.
Lead in reducing nutrient pollution in our waterways.
Plan to conserve and steward irreplaceable open spaces.
The 2018 Sierra Club voter guide is another place where you can see which elected officials are committed to stepping up for the earth. Click on the link to enter your voting address to view endorsements from Sierra Club specific to your ballot.
Another group that works to protect our environmental interests is the League of Conservation Voters.
From the state house to the White House, continued progress on climate change depends on who we elect in November. LCV and our state LCV partners run tough and effective campaigns to support those leaders who stand up for a clean, healthy environment and to defeat anti-environment candidates who oppose climate action.
You can link to their National Environmental Scorecard to find candidates throughout the country who are fighting to preserve the health of our natural resources.
Even, as EcoWatch reports, outdoor brand Patagonia is getting is endorsing candidates for the first time in its history in an effort to protect the country's at-risk public lands and waters.
The environmental political races are just part of what Peggy and I will report on during Sunday's show. We invite you to tune in.