The Power of Dirt; Hydrangea Help
Hall of Famer Melinda Myers has the scoop on hydrangea care

(September 9, 2018)  It's always a pleasure to have horticultural expert Melinda Myers on The Mike Nowak Show. As you might know, in 2017 she was inducted into the Hall of Fame for the GWA: The Association for Garden Communicators. Peggy and I ran into her when the annual GWA conference was held in Chicago this year at Navy Pier. And when I say "ran into her," it means that we spoke for almost twenty seconds, then I didn't see her again.
Oh, well, that's why I invite her to be on this show.
Among her accomplishments, she hosts the nationally-syndicated Melinda's Garden Moment program, airing on more than 120 TV and radio stations throughout the United States. Myers also hosts the internationally distributed Great Courses "How to Grow Anything" DVD series, including the latest Food Gardening for Everyone DVD set.
She's a longtime columnist and contributing editor for Birds & Blooms magazine and writes the twice monthly "Gardeners' Questions" newspaper column. Myers writes a regular column for Chicagoland Gardening and Wisconsin Gardening magazines, and she has written more than 20 gardening books, including Can't Miss Small Space Gardening and the Midwest Gardener's Handbook.
Today, we will be talking hydrangeas. Here's the way that works, based on my own experience.
Caller:  "When should I prune my hydrangea?"
Me:  "What kind of hydrangea do you have?"
Caller:  "I don't know."
Me:  "Okay, let's try to figure that out."
I'm betting that Melinda has had many similar experiences. But if you want to learn about this popular plant, Melinda will be presenting a FREE seminar "Hydrangeas and the Best Companion Plants" at Pasquesi's Lake Bluff store on Saturday, September 15 from 11 a.m. – 12 p.m. , followed by a question and answer session.
Meanwhile, she'll answer those questions on the radio this morning. Give us a call at 877-711-5611.
The 2018 Harvest Moon Dinner is Thursday, September 13
Full disclosure: I am a fan of Angelic Organics Learning Center (AOLC) and their mission to build "sustainable local food and farm systems through experiential education and training programs in partnership with rural and urban people." Specifically, they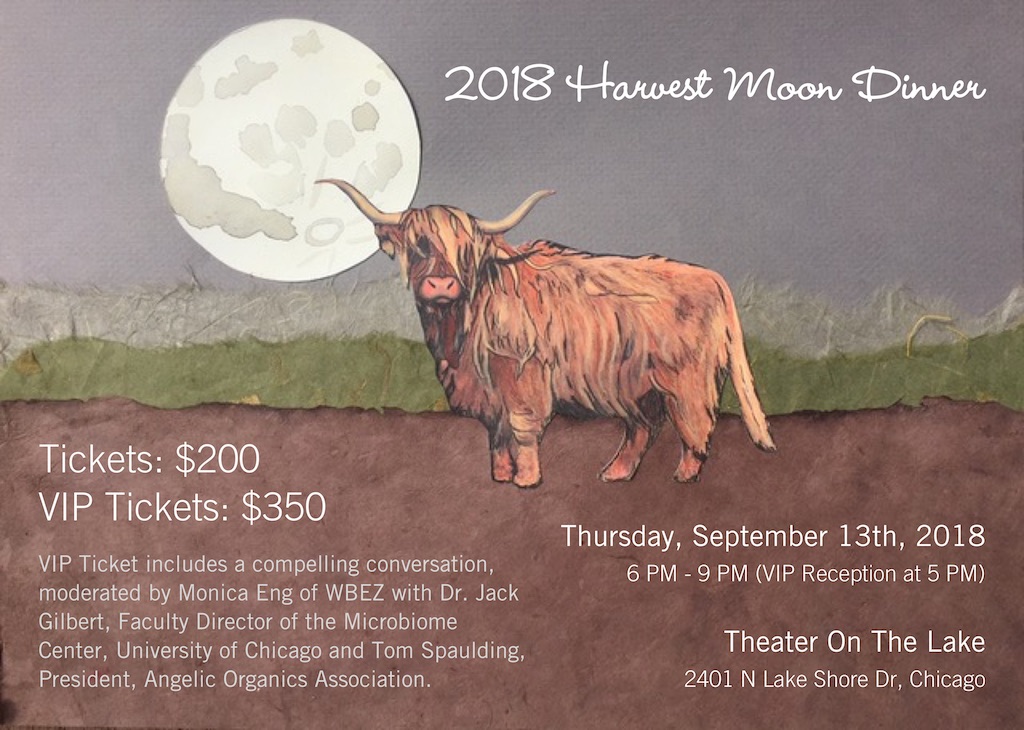 Grow Good Food: We help people learn and adopt sustainable, organic, and biodynamic farming practices.
    Connect People to Food & Land: Our hands-on education engages the whole person, providing a deeper understanding of food, farming, and the environment.
    Advance Healthy Food as a Human Right: We work toward a world in which everyone has access to healthy food – and a connection to the farmer that grows it!
    Build Partnerships: We believe that partnerships between farmers, distributors, cooks, and eaters are the cornerstone of a healthy local food system.
One of the ways that AOLC has connected with like-minded folks is through what they used to call the Peak Harvest Farm Dinner. Over the years, I emceed this event a couple of times, and last year, I was the auctioneer when Peggy and I attended the Farm Dinner at Galleria Marchetti in Chicago.
This year, they politely asked me to have a seat and watch the action from the sidelines. However, Peggy and I are on the "Honorary Committee" for this year's event, which has been re-branded as 2018 Harvest Moon Dinner. It's at Chicago's newly-renovated Theater on the Lake and features a menu designed by Executive Chef Cleetus Friedman sourced from local farms and sustainable purveyors, as well as live music by guitarist Mark Dvorak, and what they call "adorable farm animal photo ops", craft cocktails, a farm store, delicious pies from Bang Bang and other goodies.
This event honors the Learning Center's farmer partners and celebrates the first year of innovative programming at the Lodge, a new camp and retreat facility providing additional in-depth learning experiences for students of all ages. Guests can also attend a VIP discussion moderated by my nemesis, Monica Eng of WBEZ, with Dr. Jack Gilbert, author of Dirt Is Good: The Advantage of Germs for Your Child's Developing Immune System, and Tom Spaulding, President of Angelic Organics Association.
That brings us to today's show, and our guest, Dr. Jack Gilbert. He is Faculty Director of the Microbiome Center at the University of Chicago, a Professor in the Department of Surgery at the University of Chicago Medicine, Senior Scientist (Adjunct) at Marine Biological Laboratory, and Group Leader in Microbial Ecology at Argonne National Laboratory.
If you're wondering what a Microbiome Center does, it basically works on studying microbes and their effects on pretty much every living thing. And when you get to the level of Dr. Jack Gilbert, you end up being part of something called Gilbert Lab, which studies indoor microbial biology, environmental microbial ecology, the human microbiome, and microbial interactions in wildlife. Why is this important?
The human microbiota consists of 100 trillion microorganisms and vastly outnumbers the human genetic repertoire. These microorganisms have been shown to affect a number of processes, including training the immune system to respond to infections and affecting reproductive health outcomes such as preterm births and post-partem depression. We continue to explore the intricate relationship between our microbiota and our health through our medical research with prominent universities throughout Chicago.
If that all seems a little beyond the scope of the average person, you might be right. So let's go back to the book, Dirt Is Good: The Advantage of Germs for Your Child's Developing Immune System. In writing about the book, The New York Times talked to Dr. Gilbert:
For the last century and a half, he said, since understanding that microbes cause disease, human beings have tried as hard as possible to wall off their bodies from the microbial world of bacteria, viruses and fungi. "We've deliberately separated ourselves for reasons of comfort and reasons of fear of disease."
And it's worked; there's no question that increasing hygiene has saved many children from sickness and death. Scrupulously separating children from the microbes that can be found in impure water, for example, or unpasteurized milk has played a major role in reducing infant and child mortality, enabling millions of children to live and thrive. But we've also come to ask, in recent years, whether children who are too completely walled off from the microbial surroundings in which our species evolved may grow up with some negative consequences of our ever-cleaner homes.
Those of us who spend even a little time in the garden and who have been known to grab fistfuls of compost know exactly what they're talking about. And yet, we continue to spray ourselves with anti-microbial hand washes and "protect" our children from the environment around them.
Perhaps we can talk some sense into the cleanness freaks around us on today's show. You never know.