Dispatches from the Climate Crisis Bureau
Podcast: Play in new window | Download
Steve Horn joins The Real News Network
(February 24, 2019) Welcome to the Climate Crisis Bureau and the work of Steve Horn. He is a journalist who covers environmental issues, among other things. I have been following his writing for years, especially when he was at a site called DeSmogBlog. He was last on our show when Peggy and I were at "Pirate Radio" in 2016.
At that time, Horn was writing about the Dakota Access Pipeline (DAPL) and the reaction of the Standing Rock Sioux and other tribes to efforts to lay it across their sacred land and tribal burial grounds. That seems like a lifetime ago. In fact, despite the protests, the pipeline became operational on June 1, 2017.
A few days ago, he sent out an email about his new situation.
As many of you know, I'm now a climate reporter and producer for The Real News Network, which is an independent media outlet based out of Baltimore, MD. I've been a guest many times over the past years and I'm thrilled to join and help lead the Climate Crisis Bureau we're beefing up. 
I wrote up my vision of climate coverage and what it should entail as a "manifesto" of sorts, which is now up online here: 
In a piece titled Real Climate Coverage Names Names, Avoids False Hope and Probes Solutions for The Real News Network, he writes
But mostly, real climate journalism is about asking the right, and sometimes vexing, questions.
How has Wall Street, oil and gas trading, coal market speculation and other forms of financialization led us to where we are in the climate quagmire? How does it tie back to foreign policy and geopolitics? What could be done differently in agriculture and who has benefited from that status quo? How? Why? Should nuclear energy play a role, and if not, why are some environmental groups pushing for it? Are any forms of geoengineering viable, and if so, what risks do they entail from an ecological or environmental justice perspective? Who will be harmed first and hardest by climate events? What forms of renewable energy are green and which are not so clean? What are real solutions to the climate crisis, and what are false ones? And what are various political figures in various levels of government doing about it? These questions are merely the tip of a rapidly melting iceberg.
We hope to answer some of those questions during our conversation this morning. Speaking of the DAPL protests, Horn writes that a number of states are waging war on non-violent pipeline protesters.
Eight different statehouses across the nation are considering bills criminalizing protests on property owned by the the oil and gas industry which critics say could squelch pipeline protesters and others calling attention to climate change-causing infrastructure.
The bills offer steep criminal penalties for trespass onto oil and gas industry-owned private property defined as "critical infrastructure" under state law. The legal definition of "critical infrastructure," which incorporates essentially all assets serving as the bedrock of the current economic system, has greatly expanded in the post-September 11 era. With that expansion came increasingly harsh criminal enforcement mechanisms available to prosecutors in the name of protecting national security.
One of those states, surprisingly, is Illinois.
In Illinois, a state which uses hydraulic fracturing ("fracking") to obtain oil and gas in its southern tier, HB 1633 already has 14 co-sponsors—eight Democrats and six Republicans. On February 13, the bill was assigned to the House Judiciary Committee and received a hearing.
We hope that this is the first of many conversations with with Steve Horn of The Real News Network.
Joey and Holly head south
To start the show, however, we welcome The Wisconsin Vegetable Gardener to the WCGO studios. It's not unusual to have Holly and Joey Baird on the show. What is unusual, however, is that, for the first time, they're making the trip down from Milwaukee to be with us on our home turf.
Here's what you need to know about Holly and Joey Baird.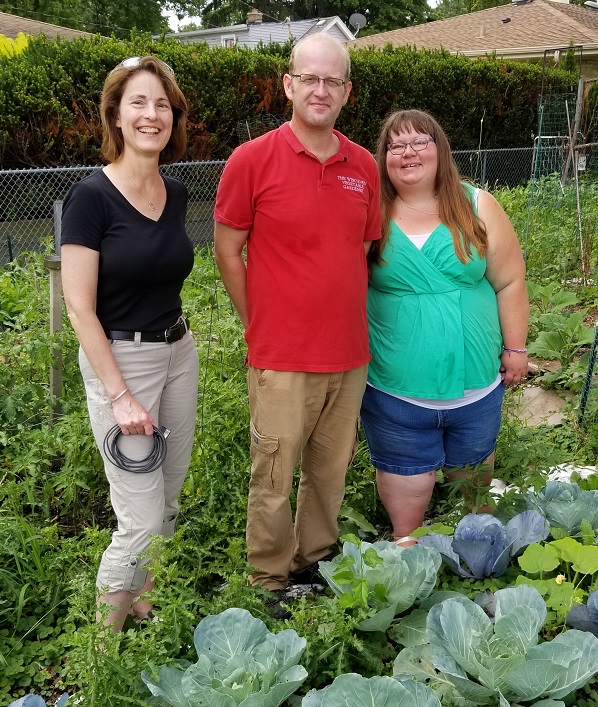 They are a married couple living in southeastern Wisconsin (just outside of Milwaukee).  Joey & Holly make videos on youtube about how to grow your own food organically, reusing found items (or items you may just throw away), what to do with the food you grow, home canning and simple home living.
You can hear their radio show live on Saturday mornings in the Milwaukee area on 860 WNOV AM or 106.5 FM March through October and you can listen live or through apps linked above!
They grow in the ground, raised beds, straw bales, containers and indoor herbs and even a dwarf lime tree they have year round in their kitchen!
Their goal through their videos and social media pages is to show the average person how easy it is to grow food, store food, and reuse everyday items.  Their motto is "grow with us".
So what will we talk about this morning? Here's what they suggest.
– seed starting indoors
– what not to start indoors
– what did well last year and what didnt
– what onions should you grow (short, long, neutral/mid day – people dont know there are certain varieties for their area)
– try something new
Okey poke. Works for me. Call us with your vegetable gardening questions at 877-711-5611, or write to us on Facebook or Twitter.