August 27, 2017 – Live from Heirloom Fest at the Chicago Botanic Garden!

The Mike Nowak Show hits the road again, with a visit to the Chicago Botanic Garden for what has become an annual event: Heirloom Fest: Tomatoes & More. Today is the second and final day, and it happens from from 11:00 a.m. to 4:00 p.m. at the Regenstein Fruit and Vegetable Garden. Peggy Malecki and I will be broadcasting at our usual Sunday time of 9:00 to 11:00 a.m., which means that we basically get a preview of the day's activities.
As the title advertises, the primary focus is on tomatoes, but those aren't the only heirlooms you'll see. There are programs focused on growing and using heirloom varieties, not to mention tours of the Regenstein garden and demonstrations about how to harvest and save open-pollinated seeds. In addition, there are a variety of items for sale from homemade jams to specialty spice mixes, goat cheese, fresh produce, and more, and families can take part in hands-on games and activities.
Who better to guide us through the festivities than friend of the show Lisa Hilgenberg, who is is horticulturist for the 50,000 plants in the Regenstein garden. If she can handle that many veggies, she can certainly handle a couple of radio show hosts.
That Heirloom Fest is being held at all is remarkable, given that about six weeks ago, the Chicago Botanic Garden looked like this: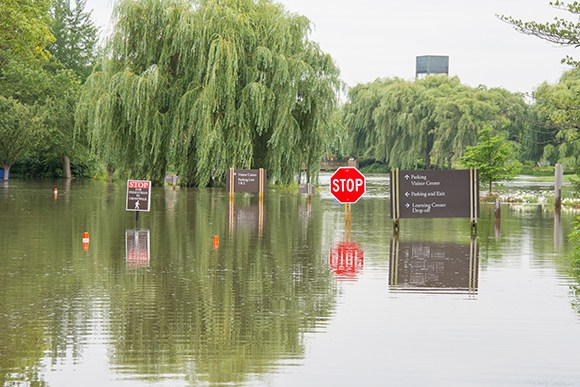 In a fascinating blog post that chronicles the effects of the nearly half foot of rain that fell on the morning of July 12, Bob Kirschner writes:
Because the Garden was intentionally designed from the very beginning to accept and temporarily store floodwater from the Skokie River, we've experienced few long-term impacts from the recent flood. None of our buildings took on any water. Most of the vegetation near the lakeshore that went underwater survived. There was some damage to plants in the Garden—a few inundation-sensitive shrubs and herbaceous plants, as well as some turf were affected (particularly along the water's edge of the Malott Japanese Garden). Some were pruned and others may need to be replaced with more water-tolerant taxa. Importantly, more than 500,000 native shoreline plants that we've installed along the Garden's lakeshore withstood being underwater for up to nine days without impact. These plants will continue their important "engineering function" to stabilize our fragile shoreline soils and keep the slopes from eroding into the lake.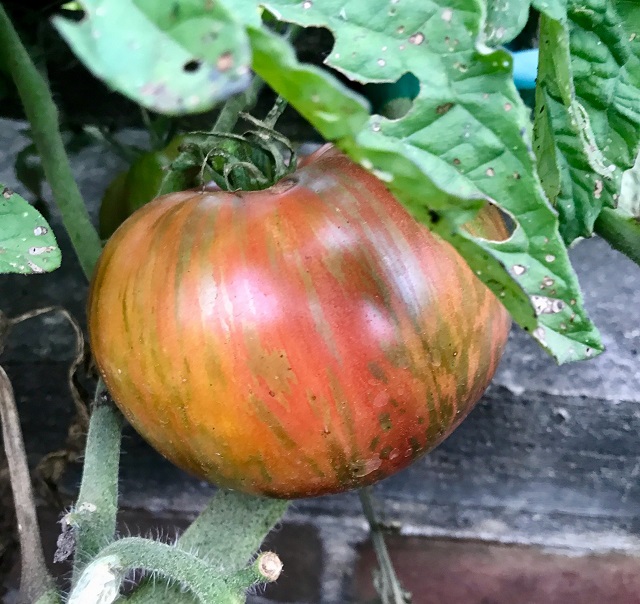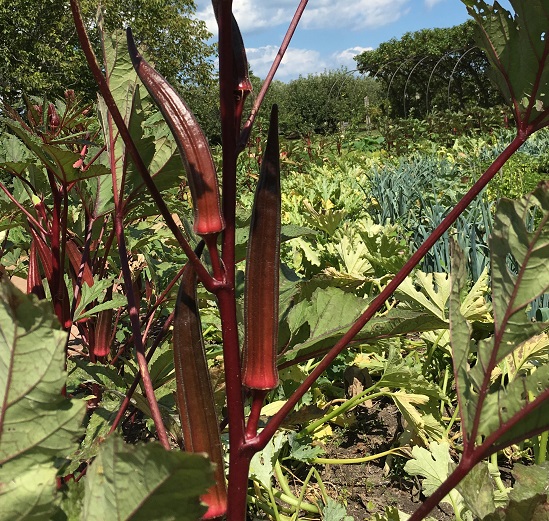 That brings us back to Heirloom Fest. Among the vegetables you can see on site are Pink Berkeley Tie Dye Tomatoes (left) and Red Burgundy Okra (right)
And that's just a taste (so to speak) of the open pollinated vegetables that are on display.
Also joining us this morning are
Kristie Webber, director of interpretive programs at CBG, who will give us an overview of Heirloom Fest.
Fred Spicer, executive vice president and director of the Garden. Before coming to CBG in February 2017, Spicer served 15 years as the director and then CEO of the Birmingham Botanical Gardens in Alabama. He will talk about fall planting tips and what to expect at the Garden in the fall.

Andrew Bunting, 

assistant director of CBG and director of plant collections. He'll have tips on tree and shrub care will preview the upcoming

Midwest Tree and Shrub Conference

. Briefly, it's called Landscapes for a Changing Future, and it's presented in partnership between the Chicago Botanic Garden and The Morton Arboretum on Thursday, September 7, 2017 from 9 a.m. – 3:30 p.m. at CBG.
Stop by and heckle us during the broadcast. We can take it! (But don't throw heirloom tomatoes.)