A Sophisticated Taste of Honey
Do you know your honey varietals?

(November 4, 2018)  I'll bet that a lot of you didn't even know that there were such things as honey varietals. Well, I didn't, until I read about them in a book called The Asheville Bee Charmer Cookbook: Sweet and Savory Recipes Inspired by 28 Honey Varietals and Blends by Carrie Schloss. We'll get to those varietals in a moment.
Meanwhile, Agate, the publisher, describes the book as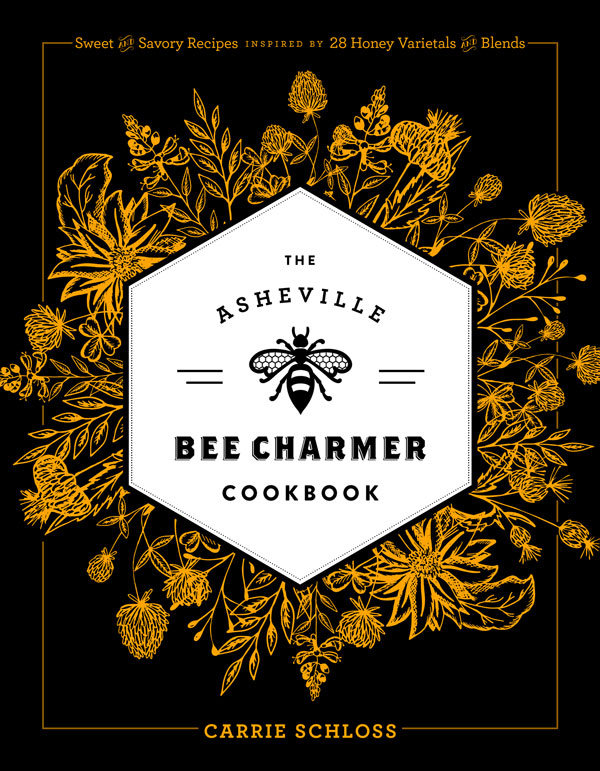 A collection of 130 sweet and savory recipes inspired by the vast artisanal honey selection at Asheville Bee Charmer, a North Carolina shop located in one of the United States' most bee-friendly towns. Twenty honey varietals and eight special Bee Charmer blends are featured in recipes and discussed in a guide to color, aroma, and flavor.
Asheville Bee Charmer, opened in 2014 by beekeepers Jillian Kelly and Kim Allen, has become a destination for both local foodies and tourists. This honey purveyor, located in one of the most pollinator-friendly parts of the United States, offers a range of bee-related products and more than 50 different artisanal honey varietals—each with its own unique color, texture, and taste.
That takes us back to the whole idea of what a honey varietal is. Carrie Schloss writes:
The Honey and Pollination Center at the Robert Mondavi Institute for Wine and Food Science at UC Davis has created a honey flavor wheel, which breaks down taste into basic flavor categories such as fruity, floral, herbaceous, woody, chemical, animal, nutty, spicy, caramel, earthy, and microbiological. Within these categories the flavors are further broken down into more specific categories. For example, the fruity category includes flavor notes such as berry, citrus, dried fruit, tree fruit, and tropical fruit.
If you want to know more about the UC Davis Honey Flavor and Aroma Wheel, click on the link.
So when Schloss visited her friends Jillian Kelly and Kim Allen in Asheville, something interesting happened. She got whiffs of honey aromas that she had never encountered before.
Most of the honey I had previously smelled had a slightly floral scent because it was primarily of he wildflower or clover varietals. I wasn't prepared to smell everything from citrus to dirty socks as I made my way through the assortment of honey.
She lists a lot of those different varietals in the intro to her book, including the proprietary blends from the Asheville Bee Charmer, as well as others that I'm guessing you've never heard of, including
Chai
Cocoa
Ghost Pepper
Rosemary
Acacia
Basswood
Blackberry
Carrot
Cranberry
Fir
Orange Blossom
Tupelo
Carrie Schloss, who lives just down the road in Wilmette, joins us in the WCGO studios this morning. She is a personal chef and culinary consultant who has developed recipes for Let's Dish, a cooking show on the Live Well television network. She has taught cooking classes for kids and adults at The Kids' Table, Now We're Cookin', and nonprofit organizations such as Common Threads, Purple Asparagus, and Chicago Lights Urban Farm.
But how can we talk about honey without talking about bees? On Saturday, Peggy and I were at the McHenry County College 2018 Green Living Expo. One of the groups at that event was the Northern Illinois Beekeepers Association. Jerry Gudauskas is one of their members, and I talked to him at the event about his interesting route to being a beekeeper. He also joins us in the studio today to talk about the year in beekeeping.
Keeping up with environmental stories
Each week, Peggy and I note all kinds of environmental stories that cross our desks and sometimes make it onto The Mike Nowak Show Facebook page or our Twitter feed. However, we just don't have time to discuss a lot of them. This morning, we will run through a few of the stories that have caught our attention in the past couple of weeks.
This one actually did get posted on our Facebook page, and it might be the most important story you see this year. Humanity has wiped out 60% of animal populations since 1970, report finds (The Guardian)
Startling new research finds large buildup of heat in the oceans, suggesting a faster rate of global warming (The Washington Post)
Inside Climate News is doing a series on agriculture, climate change and the American Farm Bureau's influence. Its first article is How the Farm Bureau's Climate Agenda Is Failing Its Farmers
'Biggest case on the planet' pits kids vs. climate change (National Geographic) A pioneering lawsuit against the U.S. government has won the right to a trial, overcoming the Trump administration's efforts to cancel it in court.
In Roundup for Breakfast, Part 2: In New Tests, Weed Killer Found in All Kids' Cereals Sampled, the Environmental Working Group found the active ingredient in Monsanto's Roundup weed killer in every sample of popular oat-based cereal and other oat-based food marketed to children.
One more from Inside Climate News: Global Warming Is Messing with the Jet Stream. That Means More Extreme Weather. Apparently something we need to discuss with meteorologist Rick DiMaio.