February 11, 2018 – Healing Agriculture, Healing Earth
CAFOs and the rise of agroecology
Dr. John Ikerd just blew me away. Actually, something he wrote for and with an organization called Organization for Competitive Markets did the trick. Perhaps I should back up a little bit, so you know what I'm talking about.
In September of 2016, while The Mike Nowak Show was still on Que4 Radio, Peggy and I made the trek to Green Bay, Wisconsin to originate the show from the "Factory Farm Summit: Demanding Accountability in Animal Agriculture," presented by the Socially Responsible Agricultural Project (SRAP).
One of the guests on the two-hour special that day was the aforementioned John Ikerd, who is Professor Emeritus from the University of Missouri, where he worked extensively in agricultural economics. What's interesting about about Ikerd, though, is that for the first half of his academic career, he promoted the industrialized agricultural system that is so popular in agricultural institutions throughout the United States.
But, as he explained in our conversation, he had a change of heart along the way, and came to believe that the methods he had been championing and had been part of for decades weren't working. Which brings us to the OCM speech that he did in August of called 2017 called Dr. John Ikerd: Feeding the World Intelligently–Without Corporate Agriculture.
Simply put, I have never read a more cogent explanation of why we must re-evaluate the agricultural road on which we have been traveling. He starts with his confession.
I believed that the industrialization of agriculture could provide domestic food security or eliminate hunger. We were going to help farmers make agriculture more economically efficient by reducing production costs. This ultimately would reduce food costs for consumers, making good food accessible and affordable for everyone. The profits made by progressive farmers who reduced production costs would support viable rural economies and communities. It was a noble experiment, and it was well intended—but it failed.
And he moves on to an indictment of the current system.
In 1967, when CBS-TV aired its classic documentary, "Hunger in America," only 5% of the people in the U.S. were estimated to be hungry. Back then, 5% of Americans going hungry was considered a national emergency, today 13% food insecurity is not even a political priority. Sixty years of industrial agriculture has done nothing to alleviate hunger in the U.S., and contrary to popular belief, neither has it elsewhere in the world.
That's not all.
Not only has the industrial food system failed to provide enough food for those who hungry, it has brought an epidemic of diet related health problems wherever it has gone. In the U.S., an epidemic of obesity, diabetes, heart disease, hypertension, and various diet-related cancers is well documented. The rising costs of health care in the U.S. parallels the industrialization of the food system. A 2010 global public health report of 500 scientists from 50 countries concluded that obesity is now a greater problem than hunger. "The so-called 'Western lifestyle' is being adapted all around the world, and the impacts are all the same."
However, Ikerd sees a way out.
It's really quite simple. Everything of value to us, including our food, ultimately comes from the earth, and beyond self-sufficiency, comes to us by way of other people, by society. The economy simply allows us to meet our needs by buying and selling rather than gifting or barter with other people. If we destroy the productivity of the land and people, we can't sustain food production. If we can't sustain food production, we can't sustain our economy, society, or humanity. Sustainable farming requires balancing the need to make living with caring for the land and caring about people.
As he notes,
Popular farming alternatives in the U.S. include organic, ecological, regenerative, holistic, biodynamic, and traditional family farming. These alternative farmers still produce something less than 10% of America's food, but they represent the fastest growing sector in the American food system.
If you have the opportunity, I urge you to check out what Dr. Ikerd has to say about the state of world farming in his speech to OCM.
Meanwhile, he joins us this morning because he will be speaking in just a couple of weeks at Illinois Citizens for Clean Air and Water (ICCAW) Annual Luncheon Meeting on Saturday, February 24. The event is sponsored by
the Socially Responsible Agricultural Project (SRAP), and be held at the Kickapoo Creek Winery, 6605 N. Smith Rd., Edwards, IL 61528 (near Peoria).  Coffee is served at 9:30 a.m., with the main event from 10:00am to 3:30pm.
In addition to Ikerd, there will be a screening of the documentary Under Contract: Farmers and the Fine Print.
The story being told is a brutally honest, though compassionate, look at what can and has happened to farmers who raise poultry under contract for companies such as Tyson, Perdue and Pilgrim's Pride. One-sided contracts, the leverage of debt and absence of competition make for an arrangement where the farmer becomes an indentured servant, or maybe worse given the capital expenditures they're forced to make. There is no cop on the beat protecting farmers' interests, despite how integral they are to the business.
Craig Watts, a former North Carolina contract poultry producer who is now a consultant for SRAP, is featured in the film, and for his courageous stand, he was named Whistleblower Insider's 2015 Whistleblower of the Year winner.
Watts will speak on the 24th, and joins us this morning. Completing the list of guests today is Illinois farmer and SRAP regional associate Karen Hudson, who tells us that the upcoming meeting will feature information on new research, Illinois and national policy issues regarding factory farms, and look at pending legislation affecting Concentrated Animal Feeding Operations (CAFOs).
Healing Earth…environmental spirituality matters
How do you have an audience with a couple of people who have just had an audience with the Pope?
Peggy and I find out this morning when we welcome Dr. Michael J. Schuck, Professor in the Department of Theology, and Dr. Nancy C. Tuchman, Director of the Institute of Environmental Sustainability at Loyola University Chicago. The two educators will be presenters at the 2018 Great Lakes Bioneers McHenry County Speaker Series at McHenry County College on Tuesday, February 13, at 7pm in the Luecht Conference Center, 8900 US Hwy 14, Crystal Lake, Illinois 60012-2761.
The title of their talk is The Path of Hope: Integral Ecology for Home and Hemisphere, and it's based on a project on which they collaborated called Healing Earth, a free, online environmental science textbook for upper level secondary school students, beginning college students, and adult learners. Since its publication in January of 2016, it has begun a worldwide journey, from schools in Montreal, Canada to Mexico City, Mexico to Bacelona, Spain to Manila, Philippines.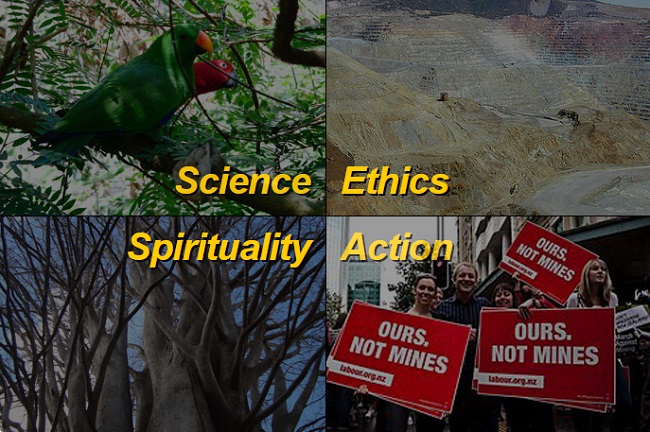 Schuck and Tuchman approach their subject via various disciplines, noting that "Scientific clarity, ethical guidance, spiritual engagement, and direct action—these are the four connected steps we need to take in order to heal the Earth, both locally and globally." In that regard, they echo the 2015 encyclical letter Laudato Si' (On Care for Our Common Home) by Pope Francis, which was released as they were working on Healing Earth. Which takes us to the papal audience mentioned earlier.
Dean Tuchman and Professor Schuck found themselves in the Vatican in September of 2017 to accept the Expanded Reason Award on behalf of their project. The award, presented through a partnership between the Joseph Ratzinger/Benedict XVI Vatican Foundation and the University Francisco de Vitoria in Spain, comes with a $29,500 honorarium, which, in the scheme of things, seems rather modest–until you understand that along with the money, came an opportunity to meet the Pope and participate in a two-day awards conference.
Peggy and I are pleased that Drs. Tuchman and Schuck are in studio this morning to talk about that experience and, of course, the goals for Healing Earth. It's worth noting that the Teacher Materials feature this paragraph:
Do not be daunted by the amount and range of material presented in HE. The wealth of ideas and information is meant to provide a variety of topics and viewpoints from which to construct your course. Feel free to be selective, focusing on particular topics and concepts you want your students to understand. Especially in the ethics, spirituality, and action sections of each chapter, feel free to teach for depth, not for coverage. In other words, you may find it more fruitful to focus on one or two particular ideas in these sections, rather than bringing your students through everything presented.
It's a good thing we have that permission because, given the range of topics–from biodiversity to climate change to energy to water to food and more, there's no way to cover it all.
And while our professors our in the house this morning, we hope to touch on the Loyola University Chicago Fifth Annual Climate Change Conference, March 15-16. This year's theme is Climate Change and Human Health: 21st Century Challenges.
Dr. Schuck is organizing a panel called Oil, Fracking and Man Camps: Human Health along the Pipelines, which will feature Lissa Yellowbird-Chase (Arikara, Mandan, and Hidatsa), who is founder of Sahnish Scouts, a non-profit group founded in Fargo, ND in 2014 to raise awareness of (and search for) missing Native Americans, and HolyElk Lafferty (MniCoujou, Oglala, and Sicangu Lakota), an Indigenous Rights activist and Standing Rock/NODAPL Leader. That presentation will be Friday, March 16, 2018  2:45 PM in the Damen Student Center, Schmidt Multipurpose Room, South, 6511 N. Sheridan Rd., Chicago, IL 60626.
Last but not least, Dr. Schuck wrote to us to give us some perspective on his work with Dr. Tuchman:
Nancy is the scientist and I am the humanist; we tag team on the belief that the research results of environmental scientists get the best traction when instantiated in environmental activism, especially activism expressed by folks who participate in faith-based movements of deep environmental spirituality. This has been Nancy's experience as a leader of students here at Loyola U and was also my experience at Standing Rock in the fall and winter of 2016. Environmental spirituality matters. And it needs to be taught, though not as a 'mystical' stand alone phenomenon, but as an energy linked to solid environmental science, an environmental ethic of sustainability, and environmental social action.