September 4, 2016 – DiMaio-Palooza! and Death of a Farmers Market?
South Shore Farmers Market shuts down
As I'm writing this, I receive an email from Qae-Dah Muhammad, manager of the South Shore Farmers Market:
Greetings All;
The South Shore Farmers Market will be closed until further notice.
That is not good news. How did we get here? Some background:
One of the advantages of having The Mike Nowak Show broadcast from Que4 Radio is that the studio is located in my own Chicago neighborhood of Logan Square. Which means that on Sunday mornings in the summer, I am mere minutes away from the Logan Square Farmers Market.
I often meet Kathleen at the market, where we supplement the produce we grow in our own yard with edibles that we cannot grow ourselves. And the place is always, always packed, come rain or shine.
Not so, apparently, with the South Shore Farmers Market on Chicago's southeast side. The market, which operates out of Rainbow Beach Park (3177 E. 77th Street), has been around since 2013 and is a  City of Chicago Farmers Market (part of the Department of Cultural Affairs and Special Events). The Market is operated by Chicago DCASE employees, members of the Ashe and Rainbow Beach Park Advisory Councils, EDGE Community Partnership, and many friends.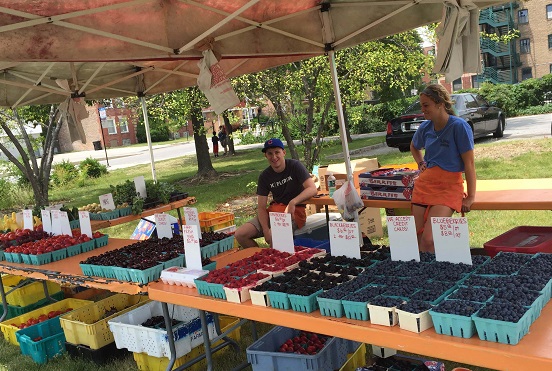 Opening Day 2016 at South Side Farmers Market
I have known Qae-Dah Muhammad, who is SSFM founder and manager for a number of years and I know that she is a hard worker. So it was disturbing to receive an email from her noting that the market had lost a key fruit and vegetable vendor due to weak attendance.
It's even more frustrating given that  SSFM offers the double value coupons for LINK participants to buy more food. The Experimental Station, which is working to build independent cultural infrastructure on Chicago's South Side, is a driving force in the LINK Up Illinois program. Their goal is to make nutritious food more accessible to low-income households.
LINK Up Illinois helps achieve this goal by providing farmers markets across the state with funding for the Double Value Coupon incentive program. As The Experimental Station explains,
Recent statistics indicate that 1 of 6 Illinoisans receives Link benefits, including people of all ages and races. For many low-income Illinoisans, the only foods available to them are those that may be purchased with their Link card. In order for farmers markets to be accessible to them, the markets must have Electronic Benefits Transfer (EBT) systems in place that allow customers to use their Link cards at the market. Additionally, the often higher prices of fresh, nutritious, and locally produced foods sold at farmers markets can make these foods unaffordable for low-income customers.
Which is what the South Shore Farmers Market has been attempting to alleviate. But Qae-Dah Muhammad says that she has been forced to close the market for at least today (September 4), which she pounds the pavement looking for produce vendors.
She joins me on the program this morning to explain her predicament, and is joined by Corey Chatman, the project manager at the Experimental Station. Meanwhile, if you are a farmer or an organization that would like to help keep the SSFM going, contact Que-Dah at 773-554-8056 or write to her in care of the Ashe Park Advisory Council at ashepark@gmail.com.
Patrick Barry returns with a Chicago Farm Report
 As we lurch into September (well, some of us lurch and some of us tread lightly), Peggy Malecki and I welcome back Patrick Barry with the Chicago Farm Report. He writes:
I'll be ready to talk about agritourism, which is a bigger industry than people realize, with more than 800 destinations in Illinois alone. It's all those you-pick operations, of course, but also farm dinners, tours, B&Bs, work days and other events. You want me to be more specific? Up in Southwestern Wisconsin each August, a bunch of women farmers organize the Soil Sisters weekend and open their gates to visitors, offering workshops and trainings (Fermenting 101, etc), but the real draw is the Sunday farm tour, which my wife Pam and I attended this year, while staying at an on-farm B&B. It really gave a close-up view of the entrepreneurial life of the small farmer.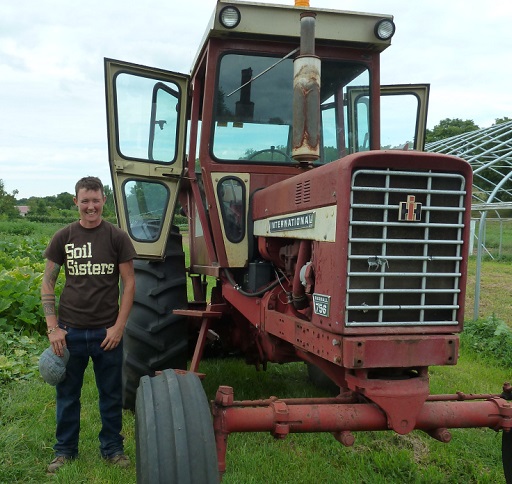 Lindsey Morris Carpenter of Grassroots Farm from Soil Sisters farm tour. Photo by Pam Barry.
And I'd love to give a few minutes to a recent visit to the Global Gardens refugee farm at Lawrence and Sacramento. It's right behind one of those 4×8-garden-box Peterson Garden Projects, but totally different, with bulging 40-foot rows with what the farm coordinator Linda Seyler calls "the most intensive intercropping she's ever seen." There are 100 family plots at Global Gardens, mostly tended by Burmese and Bhutanese refugees who were farmers in their homelands. Demand is so high that two extensions have been started, one with 10 plots at North Side College Prep, the other with 20 plots at the Dunning Community Garden. Most food is grown for home consumption but some is sold on Saturday mornings at the Horner Park Farmers Market, Montrose and California.
The fact that we've covered both Soil Sisters and Global Gardens on the show in the past, makes is doubly interesting. I hope we also have a chance to cover a couple of stories that Patrick has posted on his Chicago Farm Report blog. One
concerns
Stateline Farm Beginnings
®
program from
Angelic Organics Learning Center
(AOLC) and the other is a story about
how to spot "farmers market fraud."

It's always great to have Patrick Barry on the program on a Sunday morning.
If you're a regular listener to the show, you know that Rick DiMaio has been a huge part of The Mike Nowak Show for about eight years. Even when I was wandering in the Intertubes wilderness during 2015, recording podcasts on my dining room table with my cat La Gata tap dancing on my computer keyboard, Rick would graciously do the occasional interview about weather and how it is related to climate change (or is it the other way around?)
Yeah, I know that he occasionally shows up on Gargantua Radio but, hey, with what I pay him, he's allowed to talk to whoever he wants to on whatever radio station makes him happy. And I don't push him to show up in the radio studio, so it's always an event when he does stop by.
Perhaps because he has the extra day off for Labor Day, Rick, who is a meteorologist and an adjunct faculty member of the Institute for Environmental Sustainability at Loyola University in Chicago, will be in the Que4 Studios this morning. In fact, we're spending the entire 10:00 hour with him!
Of course, we will discuss climate and weather, especially how the two come together in the form of storms like Hurricane Hermine.  In fact, the subject line of one of his recent emails read in part, "Could be SANDY 2!"
Of course that "Could be HYPERBOLE!" But, much more often than not, Rick is spot on with his predictions. So watch out, east coast!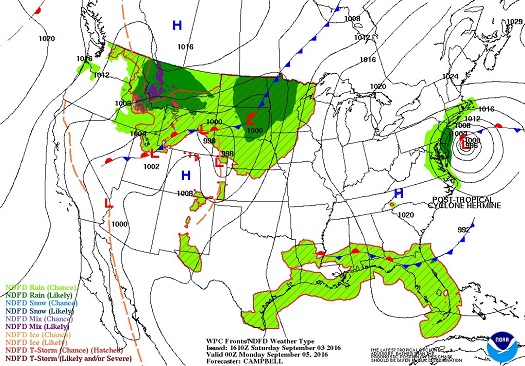 What Hurricane Hermine will look like on Sunday at 6pm EDT
Call in to
312-985-7834
or post a comment on
The Mike Nowak Show Facebook page
or tweet us at
@MikeNow
. I do expect to hear from ersatz meteorologist W. C. Turck, but the rest of you are invited to join in the conversation, too.