September 3, 2017 – Chicago: City of Big Celery
(Photo courtesy of Ravenswood-Lake View Community Collection and Garry Albrecht)

One man's war against Styrofoam waste
I've been helping to put together a symposium for the Illinois Recycling Association, which will happen on September 12 in Champaign, Illinois. Full disclosure: I am an unpaid board member for IRA, at least until the next slate of directors is installed at that symposium/meeting. The event is called Revitalizing Plastics Recycling and it is being co-presented by the Illinois Sustainable Technology Center of the University of Illinois at Urbana-Champaign.  The speaker schedule look like this:
Brian Plotner – University of Illinois student majoring in Public Health will share the results of his online Research Study on Plastics Recycling in Illinois
Ken Santowski – President, Chicago Logistic Service – Recovering Polystyrene (Styrofoam)
BK Sharma – Senior Research Scientist, ISTC –  Fuels from Waste through Thermochemical Conversions, an onsite pyrolysis (plastics to oil) demonstration
Max Babits – Project Analyst, RRS – Materials Recovery for the Future
Tanner Smith – Corporate Development Analyst, Delta Plastics – Agricultural Plastics Recycling
We hope to have BK Sharma on the show next week, but today our guest is on Ken Santowski, who has been on a one-man mission to recover expanded polystyrene (often known by the Dow Chemical Company trademarked name Styrofoam), especially since he became a member of the Environmental Defenders of McHenry County in 2008. Unfortunately, that isn't an easy task, as this Daily Herald story shows.
Yet, Santowski's company annually diverts more than 20 trailer loads of Styrofoam headed for the landfill. It recently developed a partnership with Dart Container Corporation with the goal of establishing almost two dozen drop off sites throughout McHenry and Kane Counties. ClS maintains a 24-hour Styrofoam recycle bin at office in Elgin that is open to the public.
He writes about his talk at the IRA symposium:
Polypropylene, polyethylene, poly vinyl chloride, polystyrene, poly unsaturated, Polly want a cracker? So many poly's and you don't know what is which one. What's the difference between #6 plastic and #6  Styrofoam? It's all so confusing for even the most dedicated recycler. Since 1940 when Dow Chemical employee Ray McIntyre invented Styrofoam (trademark name), the world has come to depend on this amazing product that is just so versatile one wonders how we can survive without it. Styrofoam is expanded (not extruded) polystyrene #6. Still confused? Try sorting and recycling these items. Styrofoam will last forever (at least that's what its life expectancy is) so we need to figure out how to keep it out of the landfill, keep it out of the oceans and prepare it for its own end of life. Whether we realize it or not, we prepare for the end of life in every thought and every movement we do.
Hey! Yeah, you! How about a donation for Eden Place Nature Center?
We'll make this quick. Eden Place Nature Center is a former dump site in the Fuller Park neighborhood on the south side of Chicago that has become an organic farm and desperately needed chance for adults and children in that area to interact with animals and till the soil of vegetable gardens. Michael Howard, his wife Amelia and others have already worked for 20 years to move towards their goals. And now they need your help to move further and complete a state of the art learning center.
The multi-purpose facility will offer classrooms, a community gathering space, and a community coffee shop. The plans also include provisions for a green roof and solar panels for additional learning opportunities. This highly sustainable learning center will expand the opportunities available to local residents and embody the resilience of the Fuller Park community.
The goal is to raise $250,000 and they've started a Go Fund Me campaign to make that happen. Michael Howard joins us today to talk about his dream and how it can be realized. By the way, I'm a huge fan. Let's make this happen.
Chicago: City of big celery
On July 27 of this year, Angelic Organics Learning Center held their annual Peak Harvest Farm Dinner. This year, the site of the celebration was Galleria Marchetti (pronounced mar-KET-ee, as I learned after I had already recorded a radio promo for the event).
I was honored to be the auctioneer for the evening.
Wait. Let me take that back. Auctioneering is hard work. Dirty, nasty, difficult work. That said, the auction part of the festivities went well and I think we raised a fair amount of money for AOLC. On the other hand, the emcee for the evening–the one who got to introduce the speakers and who didn't have to sweat about the silence in the room when it was time to say, "Do I hear eighteen hundred?"–was WBEZ's Monica Eng.
Yeah, I know. She works at Chicago's NPR station and was a food, culture and watchdog-investigative reporter at the Chicago Tribune for 16 years and before that she worked at the Daily Southtown and Chicago Sun Times and has won multiple writing awards, including having been nominated for the James Beard five times.
Yeah, but other than that, what's she got that I ain't got? (Hmm, I think my inner Donald Trump is showing.)
However, she did say that she was working on a very cool story for WBEZ's Curious City about this history of Chicago and how at one time we were the celery capital of the country, when we weren't the pickle capital of the country, which is when we weren't the flower capital of something or other. And she also said that she'd be happy to appear on The Mike Nowak Show to talk about it.
Well, that changes everything. Welcome to the show, Monica!
Her story is called City Of Big Agriculture: Here Are The Crops Chicago Was Once Famous For, and if you click on that very long link, you can either read the story or listen to the audio version of it.  Among the interesting things you will learn is that Chicago was ground zero for a 19th Century celery craze: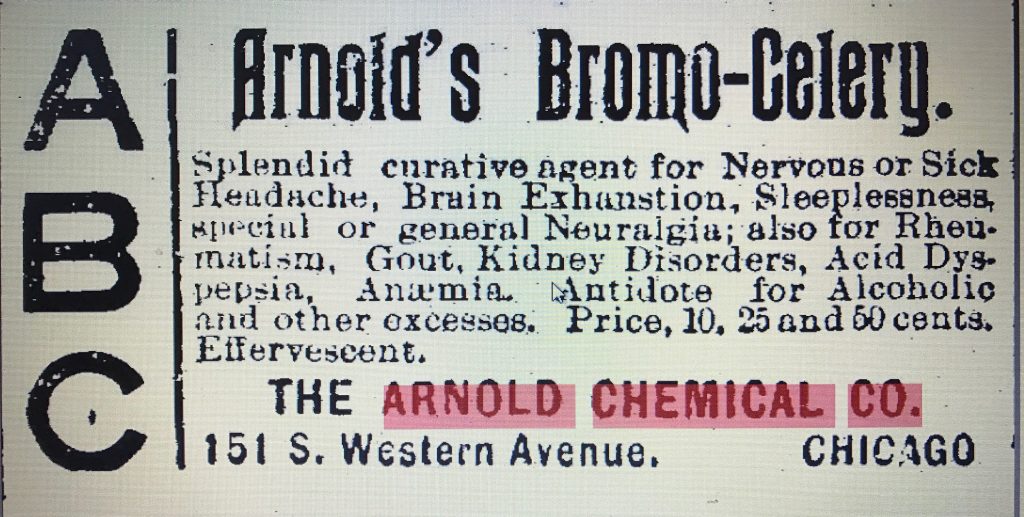 So Chicago — with its celery-friendly sandy soil, abundant fresh water and national rail transportation — was a perfect spot to grow and export the vegetable to an often dyspeptic nation. Plus, celery could be harvested as late as January during a mild winter, so long as it was packed in sand or soil.
Hundreds of Chicago immigrant farmers grew the vegetable on what became the city's North Side. According to 19th century Chicago horticulturist Edgar Sanders, Lakeview Township soil was "black," "boggy" and "plentiful mixed with sand." He added: "There is no land which can compete with such as this for celery culture."
Did I mention pickles?
In the late 1880s, Chicago was home to no fewer than three nationally famous pickle brands: Budlong, Squire Dingee and Claussen. These operations thrived in Chicago for several reasons: European pickle know-how; a robust local salt processing industry; rail and other transportation options; and — early on, at least — productive pickle farms.
And…who knew? Chicago was once the California of the Midwest!
Even though Chicago had the fertile soil and infrastructure needed for farming, the city lacked year-round warmth. So local truck farmers (those who "trucked" produce to Chicago's central markets) turned to greenhouses to supply lettuce, tomatoes, peas and other veggies in the off season. It was a popular European technology that could be fueled cheaply by Chicago's abundant coal supply.
"Illinois ranked first among other states in area covered by glasshouses. … A large percentage of these [were] in neighborhoods of Chicago, and several firms have each over a million square feet of glass," Cathy Jean Maloney writes in her book Chicago Gardens.
That's just a little of the fascinating story that Eng has to tell on today's show. Interestingly, Garry Albrecht, who is on the board of the Ravenswood-Lake View Historical Association, took the article and ran with it, adding numerous photos and historical clippings to create this blog post of the Lake View Historical Chronicles. My thanks to Garry for allowing The Mike Nowak Show to post a couple of those photos.