September 18, 2016 – Farm Strolls; 12 Special Species; A Visit from Dallas Goldtooth

Strolling on the farm (wear your boots!)
Michelle Byrne Walsh is a buddy of mine for a number of reasons. First and foremost, we both have worked for Chicagoland Gardening Magazine. While I have remained in my humble position as columnist, Michelle has moved on in the State By State Gardening empire to become editor of Indiana Gardening, Ohio Gardener, Pennsylvania Gardener, and Missouri Gardener–all at the same time! (She must be rich! But I digress…)
She's also an Illinois Master Gardener–not in Cook, but in McHenry County, which is why she stops by today to promote the 2016 McHenry County Farm Stroll and Market on Sunday, September 25 from 11am to 5pm. It's what they call an "educational agriculture-centric" tour, featuring apple orchards, vegetable growers, cows, goats, chickens, turkey, horses, alpacas, a vineyard, sustainable agriculture, hydroponics and more!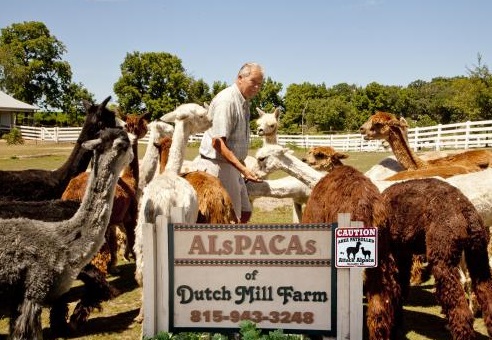 There are 12 farms in all and the tour is family-friendly and self-guided. You can visit as many–or as few–farms as you like.
The Farm Stroll and Market is organized by the McHenry County Farm Bureau and the University of Illinois Extension McHenry County Master Gardeners. and it's absolutely free, though you can purchase food, produce or other farm-related products, which makes sense. Be sure to bring cash.
And, of course, you're not at the beach, so flip-flops and sandals are not appropriate. Dress appropriately, preferably in layered, all-weather clothing and sturdy shoes. Children of all ages are welcome, but they must be supervised at all times. No pets, please. A few farms will have toilet facilities, but several do not, so plan accordingly!
You can get more information on their Facebook page or call  815-338-1520.
One Home: Chicago Wilderness supports 12 species in 12 weeks
Another old friend (which is a relative term, so cut me some slack, folks) joins Peggy Malecki and me on The Mike Nowak Show this morning.  That person is Suzanne Malec-McKenna, who is executive director of Chicago Wilderness. If you've been around Chicago for a few years, you know that she is a former commissioner of the Chicago Department of the Environment.
Oh, wait. That department was dismantled as one of the first decisions of the Emanuel Administration in 2011. Which reveals volumes about Rahm Emanuel's priorities. But again, I digress..
So let's talk about the Chicago Wilderness's One Home: A Campaign to Support Our Species. CW is working with 11 partner organizations to call attention to what they consider to be priority species in our region. There are 12 in all, and people are urged to make donations on CrowdRise, a crowdfunding platform. The funding raised during the One Home campaign will directly assist the 12 species and their habitats. Each of the priority species tells a unique story of survival, and of our efforts to preserve and enhance their homes.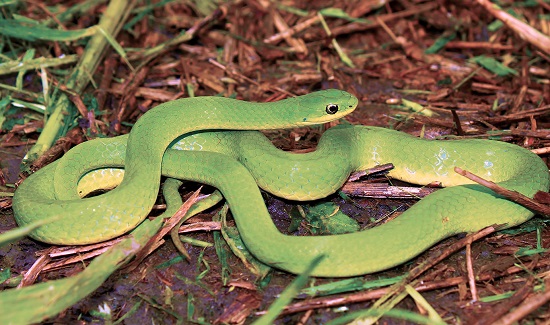 Smooth Green Snake. No false advertising here.
The 12 species are, in no particular order: Blanding's Turtle, Red-Headed Woodpecker, Monarch Butterfly, Blue-Spotted Salamander, Rusty Patched Bumble Bee, Ellipse Mussel, Smooth Green Snake, Henslow's Sparrow, Bobolink, Little Brown Bat, Mottled Sculpin and Regal Fritillary.
In what I consider to be a great honor, I was asked to do the voices of six of those animals for the Chicago Wilderness videos. For instance, here's the video for the Smooth Green Snake.
It's great to reconnect with Suzanne Malec-McKenna this morning. But the important thing is to get folks to reach into their pockets to help protect these priority species. Please do what you can.
Dallas Goldtooth, environmental justice and humor.
Hmm. Sounds familiar.
Peggy Malecki writes:
As Mike and I were trying to make sense of the more than 300,000 Google news hits surrounding the #NoDAPL protests and a lot of the other stories we've been covering lately on the Show, we kept coming back to the same word—water and its connection to
Factory farming operations
The Flint, MI water system and lead testing in our Chicago schools and neighborhoods
Ravine restoration and trout streams in Highland Park
Louisiana flooding, increased tropical storms and heavy rains in the Midwest
Enbridge Line 5 pipeline protests in Chicago and Mackinac City, MI
Waukesha, WI water diversions
Sweet corn. SWEET CORN!
And this is just from our summer shows!
Last week, we were privileged to broadcast live from the Socially Responsible Agriculture Project Factory Farm Summit, in Green Bay (click here to listen to the podcast if you missed it). At Saturday night's dinner, organizers presented an Oneida Water Welcome ceremony. Following dinner, Mike Wiggins, Jr. , former chairman of the Bad River Band of Lake Superior Chippewa, took the stage to deliver his keynote and set the tone for the Summit—Water. Here are a few of the memorable things he said:
"Everyone is made up of over 70% water. We're all water sentinels, but we're not random water. The watershed you live in is what makes you up… We're all standing on common ground, in which common law is natural law. Our children are water sentinels, staring back at us. That can shrink the corporate view back to nothing."
"We can walk through the world and feel like a little bitty speck under the stars. It's the same as when we approach these big companies. It's about our children and their children; it's about life and death. All of us are in it together. It's the seventh generation worldview."
"Water is the new civil rights issue of our time and will be so on an unbelievable level for our children and our grandchildren."
"There is no help coming. It's time to step up and stand up. We're at that moment in time when the tribes are saying enough is enough."
On April 1, a small group of Standing Rock Sioux and members of other local tribes began a small encampment at Sacred Stone Camp, near the banks of the Missouri River, just south of Bismarck, ND. Energy Transfer Partners was in the process of obtaining final permits for the Dakota Access Pipeline (DAPL), which would carry light, sweet crude from North Dakota's oil fields through South Dakota and Iowa, and terminate in southern Illinois.
The tribes arrived to protest the permitting process that would allow the pipeline to route through sacred and historical lands, and under their water source, the Missouri River. They filed a lawsuit to maintain their land and water rights and halt the permitting and construction. Then they dug in for the long haul.
As summer progressed, more and more people showed up and set up camp. The Sacred Stone Camp spilled over the hills to a much larger encampment along the Missouri River. Representatives from more than 200 tribes arrived, as did supporters from other groups, the ACLU, politicians, actors and the media. Protestors and media have been arrested. Pipeline crews, local government and protestors have encountered each other, and not always in friendly ways.
What started as a relatively small tribal protest against an oil pipeline evolved into what is being called a movement, and it's caught the worlds' attention with headlines appearing regularly in global news outlets (again a Google search will reach into the thousands).
The movement seems to be inspiring groups everywhere. For example, on September 13, protestors siting solidarity with the Standing Rock Sioux were arrested for blocking work on a local pipeline in New Haven, VT.
Needless to say, the movement is not going to go away quietly, or anytime soon.
The gathering of so many Tribal groups could be building a new coalition and a new hope for righting some of the wrongs that have been bestowed on Native Americans since the first treaties were signed and broken. And broken again. In fact, it may even be the start of a civil and environmental rights turning point.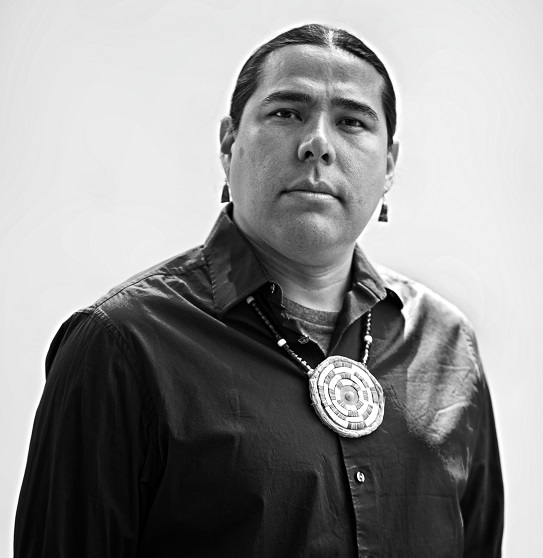 We're thrilled this week to welcome Dallas Goldtooth to The Mike Nowak Show. Dallas (Mdewakanton Dakota and Dine) is the national Keep It In The Ground campaign organizer for the Indigenous Environmental Network and is a veteran of the protest agasinst the Keystone XL pipeline. He's a digital media producer and dedicated organizer, as well as a co-founder of the 1491s comedy group. A nationally known public speaker, activist, performer and event emcee, Dallas has traveled across Turtle Island (aka North America) sharing story, entertainment and knowledge.
Dallas was on the front lines of the #NoDAPL protests in North Dakota, reporting from the Sacred Stone Camp and other Dakota Resistance camps via social media, offering real-time insights into life at the encampments on his Facebook page.
What's made the difference in North Dakota, says Dallas, and why it has taken on a life of its own, is the leadership of the various tribal groups and how they've come together in solidarity for the Indigenous rights and culture.
We're looking forward to talking with Dallas about the #NoDAPL camps, the stories and the meaning behind the protests. And discussing how this movement fits into the larger global issue of environmental justice that affects us all.