September 17, 2017 – Wildcrafting, Tracking Monarchs

Making medicine out of weeds and other dubious plants
If you have a yard, here are three questions and answers that might get your attention:
Is your yard overrun with Creeping Charlie? I have a suggestion: make tea and sip to relieve your congestion from a cold.
Are you tired of trying to dig out burdock by the roots? Why not add a little cinnamon or cloves and create a decoction to address eczema or dry skin symptoms by stimulating digestion?
Here's one more. If you have compacted soil, you undoubtedly have plantain in your yard. Which means that you also have a plant that speeds healing of wounds, while working to prevent septic infection. All you have to do is make a tincture for internal use or a salve for external application.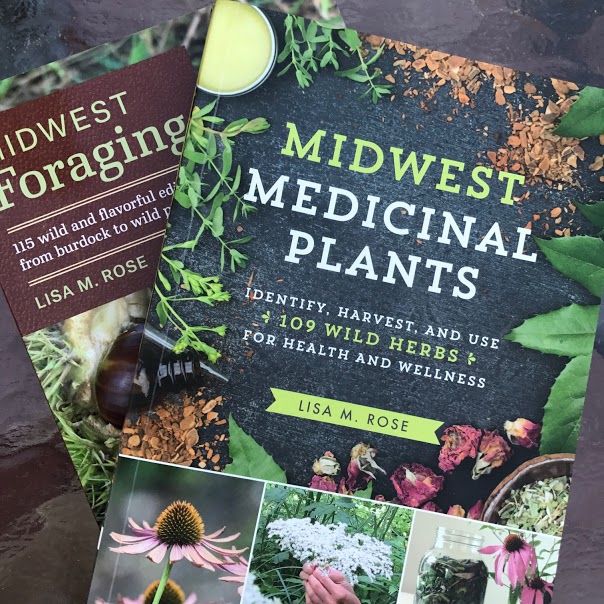 Intrigued? You might want to pick up a copy of Midwest Medicinal Plants: Identify, Harvest, and Use 109 Wild Herbs for Health and Wellness, by Lisa M. Rose, who is our first guest this morning. She is an herbalist who is also the author of the 2015 book, Midwest Foraging: 115 Wild and Flavorful Edibles from Burdock to Wild Peach.
The book is pretty straightforward and includes a lot of photos. As Rose explains.
This book provides descriptions of 109 medicinal plants that grow and can be harvested in the Midwest. It guides you through the seasons to help you identify plants to use for medicine making, including when and how to wildcraft and prepare them.
In each plant profile, you will learn how to identify the plant; where, when and how to wildcraft it; how it can be used as medicine; and why its medicinal action is helpful for optimal health. Each profile also includes suggestions regarding how to prepare and use the plant and its part as herbal medicine.
About the only thing I found confusing about that was the use of the word "wildcraft" as a verb. I've been doing the gardening media thing for twenty years and it's the first time I've ever encountered the word.  From Wikipedia:
Wildcrafting (also known as foraging) is the practice of harvesting plants from their natural, or 'wild' habitat, primarily for food or medicinal purposes. It applies to uncultivated plants wherever they may be found, and is not necessarily limited to wilderness areas.
Oh! Foraging! Well, why didn't you say so?
What I like about Rose's approach is that the plants she advocates for medicinal use run the gamut from "weeds" to native ornamentals to non-native ornamentals to herbs to — pretty much anything that has a history of therapeutic use and can be found growing in the Midwest. Those medicines include cold infusions, hot infusions, decoctions, tinctures, infused honey, infused oils and salves. She also divides her book seasonally, based on the best times to harvest each plant.
It's also good to see that she encourages safe harvesting, which includes anything from being sure you can identify a plant with certainty before you harvest it, to being respectful of both public and private property and to the plant populations that grow there.
Am I going to go into my kitchen and whip up a bunch of tinctures? Uh…probably not. But there are a lot of you (Peggy included, I think) who will. And, who knows? Someday I might get on the bandwagon myself. But for today, I'm happy to welcome Lisa Rose to the show and help her spread her plant wisdom.
Meat consumption and dead zones
On August 2 of this year, the National Oceanic and Atmospheric Administraiton (NOAA) released a report with a none too encouraging headline: Gulf of Mexico 'dead zone' is the largest ever measured. The government agency reported that
Scientists have determined this year's Gulf of Mexico "dead zone," an area of low oxygen that can kill fish and marine life, is 8,776 square miles, an area about the size of New Jersey. It is the largest measured since dead zone mapping began there in 1985.
In case you don't know what causes dead zones (which, by the way, occur all over the planet), NOAA continues,
This large dead zone size shows that nutrient pollution, primarily from agriculture and developed land runoff in the Mississippi River watershed is continuing to affect the nation's coastal resources and habitats in the Gulf.
By the way, you folks who like to slather your lawns with fertilizers that contain way too much nitrogen are part of the problem, too.
But back to meat.
A group called Mighty Earth, which describes itself as a"global campaign organization that works to protect the environment" has created a report called Mystery Meat II: The Industry Behind the Quiet Destruction of the American Heartland. That document looks at the consequences of large meat production, noting that "[i]n 2015, the U.S. produced 24 billion pounds of beef, in addition to 40 and 25 billion pounds of chicken and pork, respectively."
That report reveals that approximately 40 percent of the corn and 7o percent of the soybeans grown in the U.S. are used to raise meat. And that those crops require copious amounts of fertilizer: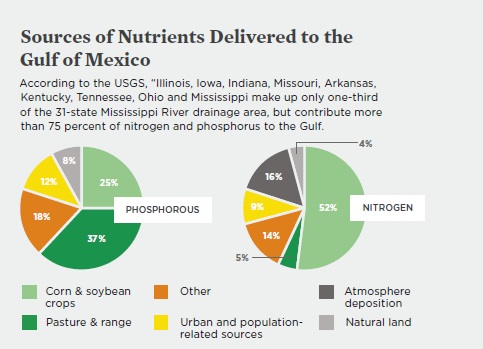 Fertilizer pollution is also the leading cause of annual toxic algae blooms that cause waterways across America to collapse into Dead Zones, which are toxic to marine life and unhealthy for recreationalists. While fertilizer pollution starts in the Midwest, it flows down the Mississippi River until it finally dumps out into the Gulf of Mexico, which collapses into one of the world's largest Dead Zones each year as a direct result. Approximately 1.15 million metric tons of nitrogen pollution flowed into the Gulf of Mexico in 2016 alone, which is around 170 percent more pollution than was dumped into the Gulf by the BP oil spill. While the BP spill was recognized as a major industry disaster on a national scale, fertilizer spills into the Gulf every year with little scrutiny or accountability.
And it's not just the Gulf of Mexico that suffers.
Fertilizer pollution affects millions of Americans that use and rely on waterways. Families, children, farmers, fishermen, recreationalists and even pets are affected. Because most of the pollution from crop fields is classified as unregulated "non-point source" pollution, the cost of fertilizer pollution is borne by communities and industries downstream. Each year, Americans are forced to spend nearly $1 billion on bottled water due to agricultural nitrate pollution. And the U.S. Department of Agriculture (USDA) estimates public water treatment costs to remove nitrates originating from cropland are even higher: $2 billion annually.
 The report zeroes in on America's largest meat company, Tyson Foods, which produces "one out of every five pounds of all meat raised in the United States," and hopes to get the behemoth to commit to sustainable practices.
To that end, Mighty Earth launching a campaign called "Clean it up, Tyson," and is holding a campaign kickoff meeting in Chicago on Tuesday, September 19 from 7:00-8:00 p.m. at the Second Unitarian Church of Chicago, 656 West Barry Avenue, Chicago, IL 60657.
Chicago Field  Organizer Celeste Nahas joins us this morning to talk about the campaign.
Monarchs finishing strong in 2017?
I received a bit of good news in the form of a Facebook message from Doug Taron, aka The Butterfly Guy, but more officially known as Chief Curator of the Chicago Academy of Sciences at the Peggy Notebaert Nature Museum in Chicago. He was writing about local populations of monarch butterflies:
The Illinois Butterfly Monitoring Network found very strong numbers this summer. Nearly twice what we saw last year. The Illinois summer numbers are often good predictors of the numbers that will be recorded in Mexico the following winter.
Well, all I can say is YAY! And given that I have been rather pessimistic about the fate of this iconic insect species, that's pretty good news. The Nature Museum also sent out a press release this past week, noting that
Thousands of Monarchs are fluttering toward Chicago from Canada, Wisconsin and Michigan. In the short time they will be here, these butterflies will join another group of Monarchs that are just emerging from their chrysalis. The groups will combine and make the long flight south. The migration is thought to be triggered by the changing hours of daylight.
Unfortunately, the news is not good for the western monarchs, which reportedly have seen a 97% decrease in population in the last 35 years. And let's remember that for the monarchs in our part of the country, there's still a lot that can happen between now and when they arrive at their winter home in Mexico. One example of this is a sad, yet encouraging report on Monarch Watch called Forgotten Victims of Harvey – the Pollinators by Barbara Keller-Willy, who is the Director & Founder of Monarch Gateway, and President of the Native Prairies Association of Texas. It was written over the course of hurricane Harvey with closing completed after the hurricane.
Taron notes that you can help the species by visiting websites like Journey North and Monarch Watch and by following the Nature Museum's updates on Facebook, Twitter and Instagram. I would add The Monarch Joint Venture to that list. He joins us on the show this morning with more details on the monarch's journey southward.