September 11, 2016 – LIVE From the Factory Farm Summit in Green Bay, Wisconsin!

Mike and Peggy hit the road for Green Bay, Wisconsin
This is one of those weeks when you realize that two hours of show time isn't nearly enough to talk about all of the environmental and food issues that our country–let alone our planet–faces.  The 2016 Factory Farm Summit: Demanding Accountability in Animal Agriculture in Green Bay Wisconsin highlights just one of those issues, and we're happy to be on site for the event.
There are a number of partners for this event, which is led by the Socially Responsible Agricultural Project (SRAP). As the presenters note,
Throughout rural America, factory farms are expanding at an unprecedented rate. As a direct result, the air in rural communities is increasingly polluted, local waterways and wells are fouled, and farmers and rural citizens are finding themselves in a position of fighting for their homes, their businesses, and rural quality of life.
Unfortunately, Big Ag–which includes Big Hog, Big Chicken and Big Cattle–would have you believe that despoiling our land, air and water with animal waste is just another part of country livin'.  They just don't understand why regular folks can't stand the stench or the dead fish in the rivers  or the plummeting property values of those homes unfortunate enough to be in the way of a factory farm.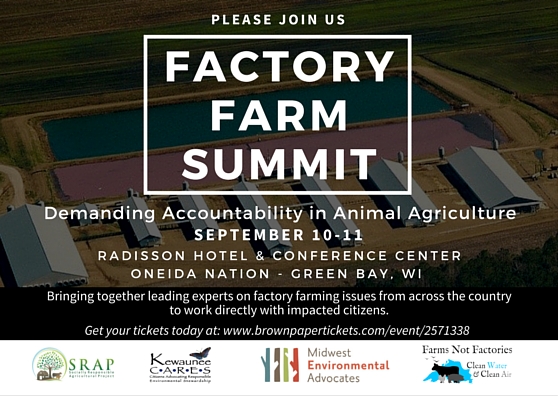 This summit is national in scope but make no mistake–Illinois laws concerning factory farms are among the worst in the nation. Among the changes that groups like SRAP and Illinois Citizens for Clean Air and Water (ICCAW) would like see made are these:
Require all concentrated animal feeding operations (CAFOs) to register with the Illinois EPA (IEPA), so the agency actually has an accurate location database maintained. (Yup, the IEPA has no idea how many factory farms are in the State of Illinois.)

Require all large CAFOs to obtain operating permits from the IEPA to prevent pollution. (Basically, under current law, nothing happens until after the pollution has occurred. Nice.)
Close the expansion loophole under Illinois' livestock facility siting law administered by the Illinois Department of Agriculture (IDOA). (Operations can more than double their size every two years without being subject to public informational meetings and other regulations. Surprise!)

Allow county boards to convene meaningful hearings and issue binding recommendations to the IDOA on the siting and construction of new large-scale livestock confinement operations. (Right now, a duly-elected county board and its constituents can say "no" to a CAFO, and the IDOA can say "Sorry, we say yes." And I thought taxation without representation was tyranny. Silly me.)
Give adjoining landowners, neighbors and other impacted citizens to proposed new and expanding large-scale livestock confinement operations the legal standing to call for automatic public hearings on applications and the right to appeal poor siting decisions by the IDOA.

Create setbacks from existing surface waters and increase setbacks from homes and towns for large facilities.
Require all livestock facilities to submit waste management plans with spill control and a prevention plans to be approved by IDOA prior to siting and construction approvals and mandate that those plans to be subject to public review and comment as part of the application process. (If your jaw isn't already on the ground over this one, it should be.)
We could go on for hours about how industry-friendly, environmentally destructive and just plain backwards our particular Illinois law, called the Livestock Management Facilities Act, is, but you can find out for yourself in this devastating series of articles by the Chicago Tribune called The Price of Pork.
Instead, we'll talk about who Peggy and I hope to interview on Sunday's show:
Danielle Diamond, Executive Director of SRAP, and Karen Hudson from both SRAP and ICCAW. Both have been on my program in the past.  As they sarcastically note, Illinois seems to have won the race to the bottom as far as enforcement and regulations over factory farms.
Nancy Utesch, who is fighting CAFOs in Kewaunee County, Wisconsin and Mary Doherty,  who is in Bayfield, WI, on the shores of Lake Superior, where a CAFO could threaten the water supply from the greatest of the Great Lake
Maria Payan, from Delaware, who proves that the factory farm issues aren't just a Midwest problem.  In this case, the fight is about poultry CAFOs, not pork.
Michele Merkel is an attorney for Food & Water Watch and a staff member of Food & Water Justice, which works to develop and implement legal strategies and remedies to promote clean water and safe food. She co founded Environmental Integrity Project and is currently a board member of SRAP.
John Ikerd, Professor Emeritus of Agricultural Economics  at the University of Missouri. He has written six books on sustainable agriculture and sustainable economics and has worked to develop the concept of Deep Sustainability—whereby sustainability's economic concerns are bounded by social relationships, with both being ultimately bounded by ethical and moral beliefs.
Now here's Peggy with the rest of what might or might be mentioned on the program this week, but what is still valuable information:
There's so much happening this week that we may not get to it all and still have time for Rick DiMaio's weather report. It's been a busy news cycle. So we're giving you the basics to follow along with our news and event Round-up.
We've been following the Dakota Access Pipeline (DAPL) protests on the show and in our social media. Friday saw the decision by U.S. District Judge James E. Boasberg to deny a halt to construction of the pipeline under the Missouri River. Native tribes, led by the Standing Rock Sioux Tribe, had sued the Dakota Access pipeline company to prevent construction through their sacred lands and under the river. Growing numbers of Native Americans and their supporters have been protesting at the construction site since April.
Shortly after the judge's decision was announced, in what MSNBC's Rachael Maddow called "a really big turn that no one saw coming", the federal Department of Justice and the Army Corp of Engineers intervened, calling for a voluntary pause on construction on Army Corp land at the site of the Missouri Rover crossing in North Dakota until permit applications could be properly studied. Wow.
To celebrate its 20-year legacy as the region's leading conservation alliance, Chicago Wilderness launched its One Home: A Campaign to Support our Species. Chicago Wilderness and its lead partner organizations are leading a fundraising effort to support the health and habitat of 12 priority animal species in the region and kick off a five-year conservation campaign.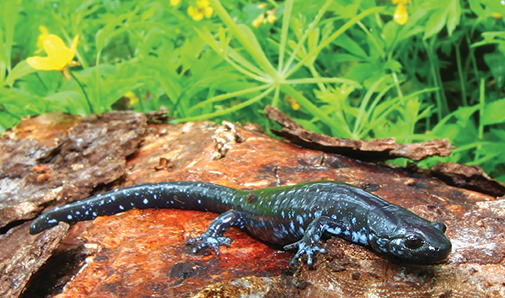 Blue Spotted Salamander, one of the 12 priority species for our region
"This is the first time that anyone has launched a crowdfunded campaign of this scale to support wildlife in our region," says Suzanne Malec-McKenna, Executive Director of Chicago Wilderness, who will join Mike and Peggy on the September 18 show to talk more about this campaign.
Running from September 6th – November 29th, the One Home campaign is hosted through CrowdRise, a crowdfunding platform. In addition to pledging your support, you can sign up to lead a fundraising team in your community.
It looks like the Cook County Board may finally be ready to do something about safe disposal of unused prescriptions and OTC drugs, which pose "a real and continuous danger" to public health and the environment. In August, Walgreens announced that some Illinois stores, including 13 within Chicago, will offer kiosks to collect unused meds. Lake County has a strong prescription drug program via SWALCO and police stations. Other counties also collect through police department drop boxes. However, Cook County is lagging behind.
Metropolitan Water Reclamation District president Mariyana Spyropoulos, Commissioner Debra Shore and the commissioners published a letter to the editor in Saturday's Chicago Tribune showing their support for this legislation and urging residents to contact the Board members about voting in favor of this amendment.
We first met Katharine Egan at the Advocates for Urban Agriculture Soiree in August. She wrote this week to tell us about the big youth urban agriculture graduation party coming up September 24 at The Grober Urban Farm in Evanston. This suburban farm was launched this past spring, and serves a teaching garden for middle- and high school kids. This free party and fundraiser is a great way to see youth urban agriculture in action. Get your tickets here.
Midwest Circus in the Parks started as a small group of performers in Europe and has evolved into an organized (non-animal act) touring circus that is "creating community, raising funds and rebuilding parks … one circus at a time." The troupe comes to Wicker Park (1425 N. Damen, in Chicago) September 17-18 with five performances to benefit the Wicker Park Advisory Council's Initiatives, which include the WickerICE skating rink, the park's ornamental and teaching gardens and the CREATE class series.  Get your tickets here.
Thinking of starting some backyard chickens next year? You may want to check out the Windy City Coop Tour, September 17-18.  You can see chicken coops in action, learn about the flocks from their caretakers and find out how to start your own backyard coop.  It's a self-guided tour that runs from 10am – 2pm at a cross-section of urban coops. Check the website for more details and a map.