September 10, 2017 – Reclaiming Plastics and Toxics

Turning plastic bags back into petroleum
Question: How much oil is used to make plastics in the United States?
  Answer: We don't know.
Seriously. The EIA or U.S. Energy Information Administration states,
Because the petrochemical industry has a high degree of flexibility in the feedstock it consumes and because EIA does not collect detailed data on this aspect of industrial consumption, it is not possible for EIA to identify the actual amounts and origin of the materials used as inputs by industry to manufacture plastics.
However, we do know that petrochemicals are involved and that a lot of bags are produced…and consumed. According to the Environmental Protection Agency, more than 380 billion plastic bags, sacks and wraps are consumed in the U.S. each year.
A number of American cities are fighting the plastic bag scourge by banning or taxing them. Just last month, Jordan Parker from Bring Your Bag Chicago appeared on The Mike Nowak Show to talk about how Chicago seems to have (finally) been able to slow down the onslaught of plastic bags, thanks to a seven cent tax imposed on February 1, 2017. If you're a Chicagoan and you find the tax annoying, stop yer griping and be grateful you don't live in Kenya, where a law just went into effect that completely bans the manufacture, import and use of plastic bags and imposes a $38,000 fine or a four-year jail term for non-compliance.
But there might be another way to keep plastic bags from polluting our land, air and water–turn them back into diesel, natural gas, waxes, lubricating oil and other petroleum products, thanks to a process called pyrolysis. That process is being explored at the Illinois Sustainable Technology Center (ISTC) a division of the Prairie Research Institute at the University of Illinois.
And you can see this process in action on Tuesday, if you're willing to go to Champaign, Illinois and be part of a symposium that we discussed on the show last week. It's called Revitalizing Plastics Recycling, and it's being presented by ISTC in collaboration with the Illinois Recycling Association (IRA). (Full disclosure, I am a board member of the IRA and I have been helping to put this program together.)
According to Brajendra Kumar (BK) Sharma, a senior research scientist at ISTC, in an article for Illinois News Bureau,
"You can get only 50 to 55 percent fuel from the distillation of petroleum crude oil," Sharma said. "But since this plastic is made from petroleum in the first place, we can recover almost 80 percent fuel from it through distillation."
The story reports that though using pyrolysis to process plastic bags isn't new,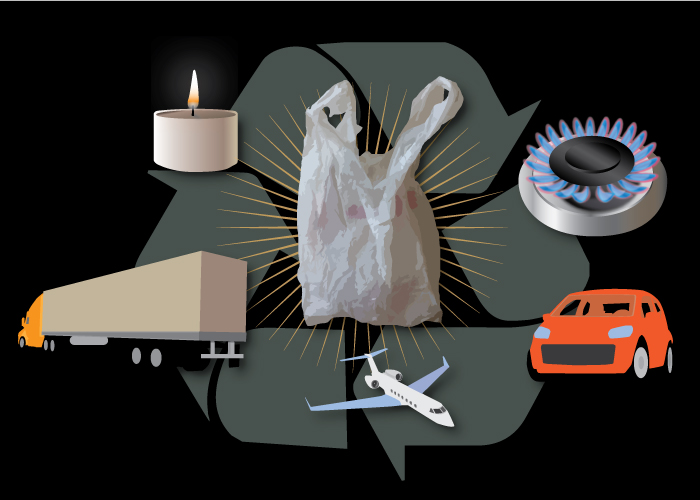 Sharma's team took the research further, however, by fractionating the crude oil into different petroleum products and testing the diesel fractions to see if they complied with national standards for ultra-low-sulfur diesel and biodiesel fuels.
"A mixture of two distillate fractions, providing an equivalent of U.S. diesel #2, met all of the specifications" required of other diesel fuels in use today – after addition of an antioxidant, Sharma said.
"This diesel mixture had an equivalent energy content, a higher cetane number (a measure of the combustion quality of diesel requiring compression ignition) and better lubricity than ultra-low-sulfur diesel," he said.
The researchers were able to blend up to 30 percent of their plastic-derived diesel into regular diesel, "and found no compatibility problems with biodiesel," Sharma said.
While the ultimate goal for our planet might be to figure out how to move away from petroleum-based fuels altogether, a process that will allow us to decrease drilling and fracking might be a welcome interim step. BK Sharma joins us on the show this morning to talk about the future of changing plastics back into oil.
When the waters recede, what happens to the debris?
It's hard to believe that only a week ago, we were talking about flooding in the Houston area in the aftermath of Hurricane Harvey. And when the flooding occurs on Superfund sites, it makes recovery that much more challenging:
Scientists are unsure if climate change will cause more frequent hurricanes or even more intense ones, but they are pretty confident that storms like Harvey, which drop unprecedented amount of rain, can be linked to global warming. And more rain means more flooded Superfund sites that could cause further damage in hurricane-prone areas. Fleming has no confidence that the EPA can handle the multiple challenges, saying, "Harvey's toxic fallout is an environmental-justice issue the EPA is increasingly ill equipped to handle."
But even in areas where water has begun to recede, there is a new challenge–toxic debris. After last week's show with Harriet Festing from Flood Forum USA and meteorologist Rick DiMaio, Peggy and I decided that we needed to follow up on what happens to mountains of debris that have been rain soaked and possibly contaminated by petroleum products and all manner of household and commercial toxins.
The good news is that the City of Houston has asked citizens to separate their debris into five separate piles: appliances, electronics, construction and demolition debris, household hazardous waste and vegetative debris. The bad news is that Texas Governor Greg Abott has temporarily suspended 19 environmental rules that the state feels will get in the way of cleanup.
After reviewing the changes, Andrew Dobbs, a program director with the Texas Campaign of the Environment, a nonprofit advocacy group, said, "They have suspended more or less every meaningful environmental protection."
So, not surprisingly, the National Recycling Coalition sent out an e-blast, which states in part,
Among the possibilities for recycling are huge piles of vegetative debris, as well as concrete and metal. There is a recycling infrastructure in place to handle that process. But the NRC strongly opposes the use of open air burning to dispose of debris, as has been done with previous disasters. That method released millions of pounds of toxins into the air, which has long-term deleterious health impacts on the already affected populace.
Burning debris? That debris? Yikes! The NRC continues,
NRC has established a Hurricane Harvey Task Force to engage in assistance with flood related materials management. NRC will be working with various partners including the State of Texas Alliance for Recycling (STAR), Environmental Protection Agency (EPA), Cooperative Teamwork and Recycling Assistance (CTRA), Texas Commission on Environmental Quality (TCEQ), NRC trade association member Construction and Demolition Recycling Association (CDRA) and numerous others on effective, environmentally, and ethically sound recovery of hurricane debris.
We contacted Stephen M. Bantillo, executive vice president for the NRC, to appear on the show this morning. He is joined by William Turley, founder and executive director for the Construction & Demolition Recycling Association (CDRA), which, as noted above is a partner in the Hurricane Harvey Task Force. He wrote to us the other day about the debris recovery effort, noting that he is not an expert on incineration but that he nevertheless had concerns:
So much of the hurricane generated waste is contaminated, unlike the material we get into our construction and demolition (C&D) recycling facilities. At these plants we have to keep contaminants such as CCA wood and asbestos out in order to make end products, including fuel. Fortunately, rules in place require that the demolition contractors abate for contaminants before starting demo work, so what we get in is pretty clean and you can make products with it. But hurricanes don't abate anything.
Another challenge for Houston is that there were no large, mechanized C&D recycling facilities in our fourth largest city. So even if we find some material to recycle, there is no plant there and no markets developed. There are recycling plants in south Florida, though.
Of course, he is referring to Hurricane Irma, which, at this moment, is poised to hit Florida. The exact point of landfall and strength of the storm are in doubt, but be assured that there will be debris and that it will need to be moved somewhere. We hope that this morning's conversation gives us a better sense of whether it is possible have a system in place for storm debris or whether we are doomed to keep piling it up in landfills.
Strolling on the farm
If you've ever wanted to visit a local farm and see where your food comes from, University of Illinois Extension is organizing five free, family-friendly events scheduled for the next several Sundays. Referred to as Farm Strolls, they are a good time to take a self-guided, unstructured tour of family farms, orchards, vineyards and markets located in northern Illinois. You may want to bring some cash (yes, cash, not plastic) to purchase food, jellies, fresh produce and other products produced on the farms. More info for the farm strolls can be found at http://www.facebook.com/northernilfarmstroll
The Ogle County Farm Stroll happens today, September 10, from 12-5 p.m. at various farms in Byron, Mt. Morris and Oregon, IL.
New this year is the inaugural Lake County Farm Stroll, on Sunday, September 17, from 10 a.m. until 4 p.m., which includes stops at 11 locations in both Lake and Cook counties. This stroll is presented as a partnership by the Lake County Farm Bureau, the University of Illinois Extension and the College of Lake County Horticulture Department. Featured farms include the historic Wagner Farm (Glenview), Prairie Crossing Farm (Grayslake), and the farms at the College of Lake County Sustainability Center (Grayslake).
Also on September 17 is the third annual DeKalb County Farm Stroll from 12-5 p.m. Nine family farms will be featured, along with several orchards and farm stands.
September 24 is the third annual McHenry County Farm Stroll and Market from 11 a.m.-5 p.m. This year's tour features 12 farms that include apple orchards, vegetable growers, dairy cows, beef cattle, pigs, sheep, goats, chickens, turkeys, horses, alpacas, honey bees, perennial plants and hydroponics. This stroll is organized McHenry County Farm Bureau and the University of Illinois Extension McHenry County Master Gardeners.
Finally, the Boone County Farm Stroll is scheduled from October 1 from 12-5 p.m.
While the tours are family friendly, these are working farms. So dress for being outside on a farm, be sure the kids are supervised at all times and don't bring your pets. And, while some farms may have public bathrooms, many will not, so keep that in mind before you hit the back roads.
Calling all butterflies
The Oak Lawn Park District will present the Monarch Butterfly Tour to Mexico on Saturday, September 16 from 2-5 p.m. at the Oak View Center, 4625 W. 110th St. in Oak Lawn Park. This free family event will include butterfly arts and crafts, an interactive butterfly puppet theater, monarch tagging and release, bug zoo, photography tips, music, and a caterpillar aquarium and raising information. According to their Facebook page, they'll also be showing a movie about monarchs and selling milkweed plants for $1 with proceeds going to help support monarch conservation.
Then on Sunday, September 17 from 12-3 p.m., the Forest Preserves of Cook County is hosting its annual Migrating Monarchs event at the Trailside Museum of Natural History at 738 Thatcher Ave. in River Forest. It's both free and family-friendly and will feature a monarch tag and release event, plus crafts, food, music and an insect petting zoo. You can also learn more about which native plants are best to plant to help monarchs.
"In recent years, the number of Monarch butterflies has dropped dramatically. Fortunately, the Forest Preserves of Cook County, communities and individuals are helping out," said Sue Dombro, director of Trailside Museum. "One of the best ways to help is to increase their habitat by planting native flowers, especially milkweed. Master Gardeners from the Extension Service will be on hand with garden plans, seeds, plants and other information. The US Fish and Wildlife Service will also be on hand to talk about the international effort to save these beautiful creatures."