October 9, 2016 – Fall Gardening; Chicago Living Corridors

This morning on The Mike Nowak Show, we welcome Mark Wise from Greenwise Organic Lawn Care to talk about what you should–and shouldn't–be doing at this time of year.  Holly and Joey Baird from The Wisconsin Vegetable Gardener help you get the most out of the remaining growing days.  Then Pamela Todd and Arthur Smith introduce a new group called Chicago Living Corridors, which is engaging private landowners to restore wildlife habitat on their own property.
And now for something completely different
Some of you know that Kathleen Thompson and I have lived with a lot of violence in our Logan Square neighborhood of Chicago since we moved here sixteen years ago. It hasn't been directed at us but at the children and young people and, although it's better on our block now, there's still a lot of danger out there, as we've all seen recently.
That's why, to start the show, I'll be talking to Kathleen about a Crowdrise fundraiser that she's put together to support a program developed by conflict resolution specialist Andra Medea, who trains people to de-escalate violent situations. Medea has worked with police, mental health workers, teachers and a lot of other groups and has been very effective.
She's written three books on dealing with conflict, most recently Safe Within These Walls, which deals with preventing violence in schools. Now she's working with the NAACP Chicago South Side Branch on a program that would take her training methods directly into middle schools and high schools. This is not a touchy-feeling sensitivity training kind of thing. Medea actually trains people to control their bodies and their minds in a potentially violent situation so that they have a much better chance of coming out of it in one piece.
We hope you'll consider contributing to this worthy cause.
Where are all the natural lawn care companies around Chicago?
Mark Wise doesn't know it, but that's a question that he's going to have to answer this morning. It's a question I've asked for, oh, about twenty years, and I've never really gotten a satisfactory answer.
By the way, Mark Wise is the founder and owner of Greenwise Organic Lawn Care which has provided "organic lawn care, sustainable landscape design and installation, eco-friendly landscape maintenance, sustainable horticultural and arbor care, and eco-friendly snow removal services" since 2007.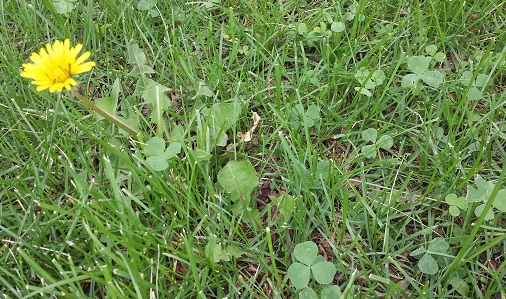 Hey! You got a problem with this?
They recently provided one of their services for show co-host Peggy Malecki at her home in Highland Park. Peggy has had some issues with drainage, so the Greenwise crew came in to install a Flo-Well® to address the problem (at least that's what Peggy thinks it is.)
At any rate, Peggy and I got to talking about natural lawn and garden care and the fact that we're heading to the end of the growing season and we decided to bring Mark on the show to give some tips for fall season lawn and garden care. You're always welcome to call us at 312-985-7834 with your questions.
Fall veggie gardening with Holly and Joey Baird
And while we're on the subject of what to do you in your yard at this time of year, we certainly can't ignore the vegetable garden. That's why we're also talking to Holly and Joey Baird, who collectively are known as The Wisconsin Vegetable Gardener. They have an extensive video, audio and web-based empire, including a bi-weekly podcast for which I do an environmental report.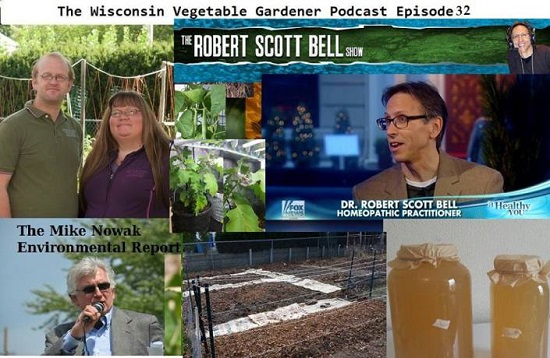 Yup, that's me in the lower left hand corner.
If you're thinking about what you need to do at this time of year to make the most of your vegetable garden, you should consider looking at this video that Holly and Joey created last year. It's called Harvesting 2nd Year Kale, Mulching with Leaves and More.  What I like about it is that they show how almost any organic matter can be used to improve your soil.
This is also canning season, which means that you might want to watch this video,  Canning What You Grow. In it, Holly and Joey can zucchini pineapple (mock pineapple), corn and potatoes. I'm not exactly sure why you should can potatoes, but I'm the novice here.
Anyway, it's a pleasure to have them back on the program this morning. You're going to learn a lot.

Suppose you had 100 million dollars to change the world…
In May of last year, I attended a conference sponsored by the  West Cook Wild Ones .  It featured entomologist Doug Tallamy, whose work and writings have–there's no other way to put it–started a movement to create  what he calls a "Back Yard National Park" made up of restored wildlife habitat on private property and linked by habitat corridors.
I was invited, along with about 30 to 40 pretty amazing environmentalists from the Chicago area, to sit in a room and talk about the idea of how habitat–even on private property–could not only be preserved, but improved.
Fast forward to 2016, and an organization called Chicago Living Corridors has been launched as a not-for-profit organization  dedicated to precisely what the original gathering at Dominican University in River Forest was seeking. But now the group is seeking something more.
100 million dollars.
That's the award of a new competition launched by the MacArthur Foundation (you know, the people who award "genius grants" and who have skipped over me every single year).  They will hand over  $100 million to a single proposal designed to help solve a critical problem affecting people, places, or the planet.  Whew!
It's called 100&Change, and although the deadline is passed, it was  open to organizations working in any field of endeavor anywhere in the observable universe. Could Chicago Living Corridors walk off with that much cash? Who knows?
But that's why I have Pamela Todd and Arthur Smith, two of the founding members of CLC on the show today. They will explain the purpose of the organization and the outrageously audacious idea that $100 million might actually be spent on the environment of planet Earth.
Pamela Todd and Arthur Smith of Chicago Living Corridors
Their goal is to create something called  The Living Land Bank. Here's how it would work:
This online marketplace blends crowdfunding, sophisticated smart contracts and powerful blockchain technology that insures transparency and trust.
The marketplace incentivizes landowners to manage their land sustainably.
Anyone can use the marketplace: people, agencies, nonprofits or other entities who want to restore specific ecosystem services, such as managing water, storing carbon, pollinating crops, saving endangered species, etc.
Restoring the land to work for us is often less expensive than traditional engineered solutions.
Once we demonstrate that the system produces verified environmental results, other places around the world can use it.
Will it happen? Stay tuned.