October 7, 2017 – Temple of Bloom

If a few of your friends stop by to see your garden during the growing season you can be afford to be a casual gardener. However, if more than 250,000 people parade through your backyard each year, a person like Carol Yetken, on the job might be a good idea.
Yetken is President of CYLA Design Associates Inc. She is a professional licensed landscape architect, a LEED accredited professional and serves on the faculty of The School of the Art Institute in the graduate level Historic Preservation Program. And, oh, yes, one of her clients is a modest institution called The Bahá'í House of Worship for North America in Wilmette, Illinois.
As you might have gleaned from the above sentence, The Bahá'í House of Worship is the only one in North America. Each Baha'i Temple is surrounded by nine gardens. The beauty and diversity of the gardens represent the beauty and diversity found in humanity.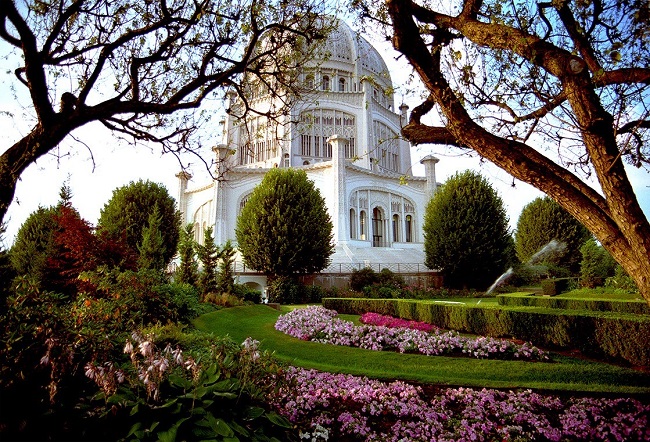 The gardens, as well as the The House of Worship and Welcome Center are open every day, 10:00 a.m. to 5:00 p.m. Which is where the 250,000 number comes in. Yetken tells me that her company has worked on the Baha'i gardens for nearly twenty years:
Work begin with an evaluation of the condition of the gardens and research into existing documentation. Drawings, sketches, meeting minutes and correspondence relating to the selection and execution of the original design by Hilbert Dahl, a landscape architect and civil engineer, were available for study and formed a rich source of information about the origin and development of the gardens and grounds.
She notes that where the design has changed, it mainly reflects "newer and more successful varieties" of plants. Even the pruning has been modified to reflect a less rigid, more natural style.
Next weekend, the Baha'i Temple and gardens will be one of the local architectural gems that are open to the public as part of the Chicago Architecture Foundation's Open House Chicago. It's a  public festival on October 14 and 15 that offers behind-the-scenes access to more than 200 buildings across Chicago–and it's free.
Carol Yetken joins us this morning to talk about her work and the event.
Water, water, neverywhere…
In case you haven't noticed, it's been awfully dry around Chicago lately. That's a problem, because at this time of year, your average homeowners have basically stopped paying attention to watering their yards, regardless of how long it's been since the last soaking rain. "Hey, it's sixty-five degrees! It's cool out there! Why do plants need water?"
Well…they just do. Plants and other living things are inconvenient that way.
And despite some showers in the past couple of days, we still have a moisture deficit in this area. Tim Johnson at the Chicago Botanic Garden certainly has noticed and he has some good advice:
In general, you should focus your watering efforts on any perennials, trees and shrubs planted this year, with extra attention also given to plantings done over the last two to three years. Less-established plants — especially recently installed plants — will suffer damage much more quickly than established plants.
Nature's Perspective Landscaping is an Evanston-based company that designs, builds and maintains "outdoor settings," and they offer some advice their blog about watering:
Watering should penetrate 8–10" into the root zone to be adequate. This means at least one hour of watering with an oscillating sprinkler. A measured inch of water will do the job. Put a pie plate in the area being sprinkled so that you know when a full inch has been applied. This may involve soaking your plants with a hose or sprinkler for several hours.
Personally, I like the ol' drip hose at the base of a tree or shrub. But that's old school, I guess. Anyway, Nature's Perspective founder and owner Tom Klitzkie stops by to chat about the weather (what else?) and how to keep your plants healthy when it's not raining enough.