October 23, 2016 – Moms Clean Air Force; Smart Pharmaceutical Disposal
This morning on

The Mike Nowak Show, Peggy Malecki and I welcome a couple of women who are working to protect out clean air and water from different vantage points. Kelly Nichols is on the activist side, serving as the Illinois Field Organizer for the national non-profit, Moms Clean Air Force. Debra Shore is a commissioner for the Metropolitan Water Reclamation District of Greater Chicago, whose job is to help maintain the quality of our water.  Today she follows up on a pending Cook County ordinance that would regulate the the disposal of pharmaceuticals in our water.
Moms working to protect our air
I met Kelly Nichols from Moms Clean Air Force  in September at a town hall organized by the Illinois Environmental Council at the Chicago Botanic Garden to discuss state environmental issues. I was speaking on behalf of the Illinois Recycling Association about why the current Illinois e-waste bill isn't working (something we will cover on the program soon). Kelly spoke knowledgeably and passionately about the connection between clean energy and clean air, and I knew that she would be a great fit for my program.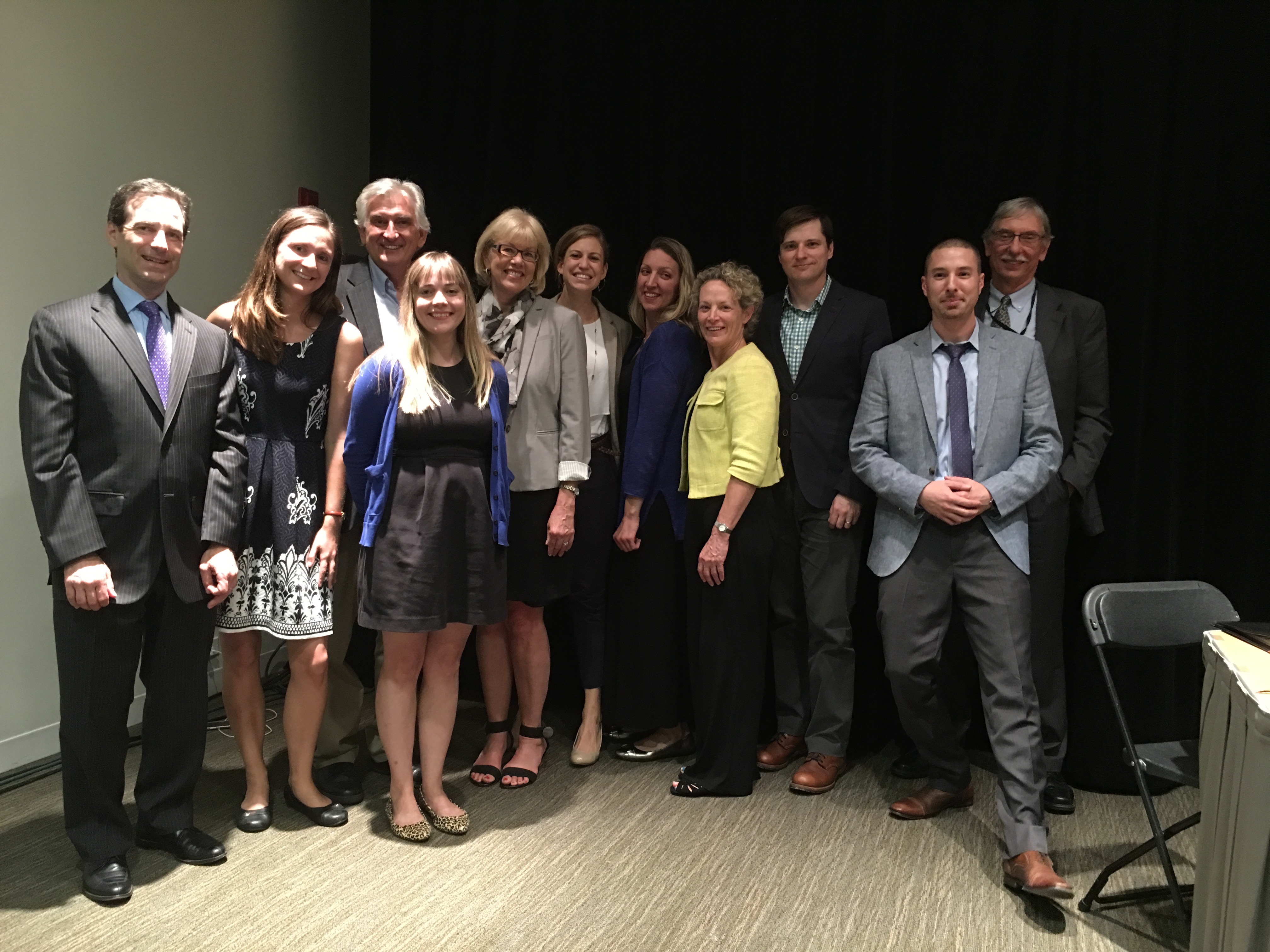 Mike, Kelly Nichols (center in blue) and a bunch of environmental heavy hitters at the IEC Town Hall at the Chicago Botanic Garden
In an election season when not one question about climate changes was asked in any presidential or vice-presidential debate, Kelly wants to remind people that, whether or not the candidates talk about it, once they get into office, their decisions affect our clean air. That's why it's so important to vote.
It might surprise you to know, Kelly says,  that many counties in Illinois have grades of C, D, or F in air quality (based on particulates in the air, and also on levels of ozone), as reported by the American Lung Association.
And, in addition to working on getting out the vote this year, Kelly and Moms Clean Air Force also work on issues like America's Clean Power Plan, methane emissions from the oil and gas industry, toxic chemicals in the home, smog, and ozone.
Got drugs? Don't flush them down!
If you take a look in your own medicine cabinet it probably won't surprise you that estimates put the amount of leftover and expired medications in American homes that go unused at 30 to 40 percent. What probably will surprise you is that the Federal Drug Administration (FDA) recommends that unused drugs be flush down the toilet. Whaaaa??
Commissioner Debra Shore of the Metropolitan Water Reclamation District of Greater Chicago (MWRD) said this year in the Chicago Monitor that "Salmon in Puget Sound would not pass a drug test."  That problem is directly related to the amount of pharmaceuticals that Americans dump into our lakes, streams and, yes, sounds.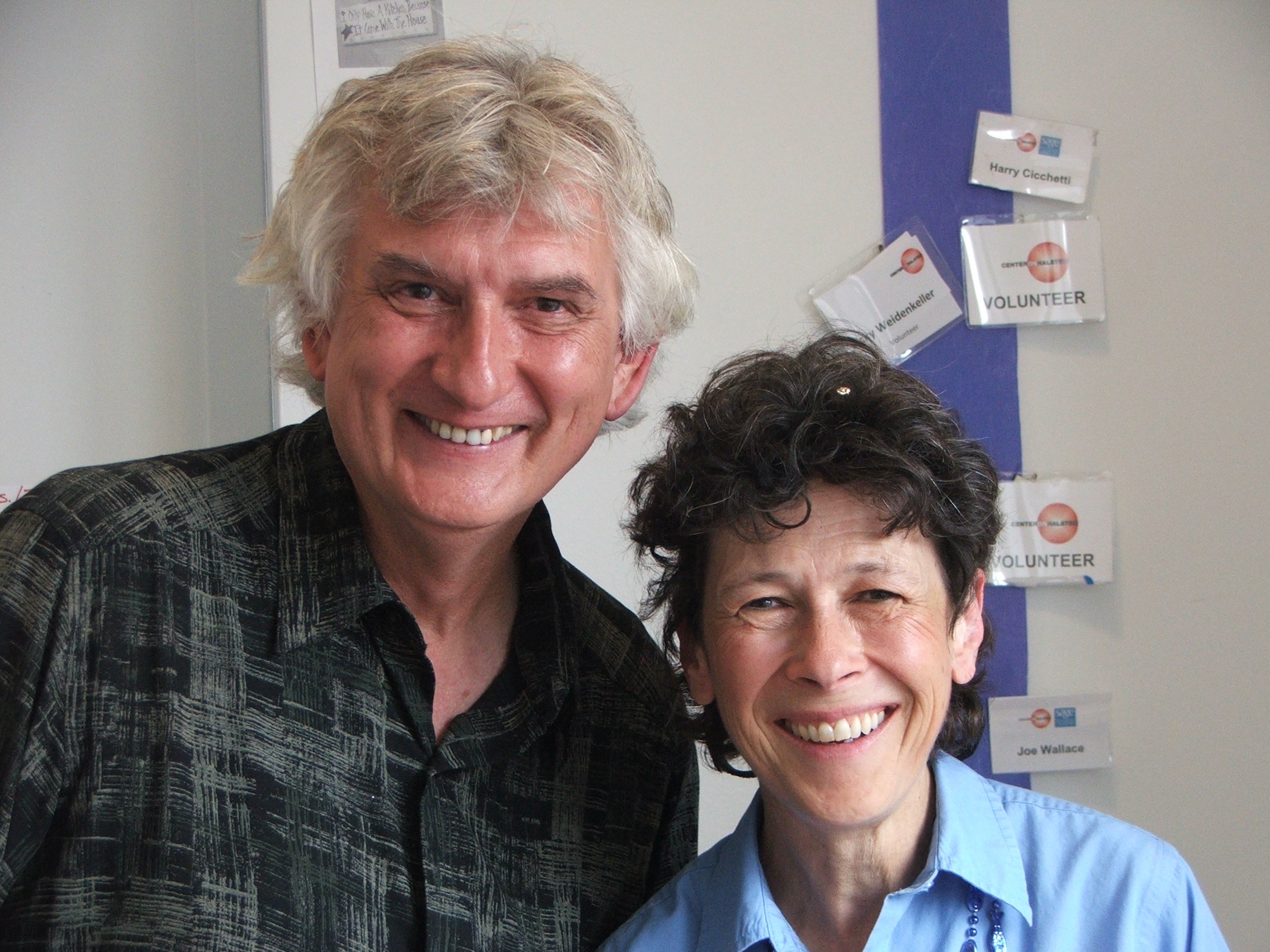 Mike and MWRD Commissioner Debra Shore
In January of this year, more than than 100 organizations and individuals sent a letter to FDA Commissioner Stephen Ostroff, urging the agency to end its "flush list." The same group of environmental and health organizations, state legislators, and other stakeholders noted that the FDA needs to work with other federal agencies like the Environmental Protection Agency (EPA), the Drug Enforcement Agency, and the White House Office of National Drug Control Policy to mandate a single national disposal system for pharmaceuticals. A federally endorsed take-back program is one of the suggested solutions.
Further complicating things is the fact that state local regulations don't necessarily gibe with federal laws, either. Finally,  according to WasteDIVE,  only one percent of pharmaceutical companies currently offer take back programs, even though the cost of that has been estimated at about one cent per medication.
Which brings us to Illinois, where the Cook County Board of Commissioners is considering an ordinance to regulate the disposal of unused pharmaceuticals.  Commissioner Shore recently sent out a newsletter that stated:
This measure will build upon and expand an existing collection program administered by the Cook County Sheriff's Department, to eliminate "collection deserts" in Cook County and to require pharmaceutical manufacturers to pay a modest fee to support the free and accessible collection of unwanted or expired pharmaceuticals for all County residents.
The fee seems reasonable.
The good it would do is undeniable.
There's only one problem.
The pharmaceutical industry is against it.
Sigh. Here we go again.
Here is a list of Cook County Commissioners with their contact information. Please call them and let them know you support what is a very reasonable measure to expand drug collection sites.
Robert Steele – District 2
(312) 603-3019; (773) 722-0140
Robert.steele@cookcountyil.gov
Jerry Butler – District 3
(312) 603-6391
Jerry.Butler@cookcountyil.gov
Stanley Moore – District 4
(312) 603-2065; (773) 783-2412
stanley@commissionermoore.com
Deborah Sims – District 5
(312) 603-6381; (708) 371-4251
Deborah.Sims@cookcountyil.gov
Jesus "Chuy" Garcia – District 7
(312) 603-5443; (773) 376-2700
Jesus.garcia@cookcountyil.gov
John Fritchey – District 12
(312) 603-6380
commish@fritchey.com
Gregg Goslin – District 14
(312) 603-4932; (847) 729-2279
Commissioner.goslin@cookcountyil.gov
Tim Schneider – District 15
(312) 603-6500; (847) 640-1632
Tim.schneider@cookcountyil.gov
Sean M. Morrison – District 17
(312) 603-4215; (708) 349-1336
Sean.morrison@cookcountyil.gov
Jeff Tobolski – District 16
(312) 603-6384; (708) 352-2301
Larry Suffredin – District 13
(312) 603-6383
Larry.suffredin@cookcountyil.gov
John P. Daley – District 11
(312) 603-4400
John.Daley@cookcountyil.gov
Luis Arroyo Jr. – District 8
(312) 603-8530
Luis.arroyojr@cookcountyil.gov
Richard R. Boykin – District 1
(312) 603-4566
Richard.boykin@cookcountyil.gov
Bridget Gainer – District 10
(312) 603-4210; (773) 561-1010
office@bridgetgainer.com
Peter N. Silvestri – District 9
(312) 603-4393; (773) 444-0346
Cookcty9@aol.com
If you don't know who your Cook County Commissioner is you can simply click on where your home or business is located on this map. A text box should appear providing the first and last name of your commissioner, as well as contact information.
Commissioner Debra Shore was on this program in April to talk about the same ordinance. As you should know, nothing comes easy in politics…especially where it concerns environmental matters. It's great to have her back in the Que4 Radio studio this morning.