October 22, 2017 – A Great Lake on the Brink

Lisa Hilgenberg on what to do in your fall garden
Our favorite mega-horticulturist is back on the show with us today. To qualify to be a mega-horticulturist, you need to take care of 50,000 fruits and vegetables each season. I know only one person who does that–Lisa Hilgenberg , who manages the Regenstein Fruit and Vegetable Garden at the Chicago Botanic Garden. Thus, she is our favorite and only mega-horticulturist on the show.
Today she's here with advice for planting bulbs as the cold weather prepares to slam into Chicago.
Daffodils can be planted now so they have time to develop a root system before winter. Try naturalizing some in your lawn.
Snowdrops, daffodils and bulbs in the onion family are generally wildlife resistant. Avoid planting with bone meal which can attract animals. Speaking of animals, the Chicago Botanic Garden has more information about protecting your bulbs from critters.
Now until Thanksgiving is the time to plant tulips. Waiting until later lowers chances of disease and helps to avoid problems with squirrels.
Plant edible bulbs like garlic and shallot before Halloween for July harvest. Divide garlic heads into individual cloves- taking care to keep the papery wrapper called the tunic- intact.
All bulbs should be planted at a depth 3 x the diameter, in a sunny, well-drained location. Top dress with a slow release fertilizer and again in the spring.
If you still haven't ordered, Lisa is a fan of Brent and Becky's bulbs. And since we talk so much on this show about native plants, I did a little search to see what's out there when it comes to bulbs. You might not know that the usual suspects–tulips, daffodils, hyacinths, most alliums–are not native to North America. I did a quick search and found information about native spring bloomers at these links: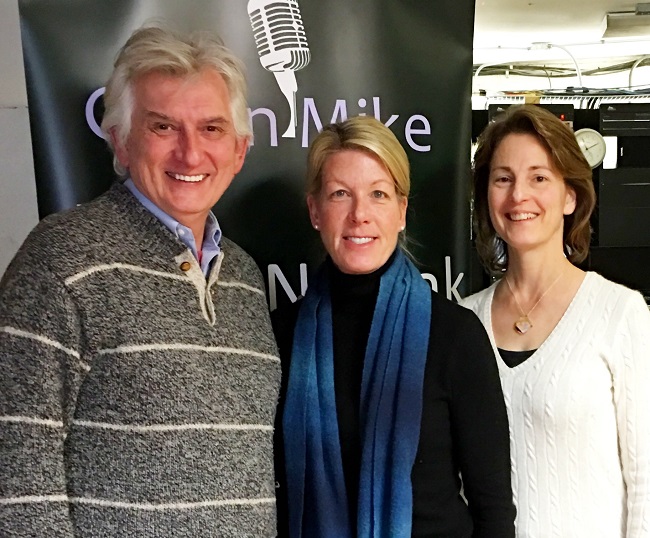 Plant These Native Bulbs In Your Garden This Fall (Rodale's Organic Life)
Plant Native Bulbs in the Fall for Midwest Gardens (Angie's List)
The Dirt on Native Bulbs: Spring Ephemerals That We Love (Garden Collage)
Ladybird Johnson Wildflower Center (scroll down)
Native Plants with Adams Garden
Lisa will have advice on other things to do in your fall garden, so come armed with your questions at 847-475-1590 or join us on Facebook or Twitter.

Disappointing progress in battle against algae in Lake Erie
Considering that we are the richest country in the history of civilization, and that we have access to roughly 20% of the fresh water on the planet, we seem to have an awfully hard time hard time providing safe drinking water to our citizens. One only needs to read the headlines coming out of Puerto Rico, where
It's been almost a month since Hurricane Maria struck Puerto Rico, and municipal water services have still not been restored for about a third of the people on the island. Meanwhile, nearly half of the island's sewage treatment plants remain out of service, so wastewater isn't necessarily being purified as it runs through the island's water system.
In desperation, Puerto Ricans are bathing and washing their clothes in rivers that have raw sewage pouring into them, the Associated Press reported, exposing them to bacteria like leptospirosis, which causes leptospirosis. Some Puerto Ricans are even drinking from condemned wells and Superfund hazardous waste sites, which contain potentially dangerous chemicals.
Wait a second, you say, that's not even on this continent. Okay. Let's travel to Flint, Michigan, where the lead-contaminated water crisis is far from over.
Three years into the Flint water crisis, the clock is ticking and a federal judge has ordered the city council to clean up its act.
City officials must choose a long-term source of drinking water by Monday, U.S. District Judge David M. Lawson ordered in a summary judgment. Judge Lawson noted "the Council has had abundant opportunities to exercise its prerogatives in choosing a long-term water source, and has failed at every turn through its inaction."
So is it surprising when reports of toxic algae in Lake Erie are once again in the news? One doesn't know whether to laugh or cry when a Cleveland Plain Dealer story reports that
The bloom this year isn't so bad; it rates about a 7.5 on a 10-point scale, about the same as in 2013, Winslow said. (In 2015, scientists rated the bloom a 10.5.) That's exactly what scientists expected.
Oddly, this article doesn't report on the rating for 2014, the year when 500,000 residents in and around Toledo, Ohio, went without drinking water for three days because of "dangerous levels of microcystin, a toxin spawned by harmful algal blooms (HAB) around Western Lake Erie."
If you've been around long enough, like me, you remember the 1970s, when
Lake Erie was so polluted that TIME magazine warned it was "in danger of dying by suffocation." A massive clean-up effort, involving everyone from local businesses to state and national policymakers, brought the lake back from the brink. Recently, algal blooms have once again tainted western Lake Erie with unhealthy, sometimes toxic, green slime. Why is this happening?
For the past forty years, scientists at Heidelberg University's National Center for Water Quality Research have been measuring pollution in the rivers and streams that feed Lake Erie. Decades of monitoring have led to an inescapable conclusion: phosphorus runoff, primarily from agricultural lands, is feeding explosive cyanobacterial growth in the warm, shallow waters of the western basin.
So when the good people of Toledo discovered one fine morning in 2014 that their past was again their present, it was a wake up call for the governments of the States of Ohio and Michigan and the Province of Ontario, which border on Lake Erie. They met the weekend of June 12, 2015 in Quebec City, Quebec for the Leadership Summit of the Great Lakes and St. Lawrence Governors and Premiers. Out of that meeting came the Western Basin of Lake Erie Collaborative Agreement.
Joel Brammeier, president and CEO for the Alliance for the Great Lakes, wasn't exactly predicting rainbows and unicorns when he wrote in June of 2015 about the agreement,
A big, big deal happened this weekend that might be the start of an answer. Ohio, Michigan and Ontario's elected leaders committed to a 40% reduction of phosphorus in Lake Erie by 2025. Phosphorus is the key pollutant underlying the toxic algae blooms that shut down Toledo's water system last August and left hundreds of thousands of people and businesses with dry taps. The 40% promise has the potential to reaffirm the Great Lakes as a world leader in clean water.
But it did seem like a start. Unfortunately, agreements are only as successful as the commitment of the people behind them. Fast forward a short two years later to October 10, 2017, when the Alliance, along with Freshwater Future, Michigan League of Conservation Voters, and Ohio Environmental Council injected a dose of reality into the subject by issuing a press release with the headline
New Report Details Lackluster Effort by Ohio, Michigan, and Ontario in Lake Erie Cleanup
Oops.
In addition to the press release, the groups also dropped a report on the heads of Michigan, Ohio and Ontario in the form of a report called Rescuing Lake Erie: An Assessment of Progress which examines the progress toward meeting those lofty goals set in 2015. The assessment ain't pretty:
Unfortunately, the report found progress by Ohio, Michigan, and Ontario to be painfully slow. The report found overall progress to be mixed and lacking the comprehensive approach that is needed to effectively address harmful algal blooms. Notably, no jurisdiction has any policies in place that fully address the critical issues identified.
"This situation is unacceptable. No one around Lake Erie – or any Great Lake – should have to worry and wonder if their drinking water is safe," said Alliance for the Great Lakes Vice President of Policy Molly Flanagan. "The leaders of Ohio, Michigan, and Ontario must immediately step up Lake Erie cleanup efforts and take the bold steps needed to protect the drinking water for millions of Americans and Canadians."
The executive summary of the report outlines the immediate steps that must be taken to safeguard the water for the eleven million people on both sides of the border who utilize it:
The report establishes a baseline evaluation of state and provincial policy to assess regional progress on development and implementation of policies for reducing phosphorus pollution across Lake Erie jurisdictions. The findings in the report were compiled using a framework developed by the Alliance for the Great Lakes and Freshwater Future. Though not exhaustive, the framework attempts to define and measure what we've deemed the most significant policies needed to achieve phosphorus reduction. It is built around three key policy areas:
Reducing phosphorus pollution from agriculturalsources;
Reducing phosphorus pollution from urban sources; and
Monitoring and reporting of phosphorus loadings and reductions.
So what do you do if you're a state or a province and you're caught in a "lackluster" effort? Why, get together and have another meeting! Thus, the Great Lakes and St. Lawrence Governors and Premiers 2017 Leadership Summit is happening in Windsor, Ontario and neighboring Detroit, Michigan even as I write this. Ontario Premier Kathleen Wynne and Michigan Governor Rick Snyder will be there, although Ohio Governor John Kasich will be sending "high ranking representatives."
Another person who is there is Molly Flanagan, vice president of policy for Alliance for the Great Lakes. However, she is also part of The Mike Nowak Show this morning via phone. She is joined by Tony Maas, who is manager of strategies for Freshwater Future and the Director of the Forum for Leadership on Water (FLOW Canada), an independent group of water policy experts from across Canada.