October 2, 2016 – Trashing the Dude and Getting Active

While the first guest on The Mike Nowak Show this morning is the person who calls himself the "dude making a difference," you could a apply that phrase to everybody else on the program today–and, in fact, most of the people who show up here every week.
Rob Greenfield is in the middle of something he calls "Trash Me," when he literally wears every piece of trash he creates for 30 days. Regina Hawkins and Marissa Manker teach at Southside Occupational Academy in the west Englewood community, where they  work with students with disabilities to build vocational, social and work skills. And in 10:00 a.m. hour, we talk to the folks behind the Active by Design Summit on Tuesday, October 4 at the Chicago Botanic Garden, which will promote the safety, health, economic, environmental and social benefits of designing communities that promote physical activity.
The dude who is making a difference is getting trashed
Rob Greenfield first appeared on The Mike Nowak Show in 2013, when he was in the midst of his Off the Grid Across America tour. During that trip, he cycled 4700 miles on a bamboo bicycle, Over used just 160 gallons of water, created a mere 2 pounds of trash, plugged into only 5 outlets and, oh yeah, lived on 284 pounds of food from dumpsters!
And that's just a sample of the kinds of things he does to call attention to better ways of living. Well, he also took off his shirt in the radio studio, which kind of calls attention to stuff, too. But I digress.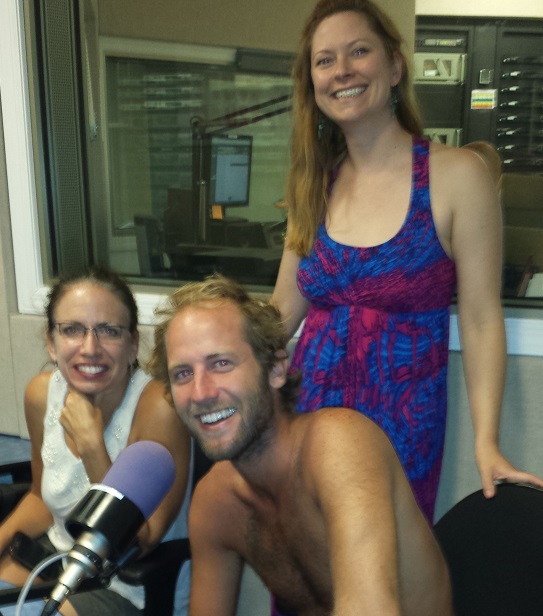 The shirtless Rob Greenfield with Lisa Albrecht and Sarah Batka
From his website:

He is the creator of The Food Waste Fiasco, a campaign that strives to end food waste and hunger. He has cycled across the USA twice on a bamboo bicycle and lived off the grid in a 50 square-foot tiny home in San Diego before auctioning it and raising enough money to build 10 tiny houses for people with no homes. He is currently traveling the USA in the service of others and owns just 111 possessions. He is the host of Free Ride on Discovery Channel and the author of Dude Making a Difference and donates 100% of his media income to grassroots nonprofits.
So what have you done for the planet lately? Seriously, you could get a complex from reading his resume.
So when he wrote to me about his latest project, called Trash Me,  my response was, "When can you be on the show?" Here's how he describes it:
The average American creates 4.5 pounds of trash per day, so for 30 days, Rob Greenfield is going to live just like the average American. He'll eat, shop, and consume like the average American. The catch? He has to wear every piece of trash he creates. 4.5 pounds of trash per day, will add up to 135 pounds of trash by day 30. That's almost his body weight!
He's calling attention to the idea that most people never think about the trash they create, which is sadly true. Here's the promotional video that he is using to call attention to Trash Me. It's great to have him back on the show today. My only regret is that he won't be in studio to take his shirt off again. Besides, that might be a little difficult because he's currently covered in trash.
Providing vocational opportunities on Chicago's south side
We first met Southside Occupational Academy (SOA) teachers Regina Hawkins and Marissa Manker this past summer at the Advocates for Urban Agriculture Soiree, where they were one of the featured gardens in the event's showcase. Their table was covered with fresh vegetables, seeds, and really cool student-made ceramic garden markers they were selling as a fundraiser (several of which went home to Mike and Peggy's respective gardens). After talking with these dedicated teachers and a couple of their students, we knew they needed to join us in-studio to tell us about the great things happening at their school.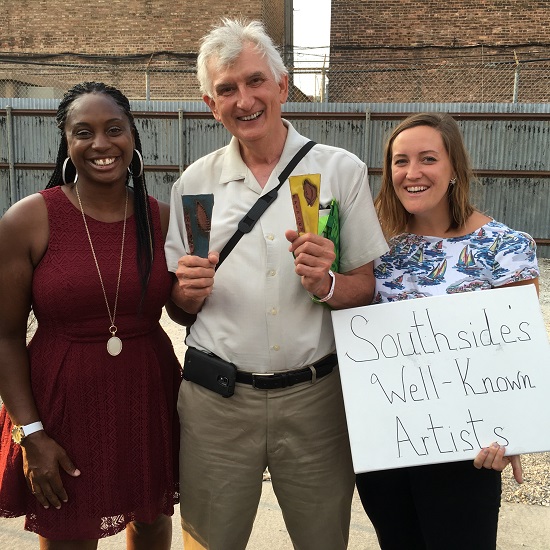 Marissa Manker and Glenna Sullivan from
Southside Occupational Academy (SOA) with Mike
Located at  7342 S. Hoyne in West Englewood, SOA is a CPS high school "transition center" dedicated to the educational needs of students aged 18-21 years with disabilities. Their program is quite unique in that they provide classes for students to build vocational, social and work skills that will help them transition into adult life, while also offering academics, visual arts and theater classes. As part of their vocational program, SOA works closely with The Kitchen Community to include horticulture and agriculture classes with learning activities that include plants sales, trips to local farms and participating in farmer's markets at The Plant.
Regina is starting her third year at SOA as a special education and horticulture teacher. Her classrooms include two raised bed gardens, a greenhouse and small orchard, and she's working with the school to start a student-run farmer's market in 2017. Marissa has been an aide at Southside for six years, and this is her third year in the horticulture program with Regina. She's also working to become a Master Gardener.
Who'da thunk you had to design how to be active?
Boy, I really hate giving Mayor Rahm Emanuel credit for anything. But he has been determined to make Chicago the most bicycle-friendly city in America…and he actually pulled it off. Just last month, Bicycling.com ranked the Windy City number one in the nation. The City has about 148 more miles of bike lanes than it did in 2011, with more to follow.
But being healthier doesn't necessarily mean being safe. Six bicyclists have been killed in Chicago this year–five of those accidents involved a truck, a bus or a van.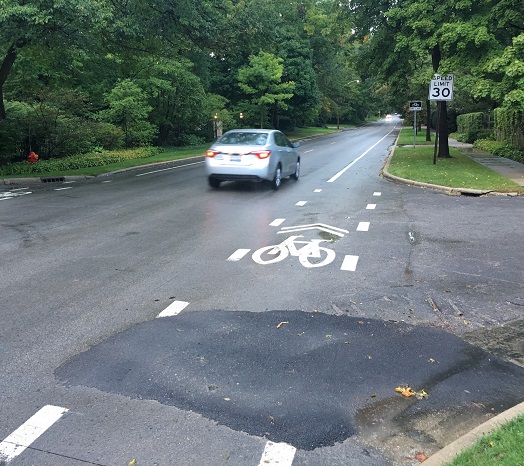 Bike lane (?)
And despite the uptick  in bicycles on our streets, we're still a nation of slugs. If we have the opportunity to take an elevator or escalator over walking up stairs, most of us will do it ten times out of ten. That doesn't even take into account outside transportation, which is all about figuring out ways not to walk or ride one of those bicycles.
Part of the problem is something that Lee Altman, a former employee of New York City's Department of Design and Construction, says in this New York Times article: "We did a very good job at designing physical activity out of our daily lives." Not surprisingly, the Centers for Disease Control and Prevention (CDC) has gotten involved, with a program called Step it Up! The Surgeon General's Call to Action to Promote Walking and Walkable Communities.
Which leads locally to the Active by Design Summit, which is a FREE event that happens at the Chicago Botanic Garden on Tuesday, October 4. Local leaders and  will join national  experts to discuss  the safety, health, economic, environmental and social benefits of designing communities that promote physical activity.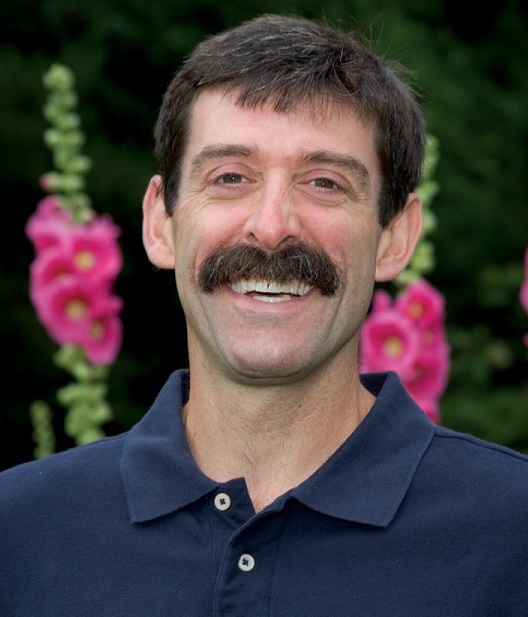 Mark Fenton
The event is sponsored by the Illinois Bone and Joint Institute and facilitated by Go Green Wilmette, Wilmette Citizens for Active Transportation and the Consortium of North Suburban Environmental Groups (CONSEG). Among the speakers are renowned active transportation advocate Mark Fenton and Eric Chehab, MD of the Illinois Bone and Joint Institute.
Peggy and I are pleased to have Mark Fenton on the show this morning, along with summit organizers Dr. Anne Nagle and Beth Drucker, as well as Nancy Wagner of the Active Transportation Alliance.