October 16, 2016 – 30 Days of Doing; Friending 69,000 Acres

This morning on The Mike Nowak Show, Peggy Malecki and I go from food to field in the course of a couple of hours, while welcoming some old friends of the program. We start with LaManda Joy, Breanne Heath and Christina Bello from the Peterson Garden Project, who are here to explain what their "30 Days of Doing" is all about. Then Benjamin Cox of Friends of the Forest Preserves stops by to sing the praises of "our awesome conservation corps programs," just part of the way that the organization protects, restores and promotes the world's first and now largest forest preserve district
A whole lot of doing in 30 days
If you're a gardener, you think of this as the time of year when things are winding down. Sure, there's always work to do–harvesting, soil preparation, late season growing–but this is when, traditionally, you take your foot off the gas pedal, if only a little bit.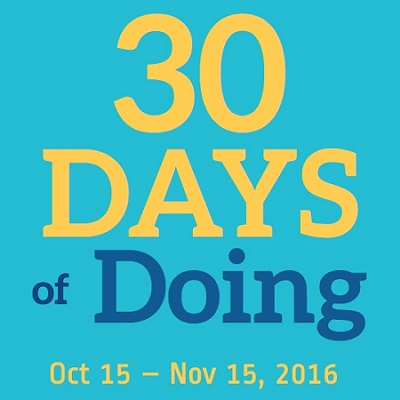 Not the Peterson Garden Project, however. As I write this, it is October 15, the first day of their 30 Days of Doing. , which, as they describe it "involves you and our entire community in a month of gardening, learning, celebrating, cooking, and giving together, to create a vibrant local food system and alleviate hunger at home." Today, for example, was the Grewbie 102 Demo, which allowed "grewbies"  (beginning gardeners) to learn how to put their gardens to bed for the winter.
Sunday, October 16 features an intergenerational cooking class called Sundays with Seniors at the PGP Community Cooking School on the 2nd Floor inside the Broadway Armory Park, 5917 North Broadway Street in Chicago.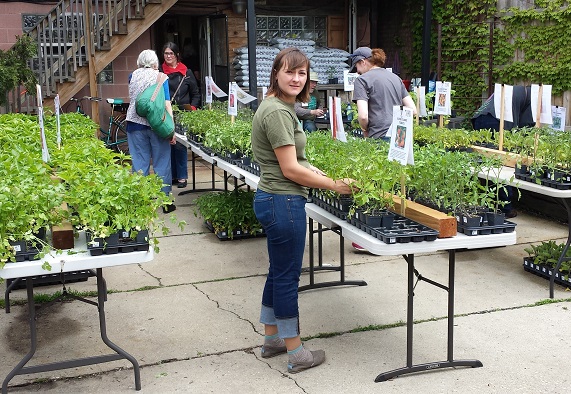 Breanne Heath at Peterson Garden Project plant sale
To explain it all–and to talk about their classes, the garden gleanings,  Grow2Give and other programs (whew!)–we welcome LaManda Joy, PGP founder and Executive Director; Breanne Heath, Program Manager of Gardens and Education; and Christina Bello, Program Manager of the Community Cooking School.
Being good friends to our forest preserves
The Cook County Forest Preserve District is pretty special in a number of ways. It was the first such entity in the world, and celebrated its 100th Anniversary in 2015. At 69,000 acres, it is also the largest forest preserve district on the planet.
6 nature centers
1 wildlife research facilities
311 picnic groves
40 managed lakes and ponds
2 youth camps
7major waterways
3 aquatic centers
10 golf courses
300 miles of marked trails
Not bad for something that is basically in an urban setting.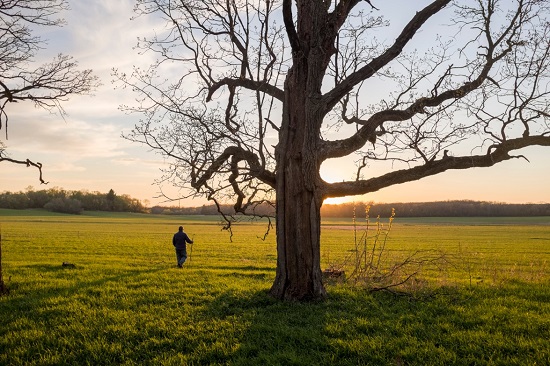 2015 FOTFP Photo Contest Winner "People in the Preserves"
– An early spring day, Galloping Hill Prairie in the Spring Creek
forest preserve near Barrington, Jim Root
But That was also part of the problem. For many years–in some cases decades–the Cook County Forest Preserves were neglected, when they weren't subjected to abuse.  It wasn't until 1998 that concerned citizens said, "Enough" and formed Friends of the Forest Preserves., whose mission was do undo some of the harm that had been perpetrated on the land and to preserve the…uh…preserves.
Today I welcome President and CEO Benjamin Cox back to the show to talk about the direction of FOTFP.  One of the things he's proudest of is the Conservation Corps:
Our Conservation Corps programs are among the most important work we do. We recruit high school students, young adults and adults, often from low-income neighborhoods on the south and west sides of Chicago to not only learn about conservation, but also to gain vital leadership and teamwork skills that can be used in future careers. Friends' Corps members plant seeds as well as remove the invasive species that are the cancer of our ecosystems. They earn stipends while restoring woods and prairies and learn about careers in the conservation field. All while gaining essential skills like job readiness and financial literacy. And, maybe most importantly, they are the next generation of front line advocates for the forest preserves and nature.
There are a lot of other initiatives, and there's always a road or two that threatens to take a chunk out of forest preserve lands. That's why it's good to periodically get a "State of the Forest Preserves" report from Benjamin Cox.