October 15, 2017 – When Plants Fight City Hall

Yards aren't just for lawns anymore
It seems as though every couple of years there's a story about how some homeowner has put a garden in their front yard and the municipality gets confused and thinks the year is 1950 and that a vegetable garden or a native plant garden doesn't belong where other people might actually see it.
There was a story just this past July about an Arlington Heights couple, Lisa Croneberg and her partner Ron Killian, who created something they call Fenceless Urban Farm, where they planted 2,000 vegetable seeds and grew a bunch of produce, some of which they sold at a local farmers market. Unfortunately, somebody in the neighborhood got their knickers in a twist and brought it to the attention of the village:
"The combination of things was an unusual arrangement in a suburban neighborhood," said Steven Touloumis, village director of building and life safety. "It's not like what they're doing is unprecedented but to the degree they're doing it, it was. It changes the character of the neighborhood."
Touloumis said he met with the couple, asked them to take down the hoop-house structure they had built without a permit to house seedlings and told them they would need to restore the public parkway back to grass in the fall.
Because, as we all know, a lawn slathered with pesticides is so much safer than all of that dangerous organic lettuce.
But I digress.
While that scenario has been playing out in Arlington Heights, a similar drama has been unfolding in suburban Elmhurst, though it has many more acts. This one involves a family, the Dan and Nicole Virgil, and a hoop house they first constructed in their backyard in 2015 for the purpose of extending the vegetable growing season for the purpose of stocking Fairview Produce, their family garden stand. As in the case of the couple from Arlington Heights, somebody filed a complaint about the hoop house. The Virgils pick up the story in their own press release (speaking in the third person):
There are no ordinance prohibiting hoop houses in Elmhurst, so the City declared that "they were OK as long as it was temporary" & Virgils took the house down in April 2016. When they started erecting it again in October 2016 for another temporary installation, they were notified by the City that they were to cease construction due to the violation of a mobile home ordinance and a permanent building ordinance, neither of which they felt applied.
The Virgils have been working since October 2016 to craft an ordinance to specifically address hoop houses. The City will not discuss it. Instead, they have taken the Virgils to court, found them guilty of violating the City's mobile home and permanent building codes.
When the hoop house went back up in the fall of 2016, the City issued a citation and the Virgils took down the structure in February of this year. But the controversy was far from over.
The suit filed March 23 in the 18th Judicial Circuit Court on behalf of Nicole and Dan Virgil asks the court to reverse the finding that their membrane structure violates the city's building code and ordinances relating to temporary structures. The lawsuit also seeks to have the city cover the Virgils' court costs.
As August finished, the issue still had not been resolved.
The Elmhurst Development, Planning and Zoning Committee announced its decision Aug. 28 to delay discussing hoop houses until after the lawsuit surrounding a local family's hoop house concludes.
The next hearing date for the case in the 18th Judicial Circuit Court of DuPage County is scheduled for Oct. 31. Meanwhile, the Virgils are hoping to score points in the court of public opinion. They have created a Change.org petition that they hope will garner enough signatures toget the Elmhurst City Council to take notice.
There are a number of folks on the side of the Virgils, including DuPage County Board member Liz Chaplin, who has written about the case on her blog. She joins us this morning, as does Nicole Virgil.
Meanwhile, out in DeKalb, Illinois, is yet another gardener who is fighting a battle with his city. This time, however, it isn't about vegetables or hoop houses, but about the right of Ron Cress to grow native plants.
Those plants, however, have drawn two warning letters from the city. The second, dated May 15, stated that if he didn't trim his "weeds" to less than 8 inches in height by May 24, he'd be fined $50, and a lien could be put on his house.
City Attorney Dean Frieders said Cress "could expect a notice to appear in court at any time."
"I might be in jail tomorrow," Cress joked.
Ron is a retired experimental psychologist who says he got "native plant religion" many years ago when he first visited Nachusa Grasslands. In addition to yard, he's lead steward for a 10-acre prairie restoration north of Kirkland. It's part of the Dekalb County Community Gardens Walnut Grove farm for people with special needs. For the past 31 years, he and his wife have been foster parents and legal guardians for a man with severe autism.
He also joins us on The Mike Nowak Show this morning. It should be an interesting hour.

How a "eureka mistake" could save our coral reefs
Michele Hoffman is back at the Science Desk this morning to talk about destruction caused by the intense hurricane season of 2017. But it's not the kind of damage you might think. We are all very aware of the impacts those storms have had on human life and property, but what about wildlife? Specifically, coral reefs?
The effects of storm surge produced by hurricanes — that is, a temporary rising of the sea associated with large storms — can diminish the protective capacity of coral reefs by raising the water level, Storlazzi noted. But even in the case of storm surge, coral reefs can still have a significant buffering effect on wave action, he said.
Of course, it goes both ways — hurricanes can also damage reefs and weaken them.
But sometimes you get lucky.
Divers making survey inspections of Key Largo's coral reefs and shipwrecks soon after Hurricane Irma came back smiling.
"The reefs look spectacular, compared to what we thought they would look like," said Billy Wise, general manager for Rainbow Reef Dive Center in Key Largo.
"We're super optimistic about the reefs," Wise said. "We had seven boats out Saturday. Everybody I talked to at the dock was positive and said everything looks great."
Still, it's no secret that the world's coral reefs are rapidly declining. Which is where Michele's guest this morning, Dr. David Vaughan comes in. He is executive director of Mote's Elizabeth Moore International Center for Coral Reef Research & Restoration in Summerland Key, Florida. He has discovered a pioneering technique called microfragmenting to rapidly grow corals in his lab that can be transplanted out to dead and dying coral reefs.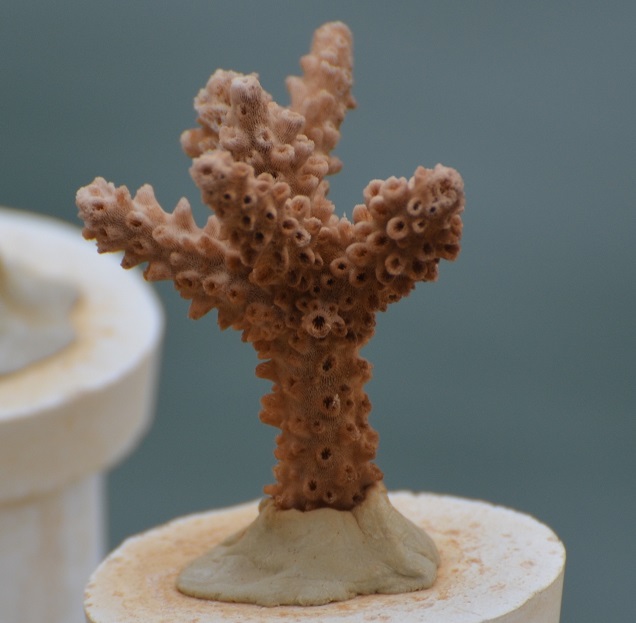 Other scientists are excited, too. While there are other efforts around the world to grow new coral, "this is easily the most promising restoration project that I am aware of," said Billy Causey, a coral expert who oversees all federal marine sanctuaries in the Southeastern United States, the Gulf of Mexico and the Caribbean for the National Oceanic and Atmospheric Administration.
"Dave and Chris are buying us time," he added. "This will keep corals out there" until "we can come to understand what is happening to coral on the larger scale."
We're pleased to have Michele Hoffman back at the Science Desk and we're excited to have Dr. Vaughan join us as well to offer his insider perspective on the health of our global ocean.