October 14, 2017 – Bring Guns, Oaks and Art

Less than a month ago, Dr. Murphy Westwood, director of Global tree conservation at the Morton Arboretum, stopped by the 1590 WCGO studios to talk about tree extinction. She told Peggy and me about the International Union for Conservation of Nature (IUCN) and its Red List of Threatened Species™. Those species include both animals and plants, though our conversation centered on ash trees in North America.
According to Dr. Westwood, five of six of the most prominent ash species are Critically Endangered., due to the invasion of the emerald ash borer (Agrilus planipennis), or EAB on this continent.  But she also mentioned that some 16 species of oaks were also under attack:
"In addition to being an iconic and beloved tree species in many parts of the world, oaks support many important ecosystems, such as oak savannas in the American Midwest and cloud forests in Mexico and Central America. Countless animals and other plants depend on oak-dominated habitats for survival. So, as oaks disappear, there will be a tangible, negative impact on wildlife, potentially upsetting the balance of forest habitats…"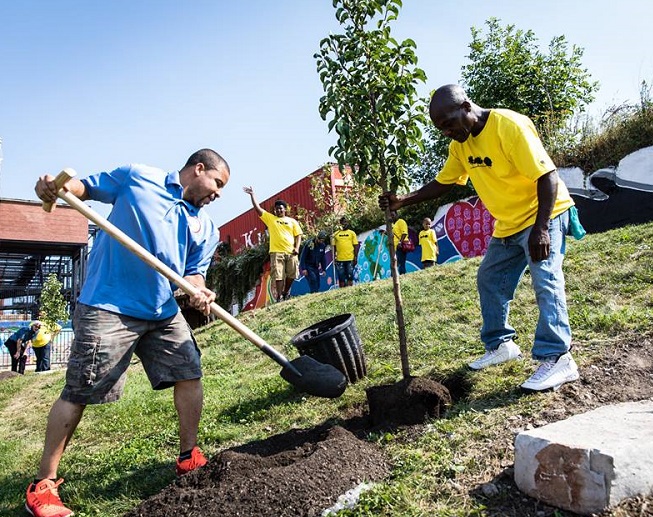 Since planting ash trees is out of the picture (see EAB), it would seem that you can't do much better than to plant oak trees to make up for the loss of those species. Which is exactly what artist Joseph Beuys did in 1982 in his project 7,000 Oaks at the documenta 7 exhibition in Kassel, Germany.
Now the School of the Art Institute of Chicago (SAIC) is working with a number of community groups on a project called Oaks of North Lawndale, which uses 7,000 Oaks as an inspiration. SAIC at Homan Square has been operating  for a couple of years at Nichols Tower, 906 S. Homan. As they describe it,
SAIC at Homan Square is a community of dedicated North Lawndale residents and artists along with artists and scholars from SAIC who engage audiences and communities in collaborative processes to identify issues, promote public discourse, and catalyze social change within specific institutions, neighborhoods, and other public contexts. It is a platform to share, support, and amplify what is already there by adding resources and bringing in others.
Those residents and artists will attempt to reforest about 3.2 square miles of North Lawndale with this project, which is expect to take about five years. Some of the other organizations involved are Free Spirit Media, North Lawndale Employment Network, Gardeneers, and Homan Grown.
Of course, the whole purpose of getting artists involved in any social project is to illuminate the accompanying issues in often unexpected or stark ways. In the case of the Oaks of North Lawndale, that perspective was provided by artist Pedro Reyes who reproduced his work, "Palas por pistolas" (Guns into Shovels), on September 23 at the Homan Square Campus:
"Ten years ago, I started this project, Palas por Pistolas, to withdraw weapons from circulation in my home country, and 10 years after, I am grateful to have the opportunity to do a new installment of this piece in the city of Chicago," said Pedro Reyes. "Guns spread death and suffering in the world, so I believe in making an effort to reduce the number of weapons out there, even if it seems an insurmountable task." About the planting of trees, Reyes adds: "We are starting to see the catastrophic effects of climate change, so another crucial undertaking is to constantly plant trees; our survival depends on this. This is the transformative essence of this project: to turn an instrument of death and turn it into an instrument of life."
SAIC reported on this latest incarnation of Reyes' work:
On this momentous occasion SAIC's mobile foundry and Lawndale Forge were installed in the Homan Square parking lot and Reyes oversaw SAIC students, alumni, and North Lawndale community members in melting down confiscated firearms forming the material for the shovel heads. The molten metal was then smithed into shovel heads and once cooled, they were attached to wooden handles milled from local ash trees felled as a result of the emerald ash borer beetle. The ash handles were prepared by youth involved with Greater West Town Partnerships. Our neighbors in Nichols Tower were invited to table the event, benefitting from the anticipated increased foot traffic.
SAIC says that the Oaks of North Lawndale project will start at the Homan Square Campus and spread north to Garfield Park, south to Douglas park and east and west to the boundaries of the North Lawndale neighborhood. As with the Beuys project in the 1980s, each tree will have a limestone slab companion.
We mentioned Homan Grown above, which is "a social enterprise, wholesale perennial & tree nursery offering landscape design/build services" started by Jeff Levrant, manager of Homan Rails Farm and project specialist for Gardeneers.  But Peggy and I were surprised to learn that the business was co-founded by friends of The Mike Nowak Show Annamaria Leon (Edibles Manager, Christy Webber Farm and Garden Center) and Roy Diblik (co-owner of Northwind Perennial Farms and internationally respected perennial expert and perennial plant grower for more than 37 years).
Jeff joins us in studio today to talk about the project and his role in it. He is joined by Paul Coffey, Vice Provost & Dean of Community Engagement at the School of the Art Institute of Chicago. Paul currently leads the Office of Engagement, where he and his team are responsible for external partnerships nationally and internationally, including projects like SAIC's initiative at Homan Square.