October 1, 2017 – Seeds, Giant Pumpkins and Solar Panels

Celebrating soil, seeds and sprouts
It was in June of 2014 that artist Sharon Bladholm was on The Mike Nowak Show, talking about her installation "The Soil is Alive," a series of cast-bronze relief sculptures at the newly-opened Openlands Lakeshore Preserve. In fact, nature is her "beat," so to speak. Bladholm writes on her own website that she
has pursued her artistic vision through the steady acquisition and command of a variety of disciplines, including cast glass, bronze, and ceramic in the sculptural realm, as well as stained glass, printmaking and works on paper. The recurring theme in Bladholm's work is the interface of people with the natural world, integrating the sciences of anthropology with biology and botany from the plant world.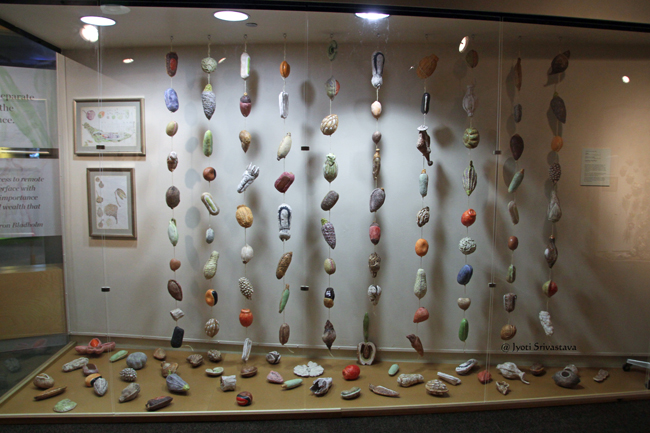 So I was pleased when a couple of friends of mine called my attention to her new exhibition, this time at the Peggy Notebaert Nature Museum, a place where she has had shows in the past. This one is called Soils, Seeds, and Sprouts: Tropical and Temperate, it runs through December 3 and it's already had a nice write up in the New Art Examiner.
She stops in to the WCGO studios this morning to talk about the exhibit, and to promote something called Digging Deeper: A Closer Look at Life in Soil, also at the Peggy Notebaert Nature Museum:
Join us on October 5 at 6 pm for this free event to celebrate the dream team that builds our healthy soil: bugs, microbes, fungi, plants, and more! Grab a drink, stop by our dirt pudding buffet, then chat with local experts about everything from hyphae to humus. Once you've learned tips, tricks, and tidbits about building soil in your own backyard, explore the creative side of sediments as you wander our new exhibit, Soils, Seeds, and Sprouts, with the artist, Sharon Bladholm.
It's free and drinks are available for purchase. Click here for more information and to RSVP.
Checking in on giant pumpkins and their obsessed growers
Last year I was able to pay a visit to the Illinois Giant Pumpkin Weigh-off  presented by the Illinois Giant Pumpkin Growers Association at Siegel's Cottonwood Farm in Lockport, Illinois. In 2016, the top pumpkin was grown by Joe Adkins of Wheaton whose entry weighed in at 1,861 pounds.
This year's winning entry was just below that, at 1,852 pounds, and it was produced by Pete vander wielen of Sherwood, Wisconsin. He told me that he has been growing giant pumpkins for only four years, so I suspect that the guys (and gals, but mostly guys) who have been doing this for awhile might be a tad jealous.
One of those veterans is a old friend of the show, George Janowiak, who acquitted himself rather well this year, entering a pumpkin that weighed in at 1,409 pounds, a personal best. His daughter wrote on Facebook that he won the Howard Dill award for the prettiest pumpkin. I hope that's a badge of honor.
George was with us last year, and he returns this morning along with vander wielen to tell us how it feels to grow a vegetable that weighs as much as a small automobile. Most of us will never know.

Future energy is now
Thanks to a bill that passed the Illinois General Assembly last year and was signed into law in December by Governor Bruce Rauner, the future looks bright for solar energy in this state:
The Future Energy Jobs Act calls for 2,700 MW of solar in Illinois by 2030, including 400 MW of community solar through a state mandated adjustable block program. That figure is nearly double the amount of community solar existed across the entire U.S. in 2016.
That's good news for the Illinois economy and for the Illinois environment:
Statewide, the production of community solar is projected to produce over 10,000 construction period jobs, generate $1.39 billion in construction benefit money, and offset the equivalent greenhouse gas emissions of about 350,000 homes per year.
Unfortunately, not even one year into the mission, some parties are trying renege on their part of the agreement:
Under the new law, Ameren Illinois is required to achieve 16 percent annual savings by 2030 relative to average annual electricity sales over the past three years. But in its first energy plan filing, Ameren asked the state to allow its target to be reduced by nearly 30 percent below the required target.
The Peoria-based company serves 1.2 million electric and 816,000 natural gas customers in central and southern Illinois.
Fellow utility provider ComEd, meanwhile, filed plans that meet savings goals established by the new law, according to NRDC. ComEd, which serves 3.8 million homes and business in northern Illinois, is not requesting an adjustment of its savings goal, unlike Ameren.
At a recent environmental event, I happened to meet a guy named Erik Carlberg from a company called WindFree Solar and the result of that meeting is that he is on the show this morning. He notes that solar technology is already fairly advanced, with extremely long warranties and efficient modules that require little maintenance.
He comments on something that I was, frankly, unaware of–the Tesla Solar Roof.
We have received many questions about the new Tesla solar roof. Building integrated solar or BIS has been around a long time, but it gets a lot more attention when someone like Elon Musk talks about it. The new Tesla roofs are very beautiful and we are in contact with Tesla to find out if we're going to be able to sell, install, or both sell and install it when it's released. I do think it's important though that people don't look at regular solar panels as "outdated" technology now that the new Tesla roofs will be released soon.
Indeed.
Carlberg joins Peggy and me in studio this morning with Windfree Solar President Doug Snower. There's lots to discuss, including a quick plug for the 2017 Illinois Solar Tour on October 7, sponsored by the Illinois Solar Energy Association (ISEA). The tour goes from 10:00 a.m. to 3:00 p.m., when home and business owners open their buildings to the public and share their secrets of working with renewable energy.