November 5, 2017 – The Future of Fracking and Energy in Illinois

The return of Scott Stewart
Peggy and I last talked to Scott Stewart on the radio almost exactly a year ago–okay, 49 weeks ago, to be precise. At that time, he was the director of the Lurie Garden in Millennium Park. Here's what I wrote at the time.
I learned that he doesn't regard himself as a traditional horticulturist. In fact, because he is trained as a restoration ecologist, he is not. But over the years he has found himself in the middle between ecological restoration types and traditional landscapers and plant producers–who often aren't exactly clear what the others are doing.
Scott says that when he discovered public parks, he realized that ecologists and horticulturists could co-exist with architects and artists and cultural enthusiasts, and that explaining science in cultural or artistic terms makes much accessible to the average visitor.
And speaking of visitors, more than 4 million of them show up each year–and some people think that number could be nearer to 6 or 7 million! Along with the diversity of people is the diversity of plants. There are 222 different plant species at Lurie Garden in about 2.5 acres (that's more like 4 acres if you include pathways and the shoulder hedge). To put it in perspective, the Lurie garden is ranked in the top five most visited public gardens, arboreta and botanic gardens in the world.
But Stewart seems unfazed by it all. He's focused on teaching all about teaching "design plant community"–combining the best in traditional horticultural world with best of natural plant community world.
A year later, Scott has moved up in the world. He is now executive director of the Millennium Park Foundation, which describes itself as a "nonprofit organization dedicated to maintaining Millennium Park as a free venue for all Chicagoans today and for generations to come."
He describes his new job as
curation and maintenance of all programming, construction, artistic, and architectural elements within Millennium Park. The work is accomplished in collaboration with public and private partners such as City of Chicago Department of Cultural Affairs & Special Events and numerous other contractors.
Sounds pretty fancy to me, especially considering that he has spent the last few months receiving a Professional Citation from the American Public Gardens Association, and has been traveling around the country and the world extolling the magnificence of Millennium Park.
We're just happy to have him back on the show. I'm not exactly sure where the conversation will go, but we do know that planning is beginning for the 20th anniversary of the Millennium Park Foundation, so I suspect that we'll learn about that. Regardless of where we go, it should be interesting.
The Future of Fracking in the Land of Lincoln
Is it just me, or does it seems like a couple of centuries ago that then Illinois Governor Pat Quinn signed the Hydraulic Fracturing Regulatory Act into law? In fact, it was on June 17, 2013, a little more than four years ago. At the time, Think Progress lauded the new law with the headline: Illinois Adopts Nation's Strictest Fracking Regulations.
For instance, according to a legal analysis of the law, permit applications to the Illinois Department of Natural Resources had to include the following: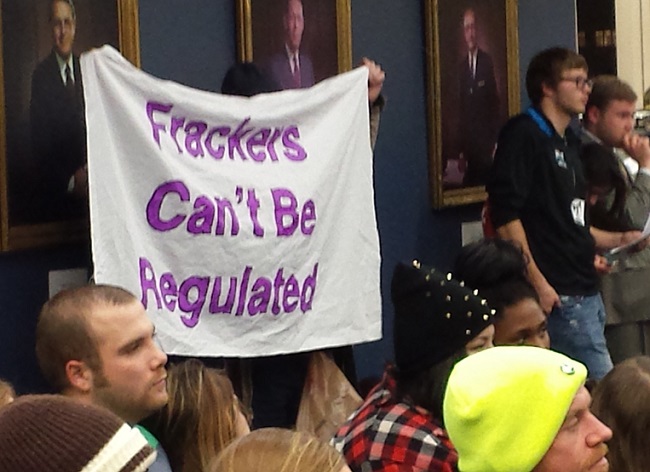 • A statement that the well complies with all setback requirements;
• A description of the well, including the well depth, drilling angles, and the length of the horizontal well section in which the fracking fluids will be injected and oil and gas will be extracted;
• The depth of  the lowest point of  any freshwater aquifer that will be penetrated by the fracking well;
• A  description  of   the  fracking  operation,  including  the  name  of   geologic  formation  being  developed  and  the  pressure to be utilized for the injection of fracking fluids into the formation;
• The location of  any other well bores within 750 feet of  a proposed well that will also be stimulated as part of  the fracking operations;
• The chemicals that will be used in the fracking fluids;
• A water withdrawal and management plan describing the water supply to be used to support the fracking operation;
• A plan for the handling, storage, transportation, and disposal of fracking fluids;
• A well site safety plan;
• A well site containment plan;
• A well casing and cementing plan;
• A traffic management plan;
• The names and addresses of  all owners of  real property within 1,500 feet of  the well site;
• A draft public notice;
• A commitment to restore the well site; and
• Proof  of  adequate insurance.
No wonder that the law, which was the outcome of years of negotiations among industry, government and environmental groups in the state, was considered to be the gold standard of fracking regulations in the country.
That is, unless you were dead set against any kind of fracking in Illinois. In fact, the debate over that law was quite contentious in environmental circles:
The groups have many criticisms of the bill, both because of concerns they have over its content, but they are also critical of the other environmental groups willingness to negotiate on regulating an industry that they say cannot possibly be done in a manner that protects water and the environment. "This bill is being touted as a compromise between environmentalists and industry, to allow fracking to come in 'safely.' But there is no such thing as safe fracking," Dannenbring told CMD.
As I reported on the progress of the law on my radio show, it was my opinion that things got pretty ugly, and some nasty accusations were thrown around. Fast forward to August of 2017, when environmental reporter Kari Lydersen wrote in Midwest Energy News that the first permit for fracking under the new law had been filed:
In the spring, the Kansas-based, family-owned company Woolsey Energy filed for a permit to frack in White County in southeastern Illinois. Advocates criticized that permit as incomplete and inconsistent, and the department sent Woolsey back to the drawing board.
Woolsey submitted a revised permit application this summer, with the public comment period closing this month. Environmental advocates say the revised permit is still sorely lacking required information, and they are urging the IDNR to reject it.
Well, the IDNR apparently did not reject the permit, and it was approved in September. But just as quickly, Woolsey turned around and pulled the plug on its plans to frack for oil and gas in southeastern Illinois:
"The process we have gone through to receive a permit was burdensome, time consuming and costly due to the current rules and regulations of Illinois," the company stated, "and it appears that this process would continue for future permit applications."
The company said the area of southeast Illinois known as New Albany Shale had significant energy production potential, but that stringent Illinois rules combined with low oil and gas prices made the project too costly compared with other states.
Wait. So does this mean that the "toughest fracking law in the nation" is exactly that? If that's the case, then why did IDNR approve the permit? And if Woolsey had its permit approved, why did they back out of the project?
Groups like Illinois Food & Water Watch are taking this news as a opportunity to renew their push for a ban on fracking in Illinois.
It's a good thing that we have Kari Lydersen in studio this morning–to help us answer those questions and sort out the next steps concerning the status of fracking in Illinois.
Meanwhile, Kari has also been writing about the Future Energy Jobs Act. She tells us that
Illinois passed this huge energy bill last year bailing out the nuclear plants and also mandating a MASSIVE increase in solar energy, from 75 MW currently installed to 2700 MW by 2030! Half of that is supposed to be in small distributed installations on homes, organizations and businesses. So the question is, what will it take to make this happen and how could companies (ie, energy companies and the utilities ComEd and Ameren) either be part of the solution and/or mess it up by trying to profit themselves?
More good questions, which she tries to answer in a number of articles for Midwest Energy News:
Chicago-area mayors hope collaboration will spark more interest in solar
'Solar for All': Can Illinois energy bill live up to ambitious promises?
Citing social equity issues, Illinois utility seeks to cut efficiency targets
and a story that came out just a couple of days ago,
New Illinois rules aim to protect customers of alternative energy suppliers
Get out your notebooks, kids. We have a lot to discuss on the show this morning.