November 27, 2016 – The Good, the Bad & the Weird of Green Holiday Gifts

Just another public service day here at The Mike Nowak Show. Peggy Malecki and I start by giving you the lowdown on some of the best, strangest and most…uh…off-putting (I'm trying to be kind here) green holiday gift ideas we've found, with Michelle Byrne Walsh from Chicagoland Gardening Magazine. Then Scott Stewart, director of the Lurie Garden in Millennium Park, tells us why winter is still a great time to be viewing outdoor plants. And there's great stuff happening at Conserve Lake County, where friend of the show Sarah Surroz recently became executive director. We expect great things and she'll tell us all about it.
The good, the bad and the weird of holiday gift giving
Here at The Mike Nowak show, we have a semi-annual tradition of helping you prepare for the upcoming holiday season by reviewing some of the more, shall we say, interesting gift ideas out there for gardening friends and relatives. This year, we're expanding a bit, and touching on some additional gifts to help you get in shape and maybe even give back and feel good about your gift-giving.
We're reviving a tradition on the show that dates back to when I was at Gargantua Radio down the dial. In those days, my friend and fellow master gardener Michelle Byrne Walsh drop by the studio to talk about some fun and some strange ideas for gifts. We would open the phone lines, anticipating hilarious calls from gardeners who had been on the receiving end of these gift. Of course, the only sound we heard was the wind whistling through the transmission tower. I don't know why, but nobody seems to have stories about bad Xmas gifts. Go figure.
Anyway, Michelle, who is also a freelance garden writer, contributing writer at Chicagoland Gardening Magazine, and Editor at State-by-State Gardening, Inc. for four magazines (Indiana Gardening, Missouri Gardener, Ohio Gardener, Pennsylvania Gardener) is back. Like she has all kinds of free time to spend. She joins Peggy and me this morning to review some of The Good, The Bad (or perhaps the Weird) and the seriously UGLY holiday gifts we've found. You'll want to have pen and paper handy to takes notes for Santa. However, if you computers have caused you to forget how to write, here's a starting list:
The GOOD
If you're a regular listener, you know we're a huge advocate of re-usable coffee mugs!! Get them everywhere, and look for stainless steel ones.
Re-usable water bottles from EarthLust, a small California company (which happens to be B-Certified Corporation) that produces "ethically produced", non-toxic and BPA-free stainless steel water bottles.
Create a scrapbook from photos of the garden, or use companies like Walgreens or Snapfish to create a photo calendar. Snapfish photo calendar prices range from $9.95 to $34.95 and Walgreens photo calendar prices range from $9.95 to $29.95.
Register your relative or friend's garden as a University of Illinois Extension Pollinator Pocket. Simply fIll out an online form, then they will review your application and, upon certification, your Pollinator Pocket will be included in their U of I Extension Pollinator Pocket Registry. You may also choose to purchase a weatherproof aluminum sign to display, which identifies your site as an official Pollinator Pocket. $15 for the sign (Master Gardeners and Master Naturalists get a discount).
Amaryllis bulbs. They turn into spectacular flowers with almost no effort at all. It's almost like magic. Now, you can certainly get them online, but if you're going to do that, order from your local independent garden center. Or just walk in the door–even better!
Fair trade and ethically-produced gifts, especially when purchased from local Chicago Fair Trade member businesses. Look for clothing and accessories, food, chocolate, coffee and housewares from places like Mata Traders and Greenheart. (And don't forget November 29 is Fair Trade Tuesday).
Bags, accessories and gifts items from FEED. A portion of every purchase funds school lunches, micronutrients, mother-child nutrition and emergency relief in the US and around the world
Flexible and "safe" wedding and fashion rings from ENSO for active lifestyles and people who work with their hands. (You may recall Jimmy Fallon's injury earlier this year that almost cost him a finger.)
A compact and dishwasher-safe home fermenting kit and pickled veg storage system.
And two shameless plugs for a couple of our sponsors:
–  Purchases from Natural Communities Native Plants between Black Friday and December 31st will result in a contribution of 5% of sales to the Sierra Club Illinois Chapter.
–  The V2 grow light from Happy Leaf LED will help provide you with fresh greens all winter long. It's already been awarded the Direct Gardening Association 2017 Green Thumb Award.
The BAD (in a good way) and WEIRD
The UGLY – almost too ugly to even include
Anything with the name "Chia" in front of it.
A Donald Trump Garden Gnome A (10 inches tall, $24.95 on Amazon)
A Donald Trump cat scratching post  (or choose from a selection of other politicians, including Obama, Clinton, Putin and Netanyahu). They call the product "the ultimate in kitty luxury home décor" (Put this with the Trump yard gnome and both dog and cat can get their revenge)
Has anybody invented Donald Trump kitty litter yet? Just asking…
Gardening clogs – a gift in search of somebody who needs it. But that's just me.
 Bridging horticultural, ecological and artistic worlds at the Lurie Garden

Not quite a couple of months ago, I attended a meeting of Chicago Living Corridors, which we have discussed on this program, at the Lurie Garden in Millennium Park. Now, I'm not exactly a stranger to the Lurie Garden. I was privileged enough to be on site as it was being planted, thanks to my friend Roy Diblik from Northwind Perennial Farm in Burlington, Wisconsin, who grew more than 20,000 of the plants that were installed at the time. I have visited many times, including shooting a segment for the Dig In Chicago TV show I was part of for a couple of seasons.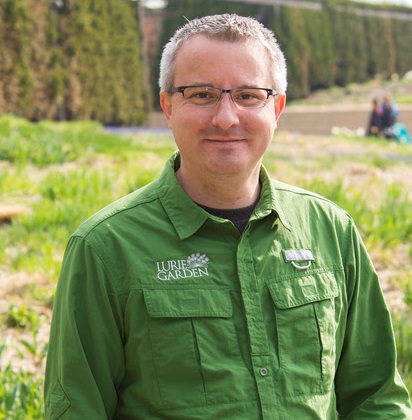 But I saw the garden in a whole new light after hearing its current director, Scott Stewart, speak at the CLC meeting.I already knew about him because I had read a couple of his thought provoking articles, including one called Is this a Weed? Garden Invaders, Welcome Guests and Photo-bombers. In it, he states, "Weeds are plants out of place. This means that the dandelion and the tulip alike could be considered a weed depending on where they grow, how they grow, and the gardener's tolerance for them in that location." Wait a minute. He's being reasonable. What the heck is that all about?
I learned that he doesn't regard himself as a traditional horticulturist. In fact, because he is trained as a restoration ecologist, he is not. But over the years he has found himself in the middle between ecological restoration types and traditional landscapers and plant producers–who often aren't exactly clear what the others are doing.
Scott says that when he discovered public parks, he realized that ecologists and horticulturists could co-exist with architects and artists and cultural enthusiasts, and that explaining science in cultural or artistic terms makes much accessible to the average visitor.
And speaking of visitors, more than 4 million of them show up each year–and some people think that number could be nearer to 6 or 7 million! Along with the diversity of people is the diversity of plants. There are 222 different plant species at Lurie Garden in about 2.5 acres (that's more like 4 acres if you include pathways and the shoulder hedge). To put it in perspective, the Lurie garden is ranked in the top five most visited public gardens, arboreta and botanic gardens in the world.
But Stewart seems unfazed by it all. He's focused on teaching all about teaching "design plant community"–combining the best in traditional horticultural world with best of natural plant community world. I have the feeling that we'll learn more than a few things about growing things this morning. But here are some of his thoughts about winter gardens:
* Ask yourself what makes the winter garden special, and if it can continue to be valuable to native species in the winter (like the Lurie Garden)
* What is the ecological value of the garden in winter?
* Do you use plants with four-season visual interest?
* How about evergreen and perennial plants that are semi-evergreen?
* How can I integrate Lurie Garden principles into my own garden?
Conserve Lake County welcomes a familiar face to a new post
Conserve Lake County is one of those organizations that's able to positively affect the local community in many ways through their wide range of programs, which include everything from land conservation efforts to a spring native plant and tree sale, outreach education and land advocacy. A non-profit organization, Conserve Lake County owns and operates Casey Farm, the only certified organic farm property in Libertyville Township, which also is home to Radical Root Farm and CSA. Conserve is known for it's popular Conservation@Home program that helps people build an eco- and pollinator-friendly property that includes native plant materials. Through the program, they've completed over 1,000 consultations on residential, corporate, school and government properties, and certified many as a Conservation@Home property.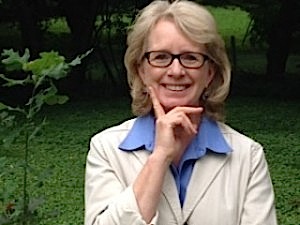 Earlier this fall, Sarah Surroz took the helm as Conserve's new Executive Director, and she joins us this morning to talk about land and water conservation in Lake County, and the role Conserve Lake County will play to further conservation efforts not just in Lake County, but also by working with their partners throughout the region. Sarah has been active in the county with natural areas conservation projects since 1985, and on staff with Conserve Lake County since 2005. She's played a key role in passing Lake County Forest Preserve District open space referendums and crafting land use plans that have impacted thousands of acres. Sarah steps into her role with a background that includes serving on the boards and advisory councils of Chicago Wilderness Magazine, Lake County's new Green Infrastructure Model and Strategy, the Lake County Land Preservation Partners and the Chicago Region Trees Initiative.
As if that wasn't qualification enough, Sarah is an avid kayaker, bicyclist and hiker, and this summer, she backpacked 99 miles on the Pacific Crest Trail in celebration of completing her first novel, which, of course, features a wildlife biologist. Needless to say, Sarah is well prepared for her upcoming work at Conserve Lake County and we welcome her to The Mike Nowak Show.