November 20, 2016 – The Wilds of Chicago and of Chicago's Farmers Markets

Mike MacDonald has spent the past year teaching people through photography and prose that the Chicago area has a lot more spectacular nature than they ever imagined. He comes to the studio to talk about his book, My Journey into the Wilds of Chicago. Then Elizabeth Lyon, manager of the Plant Chicago Farmer's Market, Alex Poltorak, founder of The Urban Canopy, and others discuss how difficult it can be to run a successful farmers market.
A man and his camera dive into the wilds of Chicago
The last time I saw Mike MacDonald, he had spread galleys from his soon-to-be published book across his dining room table in his Downers Grove home in suburban Chicago. It's a maddening time for anybody who has ever created a book, and it was doubly so because the publication not only featured his writing, but more than 200 of his own photographs. So he was checking color, contrast and cropping, as well as spelling and punctuation.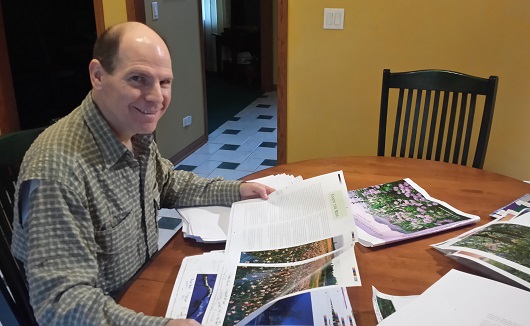 Fast forward a year, and his book, My Journey into the Wilds of Chicago: A Celebration of Chicagoland's Startling Natural Wonders, is a reality, and he has been spreading the gospel of nearby natural areas on radio, TV and more. His 240 page full color coffee table book also features 22 essays and poems, all in the service of Chicago's unique habitats and species. He writes:
Every day, nature puts on breath-taking performances in "theaters"across the Chicago region, yet most go unattended and unappreciated. Though many of these shows are performed beside busy streets, they are overlooked by people on their wayto work or school, hidden behind a curtain of distraction.  Step through the invisible drape and discover a secret stage—a startling wonderland featuring a cast of remarkable characters immersed in nature's unfolding drama. There, you can live out scenes of beauty and adventure, adding a fresh, rich dimension to your life and to your Chicago story.
MacDonald's work on the book has led him to create a website called Chicago Nature NOW! where folks can log in to participate in natural events in this region. Peggy and I welcome him back to The Mike Nowak Show.
Why farmers markets succeed and fail
On September 3 of this year, received a message from Qae-Dah Muhammad, founder of the South Shore Farmers Market on Chicago's southeast side, alerting the public that the market was closing, at least temporarily. The market, which operates out of Rainbow Beach Park (79th St. & South Shore Dr.), was having trouble holding on to its vendors and needed to regroup.
On September 4, Qae-Dah was on this show to talk about the difficulty in keeping the market open. As it turns out, she was able to reopen the market a couple of weeks later. But it raised the question about why some markets–like the one I frequent in Logan Square–do well and others do not.
It turns out that Liz Lyon, who manages the Plant Chicago Farmer's Market in the Back of the Yards neighborhood on the south side of Chicago, was listening to the show and wrote to me. We began a conversation about the issue I raised in the previous paragraph and how we should put together a show to examine this phenomenon. At one point she wrote to me:
While there are many highly successful markets (Green City, Glenwood Sunday, Logan Square, and 61st Street among them) in Chicago, there are many more that are struggling. I am optimistic and believe in the potential of farmers markets to support local farms and provide much needed access to affordable and nutritious local food, but there is a really challenging side to them ("if you build it, they will come" definitely does not apply!) and I feel that this is not discussed enough. We need to bring the challenges and struggles to light if we want to move toward solutions to sustain the amazing farmers market movement we've started here in Chicago. 
In a subsequent email, she made some revealing comments:
I've heard several vendors cite very specific (and pretty high) minimum attendee #s they require to attend a market. However, there are many small urban farms and newer suburban/rural farms that are looking to get into farmers markets, and are often okay with smaller attendee #s, as long as they see improvement over the season. It's always a very delicate balance between sticking around (and maybe "propping up a struggling entity", as you say) and waiting for the market to improve, and making enough money to support your business and its employees. Farmers Markets are competing with so many other outlets for local food now that CSAs are becoming more popular and restaurants and grocery chains like Mariano's and Whole Foods are jumping on the local trend.
Meanwhile, on October 24, a number of farmers market managers and advocates met at the IMAN Health Center on the south side of Chicago to attempt to "discuss solutions and changes for the 2017 farmers market season, as related to urban food deserts." Liz was one of the people there, as was Colleen McNichols from the Illinois Farmers Market Association. Some of the obstacles discussed were challenging locations, lack of education about the benefits of farmers markets, publicity and more.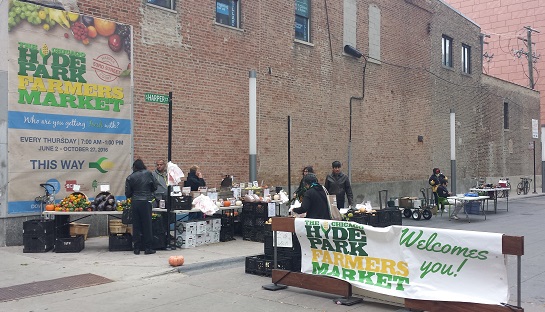 So we've assembled a panel to see if we can examine some of those obstacles on today's show. Liz Lyon is joined by Alex Poltorak, founder of The Urban Canopy, which describes itself as "growers, but also educators and advocates for the urban food movement." We might also be joined by Colleen McNichols and  Corey Chatman, the project manager at the Experimental Station.
Last but not least, Liz will probably remind us that Plant Chicago has started their indoor farmers market for the winter season, which happens on the first Saturday of each month from 11am-3pm now through May, 2017. Peggy and I did a little searching and discovered that there doesn't seem to be a comprehensive list of indoor markets. So webmaster took the information that Peggy tracked down and created a list of 2016-2017 Winter Farmers Markets right here at mikenowak.net. If you have more information or even photos, please send them along!