November 19, 2017 – The Science Desk: Permafrost Losing Its "Perm"

Water, oil and hexavalent chromium don't mix
You might be surprised to learn that some of the most effective defenders of Lake Michigan water quality are the same people who ride the waves of that Great Lake. And now, the Surfrider Foundation is suing U.S. Steel for "repeated Clean Water Act violations at their Portage, Indiana facility."
It's bad enough that in April U.S. Steel illegally spilled around 350 pounds of chromium, including nearly 300 pounds of highly toxic and carcinogenic hexavalent chromium, into Burns Waterway, a man-made slip that drains into Lake Michigan. Hexavalent chromium, if you remember your film history, was made infamous by the movie Erin Brockovich, which unfortunately was based on real events.
But then U.S. Steel did it again in October, and this time, they tried to hide it!
Documents released by the University of Chicago's Abrams Environmental Law Clinic show that U.S. Steel's plant in Portage, Indiana, released 56.7 pounds (25.7 kilograms) of chromium on Oct. 25 after a wastewater treatment system malfunction. That's nearly double what the plant is permitted to release of the potentially cancer-causing chemical over 24 hours.
A company official wrote to the Indiana Department of Environmental Management on Oct. 31 asking that its submission about the release "be afforded confidential treatment under all applicable statutes."
Law students at the University of Chicago obtained the letter while tracking pollution violations at U.S. Steel and other factories along Lake Michigan as they prepare a planned lawsuit accusing the Pittsburgh-based company of repeatedly violating the federal Clean Water Act since 2011.
If it hadn't been for the U of C students, who work at the university's Abrams Environmental Law Clinic, the latest violation might not have been discovered at all. And if it wasn't for the Surfrider Chicago folks, we might not have known about any of this.
"One of the first things you notice if you surf a lot in this part of the world is the smell of oil and grease coming off the water," said McNeil, who has been riding waves on the lake for a decade. "We got to a point where enough people were talking about skin rashes and other issues that we needed somebody to dig into what's being dumped into the lake."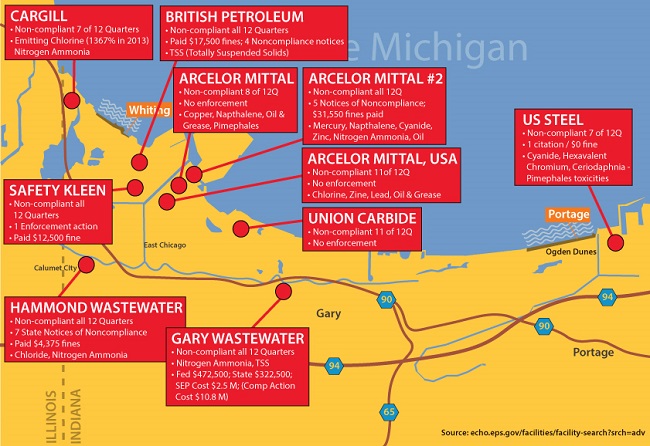 The McNeil referred to above is none other than Mitch McNeil, who has been on this show before. He returns today to talk about the lawsuit against U.S. Steel and to give us an update on the so-called Enbridge Line 5 pipeline, described here by a group called Oil and Water Don't Mix:
Every day, nearly 23 million gallons of oil flow through two aging pipelines in the heart of the Great Lakes, just west of the Mackinac Bridge. Built in 1953 during the Eisenhower administration, the two 20-inch-in-diameter "Line 5" pipelines owned by Canadian company Enbridge, Inc., lie exposed in the water at the bottom of the Straits of Mackinac.
After nearly 65 years of putting the fresh water of the Great Lakes at risk, the safety of the pipeline is now being questioned by the State of Michigan.
In August, state officials requested Enbridge inspect the underwater pipelines at the site of all anchor supports securing the pipes on the lake bottom, after the company's inspections revealed damage to the outer protective coating on the pipe at one of the anchor support installation locations. Enbridge possessed information about the damage to at least one area of pipeline coating in 2014 and failed to disclose it to state agencies until this summer.
We're pleased to have Mitch McNeil back on the show this morning.

Bird City here we come
Bird populations need all the help they can get. A 2016 study by the group Partners in Flight found that North American land bird (as opposed to ducks and waterfowl) populations are down by more than one billion since 1970.
The usual suspects of urban growth, agricultural and forestry practices, pesticides, climate change and more are all affecting bird populations.  Technology is also to blame for bird mortality, as the National Audubon Society reports:
Power lines: Up to 175 million birds per year
Communication towers: Up to 50 million birds per year
Oil waste pits: 500,000 to 1 million birds per year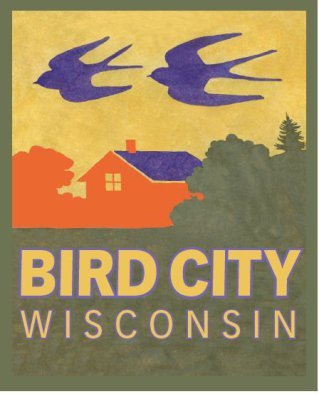 A new study released earlier this month by the journal Scientific Reports points to two of Canada's most common pesticides, neonicotinoids and organochlorines, as causing songbirds to lose weight and their sense of direction. What's really frightening about this study is that even extremely small doses of neonics seem to have a major effect on some species.  As Saskatchewan biologist Christy Morrissey said in a related article in the National Post, "pesticides are often applied just as birds are increasing their food intake to get ready to migrate."
Grassroots conservation efforts, local policy and community education are key to the surviving and maybe even thriving of bird populations.
Enter Bird City Wisconsin. A program initially developed by the Milwaukee Audubon Society and several Wisconsin conservation organizations in 2009, it's modeled after the Arbor Day Foundation's Tree City USA program of community education and recognition. And it's become a model for local bird conservation.  According to their website,
Healthy communities are the sum of many parts, including birds. Bird City Wisconsin mobilizes citizens and public officials who already know that birds are more than beautiful – they are significant. A Bird City is a community whose government educates its citizens about birds while implementing sound conservation practices. Bird City Wisconsin provides highly-visible public recognition to these communities, and guidance on future actions, to make Bird Cities better habitat for birds and people…We support our communities in their efforts to protect and manage green space, build and erect nesting structures, landscape with native plants, reduce threats like collisions, and generally make urban areas friendlier for breeding, wintering, and migrating birds.
This recognition includes communities of all sizes, ranging from Ferryville (pop. 177) to the city of Milwaukee (pop of almost 600,000). According to their website,
Bird City Wisconsin recognizes municipalities for the conservation and education activities that they undertake to make their communities healthy for birds … and people. To be recognized as a Bird City, a community must meet at least 7 of 22 criteria spread across five categories: habitat creation and protection, community forest management, limiting threats to birds, education, and the official recognition and celebration of International Migratory Bird Day. Bird City also offers a second level of recognition, High Flyer, for those communities that truly go above and beyond in their conservation and education programs.
We're happy to welcome Bird City Wisconsin's Director Bryan Lenz, who joins us this morning to talk about some of the problems bird populations face (including feral cats), and how this program is making a difference in local bird conservation efforts across Wisconsin. To date, 107 cities have been recognized as a Bird City Community, with a 100 percent retention rate in re-certification. And we'll be sure to ask Bryan about their plans to expand to other states.
Bryan will be discussing Bird City Wisconsin at 7:00 p.m. this Tuesday, November 21 at the Lake-Cook Audubon meeting. The presentation is open to the public and will be held at the Heller Nature Center, 2821 Ridge Road, in Highland Park.
It's not all bad news for birds. Midwest populations of sandhill cranes, which are migrating through Chicago right now, continue to rebound from their low of two dozen breeding pairs in Wisconsin the 1930s. According to an article in Friday's Chicago Tribune,
the population in the upper Midwest is now between 65,000 and 95,000, researchers estimate. The recovery has accelerated in the last decade, when the number of sandhill cranes more than doubled, growing at a rate of 4.4 percent per year, according to a coordinated fall survey from the U.S. Fish and Wildlife Service.

We're already losing permafrost–just how much and how fast will it be?
Peggy and I received a homework assignment from meteorologist Rick DiMaio before today's show. He asked us to look over the executive summary of the U.S. Global Change Research Program Climate Science Special Report. You might remember that this document was compiled by a group of scientists from 13 federal agencies and released despite its conclusions, which run counter to statements made by the current administration.
Among its findings:
Global annually averaged surface air temperature has increased by about 1.8°F (1.0°C) over the last 115 years (1901–2016). This period is now the warmest in the history of modern civilization. The last few years have also seen record-breaking, climate-related weather extremes, and the last three years have been the warmest years on record for the globe. These trends are expected to continue over climate timescales.
This assessment concludes, based on extensive evidence, that it is extremely likely that human activities, especially emissions of greenhouse gases, are the dominant cause of the observed warming since the mid-20th century. For the warming over the last century, there is no convincing alternative explanation supported by the extent of the observational evidence.
In addition to warming, many other aspects of global climate are changing, primarily in response to human activities. Thousands of studies conducted by researchers around the world have documented changes in surface, atmospheric, and oceanic temperatures; melting glaciers; diminishing snow cover; shrinking sea ice; rising sea levels; ocean acidification; and increasing atmospheric water vapor.
Later on, the summary touches on the subject of this morning's show:
While the Arctic may seem remote to most Americans, the climatic effects of perturbations to arctic sea ice, land ice, surface temperature, snow cover, and permafrost affect the amount of warming, sea level change, carbon cycle impacts, and potentially even weather patterns in the lower 48 states. The Arctic is warming at a rate approximately twice as fast as the global average and, if it continues to warm at the same rate, Septembers will be nearly ice-free in the Arctic Ocean sometime between now and the 2040s…
Which brings us to the Science Desk and our very own Michele Hoffman: Director of Education and Advancement for the Hawaii Association for Marine Education and Research (HAMER); faculty member at Columbia College, the School of the Art Institute and Roosevelt University, and Executive Producer of the film Microcosm,
Today she introduces us to Dr. R. Eric Collins of the College of Fisheries and Ocean Sciences at the University of Alaska Fairbanks. Collins was part of an expedition Michele was on in the Arctic in summer of 2016, and she is currently working with him on a presentation connecting art and science that will debut at a marine science conference in Oregon in February.
As the Climate Science Special Report notes, most of us on the planet aren't particularly aware of changes in the permafrost. However, if you live in, say, Bethel, Alaska, you might notice that your roads can't seem to stay smooth, your airports are getting shut down, and when you "level" a building, it means something completely different from what it does in the lower 48.

Thirty years ago, crews would hit permafrost within 4 to 6 feet of the surface, Salzburn said. Now they typically find it 8 to 12 feet down. To install piling deep enough into permafrost to support a house, they used to drill down about 18 feet.
"Now we are going to depths of 35 feet," Salzbrun said.
But sinking buildings might be the least of our concerns. There are six million square miles of permafrost on the planet, and we are in danger of starting a big melt.
A study published Tuesday in the journal Nature Climate Change suggests that as the planet warms toward two degrees Celsius (3.6 degrees Fahrenheit) above preindustrial levels, each degree Celsius of warming will lead to
the thawing of about 1.5 million square miles of permafrost.
That figure is at least 20 percent higher than most previous studies, said Sarah E. Chadburn, a researcher at the University of Leeds in England and the lead author of the study.
And that means the release of greenhouse gases–lots of greenhouse gases.
Estimates vary on how much carbon is currently released from thawing permafrost worldwide, but by one calculation emissions over the rest of the century could average about 1.5 billion tons a year, or about the same as current annual emissions from fossil-fuel burning in the United States.
Already, thawing permafrost and warmer temperatures are being blamed for rising carbon emissions in the Alaskan tundra, both here and farther north. In a study earlier this year, researchers found that bacterial decomposition of thawed permafrost, as well as carbon dioxide _produced by living vegetation, continues later into the fall because freezing of the surface is delayed.
Meanwhile, the United States Senate appears to be ready to stick its figurative thumb in the eye of Mother Earth, as it seems to be ready to approve drilling for oil in Alaska's Arctic National Wildlife Refuge as part of the misguided overhaul of the nation's tax system. While Republicans claim that it is a way to offset the nearly $1.5 trillion in tax cuts, it seems more like a way to stick it to environmentalists who have long opposed drilling in that extremely sensitive natural area:
"The Energy and Natural Resources Committee has been instructed to raise a billion dollars, and at the same time the Finance Committee is trying to increase the deficit by $1.5 trillion with tax cuts for corporations and millionaires," Sen. Maria Cantwell, D-Wash., said at this week's committee hearing. "The fact our committee's contribution to that deal is about 7/100th of one percent of the Republicans' increased deficit spending shows that this is not a serious budget proposal. It's a cynical effort to open up the heart of the Artic Wildlife Refuge for oil."
The Science Desk is open for business.