November 12, 2017 – Chicago's Hot Recycling Mess

How clean energy innovations can help people weather natural disasters
Let's be clear. The United States response to the damage caused by Hurricane Maria has been at least as catastrophic as the storm itself.
Puerto Rican authorities have estimated the island suffered $45 billion to $95 billion in damage in the September storm, which virtually destroyed the island's power grid and other infrastructure. So far, Congress has approved nearly $5 billion in aid.
And federal troops are about to leave the island.
More than six weeks after Hurricane Maria hammered Puerto Rico, there's still no running water in Morovis, and the only power available here is supplied by emergency generators. Frustration is rising over the slow pace of recovery.
Nonetheless, Army officials say emergency relief efforts on the island are drawing to a close. They're beginning a drawdown of federal troops.
Fortunately, people who have become frustrated with the response have stepped up. Like Amanda Hanley, who tells the following story: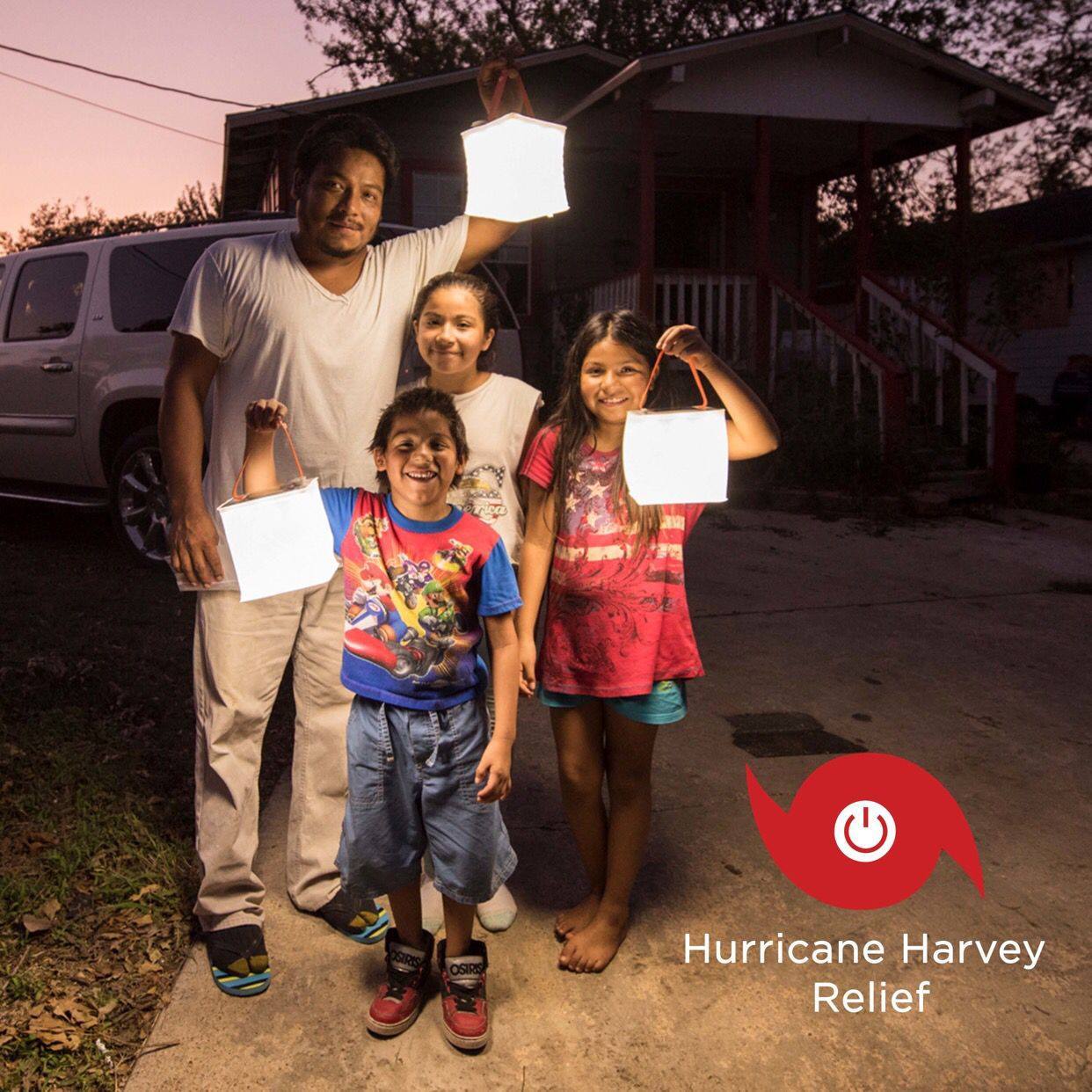 In response to hurricane devastation and long term power outage in Puerto Rico, the Hanley Foundation has teamed up with Invenergy to help families in need. Together we are sponsoring $10,000 in matching funds to distribute LuminAID solar lanterns and phone chargers. I came across Chicago-based LuminAID through our involvement with the Chicago's Clean Energy Challenge. Two women grad students, Andrea Sreshta and Anna Stork, invented the innovative inflatable LED solar lanterns for disaster relief (a new model includes phone charging), won the top prize, and went on to make a deal with Mark Cuban on Shark Tank.
To date, more than 22,000 LuminAID lights have been pledged for households without power following the recent disasters in Puerto Rico, the Virgin Islands, Caribbean islands, Texas, Florida and Mexico. ComEd sponsored 5,000 LuminAID solar lanterns that are already on their way to Puerto Rico. Furthermore, last week LuminAID founders were on the ground in Puerto Rico last distributing the solar lanterns. 
Peggy and I are pleased to have Anna Stork on the show this morning to talk about her work developing clean energy solutions for climate disaster aid.
By the way, you can help support disaster relief efforts, including sponsoring lights and donating directly to nonprofits working on the ground, by clicking here.
Will recycling ever work in Chicago?
If you're a major American city like, say–for no particular reason–Chicago, you know that your recycling program has problems when you read a story about another major American city, say, New York, and that story is about how awful their recycling rate is…and yours is at least 20 percentage points lower than theirs. That, ladies and gentlemen, is what we call an epic fail.
Here's a partial list of municipalities and their respective rates, according to various sources:
San Francisco (of course) – 80%
Los Angeles – 76%
San Jose – 75%
Portland (Oregon) – 70%
San Diego – 68%
Seattle – 60%
Austin – 42%
New York City – 17 – 22%
Chicago – 2014: 11%, 2015: 10%, 2016: 9
Ouch.
I know a little bit about this because I have been closely following recycling in Chicago for a long time, as a concerned citizen, and for about six years as president of the Chicago Recycling Coalition. In fact, when I first joined that organization, we were still fighting the notorious Blue Bag program. (Don't get me started.) Basically, in the course of about 25 years, the City of Chicago managed to distinguish itself with its remarkable ineptitude.
I'm not going to go through the whole sordid history of recycling failure under two different administrations. Briefly, by about 2008, blue carts had finally begun to be rolled out in the neighborhoods. Thanks to the financial crash, that effort took five years to be completed. Finally, in 2013, about 600,000 residential buildings had access to the bins. To get a sense of the state of trash and recycling activities in 2017, you can do a lot worse than to take a look at a series of reports put together by WTTW's Chicago Tonight, called Tracking Chicago's Trash.
The upshot is that Chicago's Department of Streets and Sanitation at least has the decency to acknowledge that the recycling rates are dismal and has begun to take the first few painful steps to fix the problem.
In an attempt to address confusion about what can and can't be recycled, Chicago's Department of Streets and Sanitation is testing a new, more streamlined public information campaign in hopes of boosting the city's dismal recycling rate; less than 10 percent of Chicago's waste is currently diverted from landfills. In a pilot program rolled out along several routes on the south and southwest sides, which have some of the lowest recycling rates in the city, Blue Cart Residential Recycling Program participants are receiving mailers with instructions on proper recycling and "oops tags" on their carts if items that can't be recycled are discovered by haulers. The contents of the contaminated cart will be picked up by garbage collectors and sent to the landfill instead of one of the area's three recycling facilities. 
The information campaign referred to above is with a not-for-profit group called The Recycling Partnership, which applies corporate partner funding to improve curbside recycling systems in cities and town across the country. They are working with Chicago's Department of Streets and Sanitation (DSS) on something they call the "It's All You" public service and educational campaign.
Somebody who has been an ally in the fight to bring recycling sanity to Chicago is 32nd Ward Alderman Scott Waguespack. Just this past week, he posted a Chicago Sun-Times article on his Facebook page about budget hearings in Chicago City Council, where DSS Commissioner Charles Williams told the city alderman
"We have a lot of people who recycle. They're just not recycling correctly."
Yeah, he really said that.
The Chicago Recycling Coalition notes in a position paper that recycling contracts with the private contractors will expire on July 17, 2018 and that if the City wishes to renew contracts for another 7 years, notice must be given by April 18, 2018. They recommend that between now and April, an independent audit of the managed competition be done and that this information be made public:
Actual savings gained from the managed competition
Recycling rates, residual rates, revenue from sales of recyclable materials and residual materials disposal costs by competitor
Transfer stations and disposal sites used by competitors for residual materials
MBE/WBE Usage Reports by competitor
Customer satisfaction rates
Educational materials and campaigns of each competitor, including costs and results
Waste studies done by competitors either with the City or independently
If you want to get at least some sense of how frustrated Chicagoans are by the lack of real recycling in the city, just go to that Facebook thread on Alderman Waguespack's page. There, the alderman refers in a comment to the looming contract renewal:
We're requesting an audit to be undertaken by the Inspector General now, and looking into the contract (done pretty fast a few years ago) that the City must give notice of amending or terminating by April 18. This is cutting it close though.
Indeed.
And I would be remiss if I didn't mention that yard waste pick up–often described as "organic recycling"–in the City of Chicago is even more pathetic than recycling. Reporter Monica Eng was on The Mike Nowak Show in September, and then she wrote about it in October in a story for WBEZ's Curious City called Chicagoans Are Calling For More Yard Waste Pickups, So Why's The City Picking Up Less? That's it in a nutshell. It's definitely worth a listen.
We're very pleased to have Alderman Waguespack on The Mike Nowak Show this morning to dive into the recycling pile, so to speak. We also hope that he addresses something he said to Tribune columnist John Kass earlier in the year about the possibility of taking on Rahm Emanuel in the coming 2019 mayoral election. Wouldn't that be something?