May 8, 2016 – Seedfolks; MPAC Spring Fling; How IDOA enables CAFOs in Illinois
"Seedfolks" explores the "community" in community gardens
Every now and then, all of my previous lives come together to create a moment that makes perfect sense on my radio show. My interview this morning with actress Sonja Parks is a perfect example.  She has just opened in a superb one-woman show called Seedfolks, which is the Chicago premiere of a production by Children's Theatre Company of Minneapolis, now playing at Chicago Children's Theatre through May 22.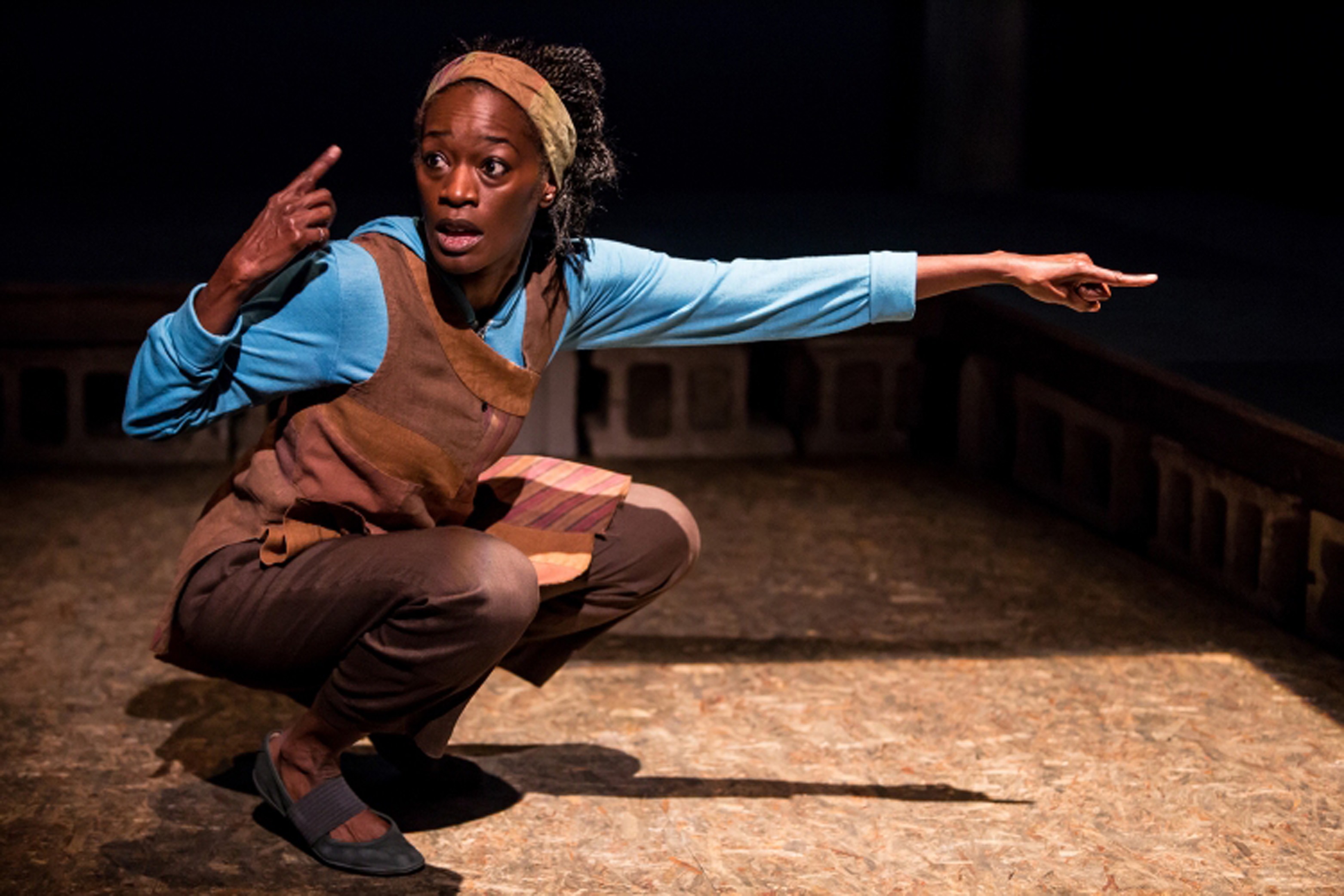 The play is based on a children's book by Paul Fleischman.  He reflects on the success of his book:
Seedfolks has led an exciting life: translated into other languages, ,produced on the stage,  ready by whole cities and states. A Japanese band has named itself for the book.
Like the ancient Egyptians, we recognize that contact with nature can heal. Hours after the 9/11 attacks in New York, scores of people were standing in wait for the gates of the Brooklyn Botanic Garden to open. The city's public gardens waived admission fees and were thronged with those seeking solace and serenity. In the uprush of altruism, we also saw that a sense of community–the knowledge that we're know, that we care, that we will be cared for–provides an even greater solace.
You might be wondering about my comment about "my previous lives." Some of you know that, back in the pre-Intertubes days, I helped to run a theatre company here in Chicago, where I was an actor, director, writer and often cleaned the bathrooms.  That went on for about a decade, so I know a little bit about the business.
Meanwhile, I've been a radio guy for most of my adult life, and in the 90s (1990s, not 1890s) I found myself interested in all things horticultural, which led to my gardening and environment programs at WGN Radio, WCPT and now at Que4 Radio.
Along the way, I moved into Logan Square in Chicago (now becoming a very la-dee-da place). About eleven years into that mission, a group of us in the neighborhood decided that the drug corner on my block, adjacent to junk- and weed-choked empty lot, needed to go.
So we started our own community garden, Green on McLean, and for five years, we grew every kind of food and a lot of ornamental plants.  And without breaking my arm patting myself and my friends on the back, we chased the gangs out of the neighborhood. True story. Just ask the Chicago police in the 14th District.
This is where Seedfolks comes in. I'm not going to say that the story of the empty Cleveland lot where the neighborhood comes together to grow things is exactly like what happened here in Logan Square, but there were enough similarities to make me reflect on the power of organizing people to work in a community garden.
By the way, Sonja Parks plays 14 distinct and memorable characters in this play, which runs about an hour. Their ages range from the single digits to octogenarians, with dialects from all over American and the globe. Sometimes, a character springs full-blown, unexpectedly, out of nowhere. Other times, the lights and sound help with the transitions.  But her work is meticulous and precise and fascinating to watch.
I attended a preview shortly before the show officially opened, and Ruth Page Center for the Arts was filled with kids, ranging from 3rd graders to 8th graders. No  matter. The moment the lights went down and Parks appeared on stage, she had them in the palms of her expressive hands. I'm not a particularly sentimental guy, but even I got a little verklempt at a couple of key moments.
The promotional literature with the play says that it is for ages 7 and up.  While I think that children should see this piece, I think that the "and up" crowd–especially if they have ever gardened–will be delighted by the work.  I highly recommend it and I'm very pleased to have Sonja Parks in the studio with me this morning.
Midwest Pesticide Action Center Presents Spring Fling 2016 at Revolution Brewery…and I'm the MC!
Ruth Kerzee, executive director of the Midwest Pesticide Action Center,  MPAC (formerly Safer Pest Control Project) returns to the program today to invite you to their fundraising event on Monday.
It's called Spring Fling 2016 and If you care about the MPAC's work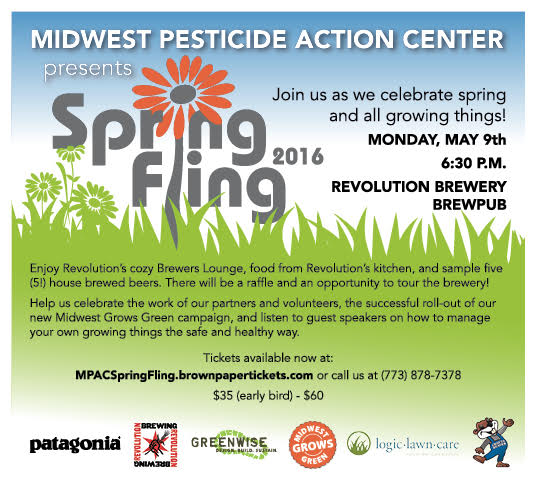 of protecting people and the environment, you should show up at Revolution Brewing Brewpub, and not just because I'm going to be the Master of Ceremonies.
For a $35 advance ticket price, you gain entry to the Revolution's Brewpub Brewers' Lounge, are served hors d'ouvres from Revolution's kitchen, and have a chance to sample five (count 'em, 5!) house brewed beers, and participate in a raffle of fabulous prizes. There's also an opportunity to tour the brewery.
You should know that MPAC are the good guys  because they are dedicated to reducing the health risks and environmental impacts of pesticides by promoting safer alternatives.  One of their latest initiatives is Midwest Grows Green (MGG), which is identified by their distinctive orange MGG stamp and unified by a single message – protect people, pets and the environment by practicing natural lawn care.
Visit the MPAC website to see how you can protect your family and this fragile planet from the useless and destructive chemicals that are part of the effort of big money companies to brainwash the American public. Unfortunately, for the past 60 years or so, those techniques have worked.
Ruth's visit this morning will be short, but you can count on me to have her back in the near future to go into MPAC's initiatives in depth. See you Monday at Revolution Brewing!
How the Illinois Department of Agriculture enables the creation of CAFOs in the state
How the IDOA is enabling CAFOs in Illinois
You're probably not familiar with a group called Save our Sandy, though you probably should be.  It's a group that has formed in Marshall County, Illinois, which is not all that far south of Chicago along I-39, with the city of Wenona at its heart.
In 2014, Sandy Creek Lane LLC, a company managed by VMC Management Corp. of Williamsburg, Iowa, submitted a proposal to build a hog confinement facility that would house 20,000 swine.  Following a six hour public meeting about the operation, which was attended by 300 people, the Marshall County board voted 10-1 against it, and later sent the IDA a seven-page letter stating they were "ADAMANTLY OPPOSED" to building the facility at the proposed site.
The Illinois Department of Agriculture summarily ignored the recommendation of Marshall County and approved the operation. This is the typical pattern of IDOA when it comes to an application for a Concentrated Animal Feeding Operations (CAFO) in Illinois.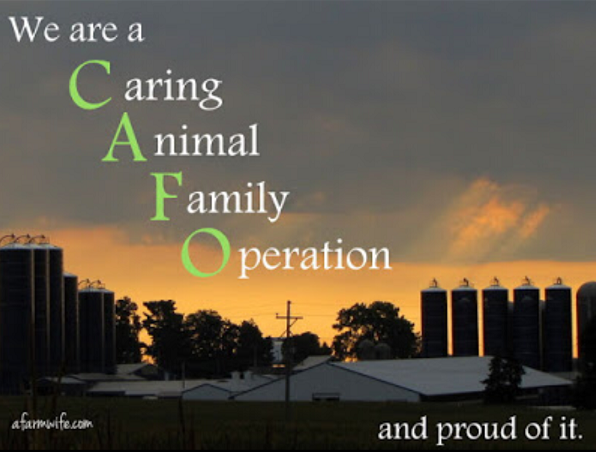 (Hahahahahahahahahahahahahahaha!!!)
Let me lay it out for you plainly: as far as anybody knows, IDOA has never said no to a CAFO in this state.
Why is that a problem?  From an excellent series of articles in the Peoria Journal Star (which you can find here, here and here),
"In the days of old, people might have had a few thousand hogs, but now we're getting these huge facilities," said [Stacy] James [of the Prairie Rivers Network]. "The amount of waste they produce is enormous. This facility may produce 10 million gallons of waste a year. That waste has to be disposed of in a manner that doesn't pollute nearby wells and streams. The waste pits under the buildings may be emptied out only once a year, which means the odors are being fanned out into the community year-round — they use fans to distribute the smell out of the facility so the animals don't suffocate."
But, as noted above, IDOA has never said no to such an operation.
So neighbors of the proposed Marshal County CAFO filed a lawsuit in Seventh Judicial Circuit Court against VMC. Part of the reason was that Big Sandy Creek is a major tributary of the Illinois River and, again, from the PJStar series:
"I would rate it in the top 10 best streams in all of Illinois," said Wayne Herndon, fisheries biologist for the Illinois Department of Natural Resources. "The Big Sandy is one of those streams that has the highest rating as far as the fish population that inhabits it, and the aquatic insects that inhabit it … high diversity indicates that even the most sensitive fish and aquatic insects are able to survive. It's not a typical situation, especially here in northeast Illinois."
But did you know that the Illinois Department of Agriculture has never said no to a CAFO?
And would you be surprised to learn that the citizens who took the IDOA's decision to court lost? I wouldn't.
Karen Hudson is regional associate of the Socially Responsible Agricultural Project and co-founder of Illinois Citizens for Clean Air and Water. She has been on my show a number of times and because she is a small farmer herself, she has the street cred necessary to be in the forefront of this conversation.
She is joined by Jessica Chipkin from Crate Free Illinois, which recently released an app called The Illinois Guide to
FACTORY FREE MEAT, DAIRY & EGGS, which you can download for iPhone or Android. She notes that The Humane Society of the United States has announced the formation of its National Agriculture Advisory Council. The council is comprised of family farmers and agriculturalists who practice and promote higher animal welfare standards within their operations.