May 7, 2017 – The Future of Natural Areas

Arthur Melville Pearson is a writer, naturalist and lover of art who has just released the book Force of Nature: George Fell, Founder of the Natural Areas Movement. As Pearson writes on his own blog,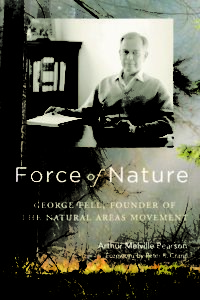 George Fell is one of the most important but under-appreciated men in the history of American conservation. He was the driving force behind the establishment of The Nature Conservancy, now the largest conservation organization in the world. He championed the passage of the Illinois Natural Areas Preservation Act, which both provided the means to protect Illinois' remaining natural areas and served as a model for other states to follow suit. He founded the Natural Land Institute, one of the most successful land trusts in all of Illinois. He protected more natural land in Illinois than anyone else, including the George B. Fell Nature Preserve, one of the largest dedicated Illinois Nature Preserves in the state. For these accomplishments and many more, the highest award given annually by the Natural Areas Association, of which Fell was a founding member, is the George B. Fell Award.
Pearson chronicles in meticulously-researched detail the life of a man who certainly changed the face of Illinois's natural areas, but who also was the leader of a movement that continues to this day. He also paints a written portrait of a man whose strengths were his weaknesses, and who charted his own path throughout his life, for good and ill.
It's nice to see that Pearson is getting some press for his work, and I would be remiss if I didn't mention that one of the things we share is our work in the theatre early in our adult lives. I'm pretty sure that we never shared a stage together, and I suspect that Arthur actually got paid for his work. But that's show biz, as they say.
*******************
Speaking of natural areas, the Lake Calumet region in Chicago could be described as unnatural, given its history as part of the Illinois International Port District and its designation as a brownfield site, thanks to steel mill slag and other industrial pollutants that are the legacy of the steel industry in that area. Last year, Peggy Malecki and I went on a tour of the area under the auspices of Openlands and the Southeast Environmental Task Force (SETF).
Of course, we had to sign waivers and nobody can get onto the property right now unless you scale the barbed wire fence that surrounds it. But people like Ders Anderson from Openlands, and Tom Shepherd from SETF, who conducted the tour, envision the area as public recreation space that would be a game changer for neighborhoods in that area, like Pullaman.
Tom Shepherd joins us this morning in studio with Jerry Brown of the South Area Civic League to talk about the future of Lake Calumet.
********************
A few years ago, I was asked to try out a few backyard shrubs called Brazel Berries. They were blueberry and strawberry plants that could be grown in containers and thus were edible plants that could be used in an ornamental way. I guess you could call them "ornamental edibles" or "edible ornamentals." I still have a couple of the raspberry plants.
Fast forward to this year, and these plants are now sold by Star® Roses and Plants. the same people who provide The Knock Out® Family of Roses have been rebranded as Bushel and Berry™. As before, they are compact, making them them easy to site in a container in your yard or on your patio, and they're self-pollinating and apparently very easy to grow. In addition, they've added a blackberry to the group, so you can choose among five blueberry varieties and one blackberry and one raspberry selection.
Layci Gragnani, Program Manager for Bushel and Berry™, talks to us today about why you might want to get your hands on these plants at your local garden center. In addition, we're giving away a package of plants to one lucky caller. That person will receive the following shrubs, as described by the Bushel and Berry™ folks:
Perpetua Blueberry
Perpetua will give you two crops of sweet and delicious blueberries! The first fruit will appear in mid-summer and then the plant will flower and set fruit a second time in the fall. The leaves are dark green and will turn to deep reds and greens in the winter, making it a beautiful addition to any landscape.
Baby Cakes Blackberry
Baby Cakes™ is a dwarf, thornless blackberry perfect for patio pots with its compact habit. In summer, large, sweet berries present on the plant in a fireworks-like spray of fruit. In most regions, this blackberry will produce twice in one season!
Blueberry Buckle
A new blueberry that won't be available until 2019.
You just might want to tune in this morning!