May 21, 2017 – Name This!

When a guy writes an autobiographical book called It's Not Just About the Hat: The Unlikely Journey of a Plantsman, you could guess a few things. 1) He's probably known for his hat (see above), 2) he's probably a character, and 3) he knows a thing or two about plants.
In the case of Dr. Allan Armitage, you would be right about all three.
And the aforementioned book isn't even the one that's the focus of his first visit in four years to The Mike Nowak Show. His latest effort is something called Of Naked Ladies and Forget-Me-Nots, which had a working title of Of Naked Ladies and Sleepy Dicks. True story, and I plan to ask him about it on air.
But before I get too far down the road, for those of you who aren't acquainted with Allan Armitage should know that he is a world-renowned writer, speaker and researcher who was raised in Canada and has continued to move south, stopping at Michigan State University to get a Ph.D., then continuing on to Athens, Georgia, where he now makes his home.
Along the way, he has traveled across this country and the world, scooping up awards the way that kids gather dandelions. You might have heard of some of his other books, which include Herbaceous Perennial Plants, 3rd edition, Armitage's Garden Perennials, 2nd edition, Armitage's Native Plants for North American Gardens, etc., etc., etc. In addition, he has written a monthly column for the national greenhouse publication, "Greenhouse Grower",  for more than 30 years, not to mention hundreds of articles and papers for all kinds of publications.
But back to Naked Ladies, as I always say. Armitage picks a few dozen plants with interesting common names–bee balm, bleeding hearts, dogbane, love in the mist, false indigo, Joe Pye weed, snapdragons, to name a few–and digs around to find the origins. He writes,
In the case of this book, few references were based on someone being there at the time. Dozens of names may be rooted in an ancient Germanic tongue, found in an Old English dictionary, or buried in an ancient tome on herbology. To be sure, some of the etymology is guesswork, but I have done my best to provide as much credibility as possible to a rather incredible subject.
And oh boy, these common names have been fun to research and even more fun to share. Anyone who takes me to task because some of the information is not academically 100 percent correct should not be reading this book. You do not dream enough.
Amen, brother man.
And remember when I wrote that Armitage is a character? It's on full display here. He even gets to weave in a couple of personal stories, which fit like gloves in this charming book.
I hope you tune in or catch the podcast. This will be fun.
********************
Less than a week ago, I received a letter from friend of the show Charlotte Adelman, who is the author of the just-released book, Midwestern Native Shrubs and Trees. While we intend to have her on the show soon, that's not the reason she wrote.
Instead, it was about a parcel of land in Wilmette called Isabella Woods. Basically it was a call to sign a letter in opposition to the creation of an access road across the woods, which was described as a "remnant oak forest" north of Isabella Street and between the CTA tracks and the Canal Shores Golf Course. Developers have been fighting to get the road built to a landlocked piece of property called Fairway Oaks for years.
Defenders of the woods claimed that it serves as wildlife habitat and mitigates storm water runoff. On Monday, May 15, the Evanston City Council unanimously approved a resolution objecting to the request for the easement, but the final decision was in the hands of the Metropolitan Water Reclamation District of Greater Chicago (MWRD). There were indications that on the following Thursday, the MWRD would vote in favor of the development company.
That did not happen.
As organizer Leslie Shad wrote,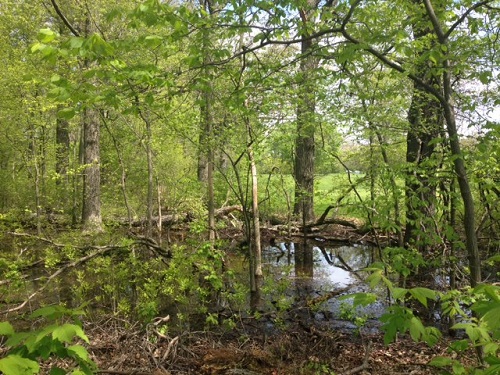 WE WON. The Metropolitan Water Reclamation District this afternoon unanimously voted against the Isabella Woods easement.
Commissioner Debra Shore spoke in defense of habitat and wildlife "that often has no voice." All the commissioners thanked us, and many mentioned what a difference the petition letter and emails to their offices made.
The vote was so inspiring and truly invigorating. All signals were that we would not be celebrating today. But every commissioner stepped away from political and legal pressure to defend the public trust we place in them.
You can read more about the story here and here.
Another organizer, Noreen Edwards Metz, joins us in studio to talk about this unexpected but certainly welcome victory for natural areas in Chicagoland.
********************
Another person who hasn't been on my show in awhile, and who visits the WCGO studios this morning, is M.D. Skeet, also known to friends and colleagues alike as simply Skeet. With those initials, you might think that Skeet is a doctor. Well, you could consider him a tree doctor, because he's an ISA (International Society of Arboriculture) certified arborist with Bartlett Tree Experts.
He's here this morning to talk trees and answer questions that our listeners might have about insects, diseases and other issues about the trees in their yards or neighborhood.
One of things I appreciate about Skeet is that he alerts his clients and friends to a couple of newsletters that I have followed for years. One is called the Home, Yard & Garden Pest Newsletter and is sent out during the growing season by University of Illinois Extension. Here's the latest issue.
The other is the Plant Healthcare Report from The Morton Arboretum and you can check out the latest report here.
The good news is that you can subscribe to both of those reports (as I do) and keep up with information about insects, diseases, weather anomalies and other valuable information about plants.