May 15, 2016 – Breaking Free of Fossil Fuels; A Visit from Horitculturist Dan Kosta
Breaking Free from Oil, Gas and Coal all over the world
Oh, hum, another day, another oil spill in the Gulf of Mexico. This time, thanks to Shell Oil, about 90,000 gallons of oil are adding to the mess already left behind by the BP disaster of 2010.
Is it any wonder, then, that a group called Break Free from Fossil Fuels has spent the past two weeks mounting protests all over the world to keep coal, oil and gas in the ground and to move quickly to renewable energy sources? The countries in which those events have been held are the United States, the United Kingdom, Australia, New Zealand, Indonesia, the Philippines, South Africa, Nigeria, Brazil, Ecuador, Germany, Turkey, and Canada.
The mass actions started on May 4 and culminate tomorrow, May 15 in Whiting, Indiana, the site of the BP Whiting Refinery. It is being called the largest civil disobedience in the history of environmental movement, and will probably involve more than 1,000 people from all over the Midwest.
Break Free – Midwest takes place at Whiting Lakefront Park, 1798 119th Street,  Whiting, Indiana 46394. While the event starts at noon, there is plenty of activity, beginning at 10am CDT.
Here's what the official event schedule looks like:
10:00 a.m.: Water Ceremony – Blessing led by Raven R. Roberts,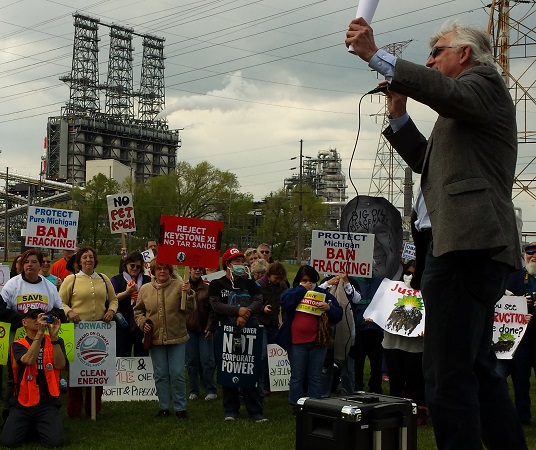 Potawatomi/Miqma Chicago Uptown Chapter, with flute music by Bill Buchholz
10:30-11:30 a.m.: March Prep Workshop: Street Theatre / Puppetista / & Drum Line. Cantors, percussionists, and actors meet-up for march practice. Find us in the parking lot adjacent to the pavilion. Open to all.
11:00 a.m. – 1:00 p.m.: Resource Fair –  Information from organizations represented at Break Free, Food available for purchase, Other activities.  More information and vendor list here.
12:00 – 12:30 p.m.: Kayaktivists' Demonstration – in the Waters of Lake Michigan
12:30 p.m.: Public Press Conference 
1:00 p.m.: Rally – at the Whiting Lakefront Park Pavilion.  Join world, national, regional, and local leaders as we rally to demand a just transition from fossil fuels – a transition that protects jobs, communities and our future.
2:30 p.m. (approximate): March Begins
You certainly haven't seen a preview of any of this in your local or national media and you're unlikely to see any of it after the fact, either. I guess that's why my show exists.
I will be talking to activist and artist Thomas Frank from the site of the protest tomorrow, along with The Mike Nowak Show team member Ashley Williams, who seems to be everywhere there's an environmental injustice. I hope you join us.
Get your gardening questions ready–Dan Kosta is in the house
Just when you thought we had settled into a comfortable spring gardening season, the temperatures dip into the 30s on the 15th of May.  That's why I have my own meteorologist on the show, Rick DiMaio. His job is to 'splain why he didn't see this coming.
It's also why I have people like Dan Kosta on the program. Dan is a regular on The Mike Nowak Show, though he hasn't been here since I moved to Que 4 Radio.  A lot of what you need to know about Dan is in his email address, which contains the word "snipologist." That's because he's passionate about bonsai.
He has been seriously involved in bonsai as a hobby since 1986. He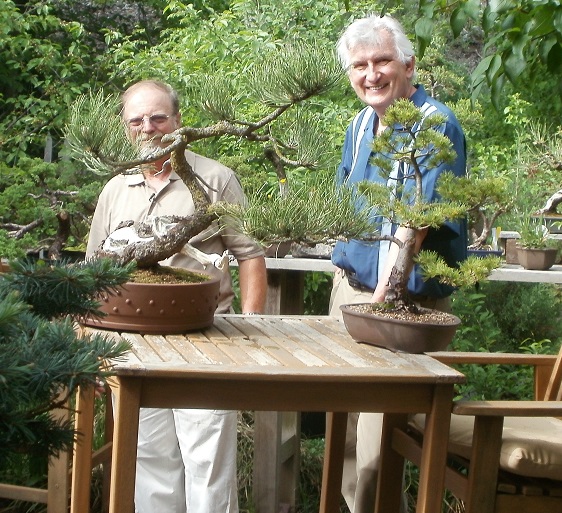 has run the bonsai departments of two greenhouse businesses and he's a two-term past president of the Prairie State Bonsai Society, as well as its newsletter editor and current publicity chair.
But the reason you should call into the show today at 312-985-7834 is because Dan is a horticulturist who works at Vern Goers Greenhouse and has been in the industry since 1976. His jobs have included grower, insect control, assistant greenhouse manager, greenhouse purchaser, and salesperson.
In other words, he knows his stuff.  For instance, he writes that
Boxwood leaf miner has started to show up here.  It causes blotchy yellow patches on the foliage.  Black vine weevils are affecting more Heucheras.  The grubs feed on the roots and can kill the plant.  Impatiens downy mildew will likely be strong due to our mild winter.  There has been a lot of damage to perennials from rotting over winter and from frost heave to the plants. 
Not to be an alarmist or anything, but if you want to keep your plants alive(!), I strongly suggest that you tune into Sunday's show.