March 4, 2017 – Good Food, Good Gardening

The Good Food Festival & Conference returns for its 13th year
Question: How do you get farmers, food producers, investors, trade buyers, policy makers, activists, families and good food lovers in the same room for three days to engage in discussions about how to change the food world?
Answer: Create something called the Good Food Festival & Conference, present it for 13 straight years and make it the best conference of its type in America–quite possibly the world.
As they explain on their own website,
The Good Food Festival & Conference helps connect financial resources to farms and Good Food businesses; helps grow local procurement capacity; engages local school districts; provides a forum to discuss local, statewide, and national food policy; and educates the public about the importance and impact of Good Food. Unique opportunities arise for growing the Good Food movement with all of these stakeholders networking through our important sessions and trade show exhibits.
Our twelve year success story of happenings at the the Good Food Festival & Conference includes:
Multiple local procurement relationships begun at the Good Food Festival & Conference
Hundreds of new product launches
Businesses gaining access to financing
Announcements of major local food procurement achievements by Midway Airport, McCormick Place, and Chicago Public Schools
Not bad. As always, the three separate days represent three different areas of food sustainability:
Thursday, March 16, is the Financing and Innovation Conference, where food and farm businesses gain access to capital.
Friday, March 17  is the Trade Show and Policy Conference, when farmers, producers, buyers, schools and industry stakeholders meet to share knowledge and discuss policy developments.
Saturday, March 18, is the culmination of the event–The Good Food Festival, a day celebrating Good Food! Discover new artisanal goods from more than 150 exhibitors, learn from workshops and chefs demos, and explore family-friendly programming, And this year, admission is FREE! All you have to do is register here.
For the second straight year, The Mike Nowak Show will be broadcasting LIVE from Saturday's Good Food Festival at the UIC Forum. This year, the broadcast will be on our new station, 1590 WCGO. You can listen to it live on AM Radio or stream it from 1590 WCGO, www.mikenowak.net or any number of radio streaming apps.
On Saturday's show, Peggy Malecki and I welcome the winners of the FamilyFarmed 2017 Good Food Chef of the Year award: Christine Cikowski and Josh Kulp of Chicago's Honey Butter Fried Chicken, whose delicious food — much of it locally and sustainably sourced — comes with a large side of social conscience.
What does that mean? Well, let's start with fair wage policies, health insurance, paid sick time and parental leave for their employees, and move on to ethical/local sourcing of food, not to mention compostable and biodegradable packaging, recycling programs and the reuse of fryer oil. Yeah, you could say that they're doing things right.
Meanwhile, on Navy Pier not so far away, it's time for the Chicago Flower & Garden Show
The Chicago Flower & Garden Show has been around in one version or another since 1847. Which is almost as long as I've been around to cover it. Well, not quite. However, I watched it move from Navy Pier to Grant Park to Rosemont and back to Navy Pier over a tumultuous decade, which, by the way, was tumultuous for my radio career as well. But that's another story.
This year, the theme is "Chicago's Blooming." Considering the temperatures we had in February, that's truer than you might thing, and not in a good way. But let's get back to the show.
In an article in the March issue of Natural Awakenings Chicago (not so coincidentally the magazine published by my co-host Peggy Malecki), Lynn Petrak writes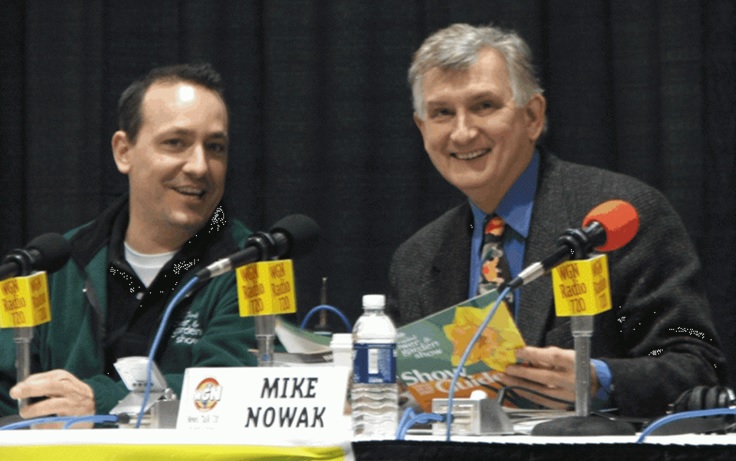 This year's Chicago Flower & Garden Show, with the theme of "Chicago's Blooming", held from March 18 to 26 at Navy Pier, offers a variety of display gardens, seminars, how-to presentations, culinary demonstrations and children's activities themed to the healing attributes of growing flowers and edibles, planting trees and shrubs and integrating our indoor and outdoor surroundings.
"There are so many health benefits of gardening, from the way gardens provide more oxygen to the air to exercise involved with planting to the nutrition of growing your own food," remarks Tony Abruscato, director of the Chicago Flower & Garden Show. "We've brought a lot of these benefits together at the show in almost every part of the event. Gardening is something for people all ages, including seniors, as well as kids, who can go outside and be active away from their phones and video games."
A highlight of the show is the Health and Healing Garden (Garden 5), designed by the Hitchcock Design Group, one of the largest planning and landscape architecture firms in Illinois. This garden, built with collaborators BrightView, Craiger Custom Design, Aquascape, Walpole Outdoors and Bailey Nurseries, depicts the outdoor setting of a healthcare facility.
Lynn says that he is aware of various trends:
small space gardens, true urban agriculture (evident in the Chicago High School for Agricultural Sciences garden and others), pollinators (evident in seminars and this year's butterfly garden), lots of edibles, plantings for attracting birds, and health and healing gardens and plants. He also emphasized the range of things to do and see, in addition to the gardens — the chefs, Kids Activity Garden and potting parties all have similar themes of small space gardening, edibles, wellness, etc.
My co-host Peggy Malecki has her own memories of this Chicago institution:
when I was a kid we used to go to the Flower Show every year at McCormick Place, like a spring ritual…My dad worked at RR Donnelly in The Lakeside Press building, so my mom and I would take public transportation and meet him after work and go to the show. I recall loving to walk through the exhibit gardens, and I liked the glassblower vendor, too (I always came home with a cool little glass flamingo or flower or something)! 
We welcome Tony Abruscato, director of the Chicago Flower & Garden Show, to the program this morning. Oh, and did I mention that The Mike Nowak Show will be broadcasting live from the Chicago Flower & Garden Show on Saturday, March 25 at 10:00 a.m.? Of course I didn't. But tune in anyway. Better yet, stop by for the show!