June 25, 2017 – Mid-season Form

Lisa Hilgenberg, Horticulturist at the Regenstein Fruit and Vegetable Garden at the Chicago Botanic Garden is back on The Mike Nowak Show with Peggy Malecki this fine June morning. I put it that way because the last time she was on the show, the date was January 14. It wasn't exactly a brutal winter this year, but there's a big difference in talking about plants then and now.
To be specific, at that time, the discussion focused on how to select seeds. Now, as we head into July, we're at what could be called the height of the gardening season, even if harvesting time for many fruits and vegetables is still down the road. This is the time of the year to see how your crops are doing and make mid-course corrections if necessary.
And when you're in charge of about 50,000 vegetable plants, as Lisa is, that can sometimes mean a lot of correcting.
As a heads up, the Garden Chef Series at the Chicago Botanic Garden runs every weekend now through October 8 at 1:30 and 2:30 p.m. Saturdays and Sundays, noted chefs teach you how to cook with garden-fresh ingredients in the Regenstein Fruit & Vegetable Garden's open-air amphitheater. And Heirloom Tomato Weekend is August 26 & 27 this year, featuring programs focused on growing and using heirloom varieties.
One thing you should do at this time of year is think about putting in another round of crops. That's the advice from friends of the show Joey and Holly Baird, who are The Wisconsin Vegetable Gardener. In this month's issue of Natural Awakenings Chicago, they have an article called FIVE July Gardening TIPS. One of them is this:
Now is the time to plant second crops, which are the second planting of a crop grown earlier in the season and now done. Come in behind the final days of the old crop with a second planting of the same crop or a different one to take that space in the garden until fall. A good example of a second crop option is bush beans, which take 40 to 60 days from seed to harvest. When planted in May, by the time July comes around they are ready for a second planting. Consider this also with cool-weather crops like kale and lettuce for the fall.
That's always good advice for me, mainly because I usually don't get out in the garden early enough in the year to get those crops growing in the spring. I also don't get out of bed particularly early in the morning. Hmm. I wonder if those two things are related.
But I digress.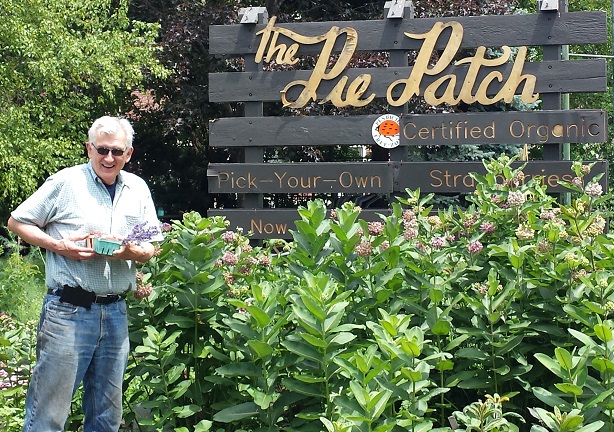 This time of year is also berry season, which makes me very, very happy. In fact, Kathleen and I just made a trip to The Pie Patch, the USDA-certified organic pick-your-own farm right here in Chicago in the Back-of-the-Yards neighborhood. Owner/operator Breanne Heath was recently on the show, so I thought it was time to head over and get me some fresh berries. It also gives me a chance to post a photo from our field trip.
And speaking of berries, Peggy Malecki reminds me that there's another story in this month's Natural Awakenings Chicago (you'd think she had something to do with that magazine). This one is called Berries, Berries and More Berries and it features some tips on saving fresh berries for future use. Not only that, it features a couple of great berry recipes, including one for Summer Berry Salad by Janie Maxwell, MS, RDN, LDN, who is the executive director of the Illinois Farmers Market Association (ILFMA), and who was also on The Mike Nowak Show recently.
Okay, I think I've dropped enough names here today. If you have mid-season veggie gardening questions, call WCGO Radio at 847-475-1590 on Sunday morning just after 9:00 a.m.
********************
Oil pipelines are still in the news. As the Dakota Access fight continues in court, new battles are happening in Louisiana and on the East Coast against other proposed pipelines. And some companies, like Canada's Enbridge, which pipes Canadian oil around and under the Great Lakes, continue to make headlines as they pump the stuff through an aging pipeline directly under the Straits of Mackinac, which connects Lake Huron and Lake Michigan. The environmental campaign Oil & Water Don't Mix notes on their website that nearly 23 million gallons of oil flow through two 20-inch diameter pipelines at the bottom of the straits each day, and put about 20% of this planet's fresh water at risk.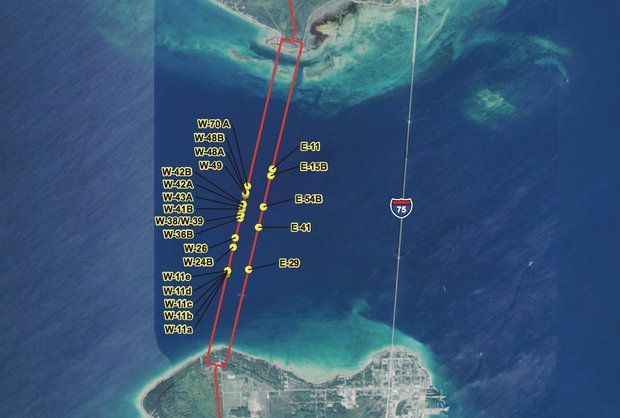 Last August, as the situation was heating up in South Dakota, environmental groups and Native Americans were also protesting Enbridge's continued use of the now 64-year-old pipeline. Mitch McNeil from Surfrider Chicago joined us to talk about the issue. At the time, Enbridge proposed to shore up spans of the aging pipeline. It also agreed to pay the state of Michigan to select two contractors to assess the spill risk of Enbridge Line 5.
A lot has happened since then. As reported this month by MichiganLive, an October 2016 engineering report prepared for Enbridge as part of their negotiated settlement over their 2010 Kalamazoo River oil spill identified a 286-foot unsupported span that was nearly four times the allowable length, as well as other violations. And although Enbridge claims they've anchored some of the spans, some believe the integrity of Line 5 is compromised. Enbridge is now seeking permission to install 22 new supports this summer, and the U.S. Army Corp of Engineers and the Michigan Department of Environmental Quality are reviewing their application, and the public has until June 29 to comment on their proposal.
Oh, and the state of Michigan this week terminated the contract for the Enbridge pipeline study, citing conflict of interest.
This past week, after receiving a campaign email from Oil & Water Don't Mix regarding the comment period, we reached out to Mitch McNeil, who directed us to Liz Kirkwood, an attorney and Executive Director of the Traverse City, MI based non-profit For the Love of Water (FLOW). Coincidentally, on Friday we received a campaign email from Liz about the public comment period, in which she wrote:
Please take action now to urge that the MDEQ reject Enbridge's request to continue the piecemeal patch up of the 64-year-old pipelines. Line 5 threatens the drinking water source for more than 40 million people, the economic engine for the Great Lakes region, and a way of life for millions of North Americans.
Liz joins us this morning to talk more about the current Enbridge permit application.
********************
Want to amaze your friends with some tree facts? Try these on for size:
There are 157 million trees in the Chicago region.
Our region's trees provide $51 million in tangible benefits, including cleaning our air and water, reducing flooding, improving property values, and bettering residents' health.
60 percent of the seven-county Chicago region's trees has fewer than 10 species.
Nearly one third of those trees are invasive species: the invasive European buckthorn is the most abundant tree in the Chicago region, covering 30 percent of the area.
The greatest opportunity for increasing the area's overall canopy exists on residential land, followed by transit corridors.
Urban heat islands, the hot spots in cities created when buildings, sidewalks and parking lots trap nighttime heat, are lower in communities that have higher tree canopy, while tree canopy tends to be lower in underserved communities.
Those facts–some of which seem like no-brainers–are the result of a multi-year analysis of the seven-county Chicago region by the the Chicago Region Tree Initiative (CRTI), a coalition of leading Chicago region environmental organizations led by The Morton Arboretum. This data set, compiled by the Arboretum, US Forest Service and The Field Museum, "is the most comprehensive of its kind in the country to offer a holistic look at the value trees bring to our region."
How did they do it? This study
overlays various data sets, including census data, median income, minority populations, temperature mapping, health data, and air quality, with aerial imagery, to provide a unique, holistic look at more than look at more than 240 Chicago-region municipalities. The information – the most comprehensive tree canopy analysis in any major U.S. city – can help communities pinpoint opportunities for improvement, including where trees can help reduce heat islands, benefit vulnerable populations, impact real estate value or better the health of a community. It is the largest dataset every compiled of its kind.
We're pleased to have CRTI Director Lydia Scott of The Morton Arboretum on the show this morning to walk us through this important study and explore the possibilities of this new resource.