June 11, 2017 – Climate Backup

You might not realize that this is the Year of the Daffodil. And the Year of the Rose. And the Year of the Pansy. Oh, yeah, and the Year of the Brassica.
These plants are part of an effort of of the National Garden Bureau, a non-profit organization that "exists to educate, inspire, and motivate people to increase the use of plants in homes, gardens, and workplaces by being the marketing arm of the gardening industry."
Each year the National Garden Bureau selects one annual, one perennial, one bulb crop and one edible as their "Year of the" crops. Plants are chosen because they are popular, easy-to-grow, widely adaptable, genetically diverse, and versatile.
NGB has this to say about brassicas: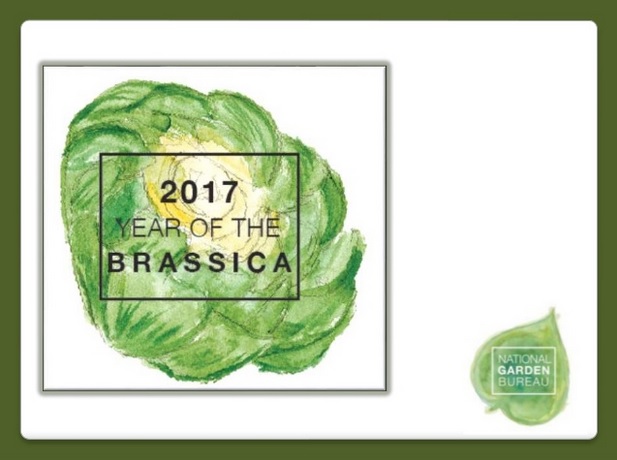 The Brassica family of plants is one of the most prolific genera of vegetables in the world, enjoyed by countless generations in many forms and playing a starring role in many culturally significant recipes. Brassica vegetables, including bok choy, cabbage, cauliflower, collards, broccoli, Brussels Sprouts, kale, kohlrabi, rutabagas, and turnips are popular around the world today and have been a major food source for as long as anyone can remember…
Also known as cole crops, derived from the Latin word caulis, denoting the stem or stalk of a plant, brassica provide plenty of nutrition (vitamin C and soluble fiber) and healthy doses of glucosinolates, a compound that helps reduce the risk of various cancers of the digestive tract.  In addition, red Brassicas provide mega-doses of Anthocyanin (a powerful anti-oxidant) at bargain prices. Some glucosinolates have a bitter flavor that makes them unpalatable to some people.  Modern breeding has replaced some of the bitter glucosinolates with neutral-flavored ones so that all palates can enjoy Brassicas.
Because the motto of the NGB is "Inspire. Connect. Grow," the organization promotes dozens of varieties of ornamental and edible plants, garden products and horticultural companies, and has launched a philanthropic program called Growing for Futures Therapeutic Garden Grant to support the building and growth of therapeutic gardens across North America.
In 2017, National Garden Bureau and Sakata Seed America are partnering to provide $5,000 in grant money to be split among three therapeutic gardens in North America, and applications are now available. And if you visit the NGB site, you find different kinds of gardening information, including Butterfly Gardening for Kids.
Executive Director Diane Blazek joins Peggy Malecki and me today to talk about NGB and its sister organization, All-America Selections (AAS), the only non-profit plant trialing organization in North America.
********************
On June 1, 2017 the President announced that the United States would be pulling out of the Paris climate accord that had been signed by President Barack Obama. There seems to have been no particularly cogent reason for this move, other than the fact that the previous president had something to do with the agreement. The president, however, might find that withdrawing from this world-wide pact might not be as simple as he thinks, and could come with a heaping bowl of consequences.
As ill-informed as this decision is to many Americans (including plenty of people in the business world), this is just the tip of the iceberg when it comes to Trump's full frontal assault on the environment. This is a sampling of headlines from just two days of something called Trump Watch on the website of the Natural Resources Defense Council (NRDC):
Trump on his wall: "Stick solar panels on it"
The EPA chief's criticisms of climate models are without merit
Trump picks climate critic as nation's top enviro cop
The EPA delays clean air standards on smog pollution
EPA chief Pruitt wants to be captain of a new debate team (on climate change, sigh)
Trump administration proposes seismic testing for oil drilling in Atlantic
EPA's Pruitt spreads lies about India's climate commitment
The EPA tries (and fails) to clean up Pruitt's falsehoods about fossil fuel jobs
It's hard to imagine how one person (and his cronies) can do so much damage every single day.
That why friend of the show Josh Mogerman makes his first appearance on the program in two and a half years. Josh is NRDC National Media Director, though he described himself to me as "the coolest dude at NRDC." I told him that I would bust him for that, and I just did.
He joins us this morning to discuss the hot button issues at NRDC, including this disturbing blog by the NRDC's Midwest Program Director Henry Henderson, Climate Change Is Making the Chicago River Run Backwards. Henderson writes:
33,000,000,000.
That's the number of gallons of contaminated Chicago River water that have flowed into Lake Michigan—source of drinking water and quality of life for millions of Americans—in the last decade. The River normally flows away from the Lake, so what gives?
Blame climate change. And infrastructure not designed or built to deal with the changes brought the changing climate.
Violent storms dump an incredible volume of rain in very short periods of time. Even with massive additions to the region's stormwater system, it cannot keep up. When that system cannot handle intense rainfall over the area, sewers fill and dump into the River. When the Chicago River fills with all that stormwater, which is now contaminated with all kinds of nasty stuff after comingling with whatever was in the sewer lines, it swells. And after a while, well, gravity takes over. The river level rises above the Lake level and water heads downhill. The Chicago River literally changes direction and flows out into Lake Michigan.
What could possibly go wrong? We have a lot to discuss this morning, and I'm looking forward to having Josh back on the show.
********************
Breanne Heath is a friend of The Mike Nowak Show, and the owner/operator of The Pie Patch, "a pick-your-own farm operated by Breanne Heath, growing perennial fruits and annual vegetables traditionally used in pies: strawberries, apples, pears, plums, raspberries, rhubarb, apricots, peaches, pumpkin, and concord grapes."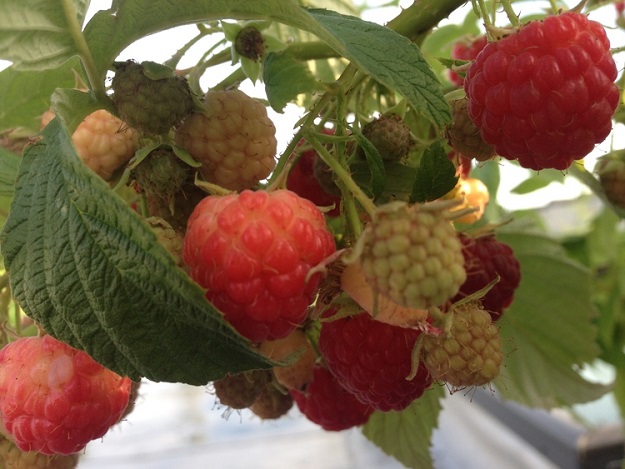 You might think. "That's cool," and be ready to move on. And I would add that this farm is located in Chicago, in the Back-of-the-Yards neighborhood. And then I hope you would think, "That's very cool!"
So I was intrigued when I saw this notice the other day, posted on the Advocates for Urban Agriculture Google Group:
Join AUA and Slow Food Chicago for our fourth group volunteering day at urban farms and gardens across the city! Our next "Raise the Barn Crop Mob" will be at The Pie Patch – Chicago's first organic you-pick fruit farm in Back of the Yards! bit.ly/BarnRaisingCropMob
Come get dirty, make some new friends, and support this great project! Please wear garden clothes, bring a water bottle, and RSVP to in…@auachicago.org. Don't miss this unique opportunity to connect with urban farmers and support a great urban ag project on Chicago's South Side!
Details: bit.ly/BarnRaisingCropMob
Saturday, June 17, 9am-12noon
The Pie Patch
5045 S Laflin St, Chicago
And I thought, "Yeah, I need to have Breanne back on the show to tell us what this is all about." So I contacted her and that's what we're doing. I'm not sure if there's an actual barn involved, or if that's some kind of metaphor, but Peggy and I will find out this morning.