July 9, 2017 – Of Seeds, Monarchs and Kayaks

Saving seeds means saving diversity
You might have seen a news story in May about how a particularly warm spring caused the permafrost to melt in Norway, about 1,300 miles north of the Arctic Circle on an island called Spitsbergen. In this era of climate change, the response might be something along the lines of "Boy, another story about Arctic ice melting. Hope the polar bears are okay."
Except that this event reportedly caused water to spill into a 130m long entrance tunnel into something called the Svalbard Global Seed Vault. Why is that remarkable? Probably because that vault houses about 930,000 varieties of seeds from all over the planet, representing a kind of "seed ark" against natural disasters, war and other catastrophes.
As it turns out, at least according to Popular Science, the story was misreported:
In an e-mail to Popular Science, Hege Njaa Aschim—communications director of the Norwegian Government-led organization Statsbygg, confirmed that the leaks happened last fall, during a time of high temperatures and unusual rainfall in the Svalbard area.
"This fall—October 2016—we had extreme weather in Svalbard with high temperatures and a lot of rain—very unusual. This caused water intrusion into the tunnel leading to the seed vault. The seeds and the vault was never at risk. This was no flooding, but more water than we like. So we are doing measures to improve and secure the entrance and tunnel," Aschim said.
It a relief to know that the seeds (and fate?) of humanity were never in danger. But It is probably good to know that something like the Svalbard Global Seed Vault, which was built to house as many as five million seed varieties, exists:
"Today climate change is challenging agricultural production," says Marie Haga, a former leader of Norway's Centre Party and the executive director of the Crop Trust, which advises on and part-funds the vault.
"Plants have always adapted. Wheat originates in the Middle East and now we grow it all over the world, but it has taken thousands of years for wheat to move from the Middle East to somewhere like Canada. The basic problem today is that climate change is happening faster than plants are able to adapt."
"The primary aim of the vault is to make sure that mankind has access to a maximum diversity of crops to be able to adapt to new challenges in the future."
According to Kew's State of the World's Plants report, there are currently 390,000 plant species known to science, with around 30,000 used by people. Their report estimated that one in five plants are at risk from extinction, with habitat loss the leading cause of extinction risk.
That article in The Independent also notes that there are 1,700 gene banks in the world, though "many are considered to be at risk as a result of lack of funding, poor infrastructure, not enough or qualified technical human resources, or information systems."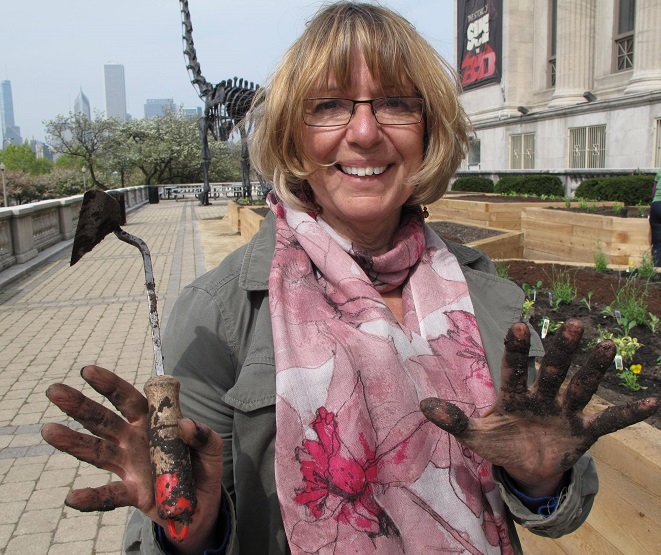 Which brings us to the United States and the Seed Savers Exchange, which has its headquarters at the Heritage Farm in Decorah, Iowa, where 25,000 varieties of seeds are stored in their own seed vault. A few years ago, I had the good fortune to be able to interview Diane Ott Whealy, who, with her husband Kent Whealy, founded the exchange in 1975 with the seeds of two plants that had been brought to this country from Bavaria by Grandpa Ott's parentswhen they immigrated to Iowa in the 1870s.
Fast forward to 2017 and, in answer to the question, "Why do we need so many seeds?" Seed Savers Exchange says that
In the last century or so, the world has lost 75% of its edible plant varieties. That might be hard to perceive when many of us have enough food on our plates, but consider this: According to the United Nations' Food and Agriculture Organization, only five cereal grains make up 60% of our calories. A system that depends so heavily on so few crops is quite fragile. Think of the Irish Potato Famine – the use of only one variety of potato led to a catastrophe. In 1845, the introduction of a new fungus wiped out the primary source of food in Ireland, leading to the death or emigration of some one and a half million people.
That's quite a responsibility for any group to shoulder, which means that the executive director has quite a job on his or her hands. As it so happens, it's a "he," who was just hired by the organization. His name is Lee Buttala and he is joining Peggy and me in the studio this morning on the day before he starts his new job. No pressure or anything.
Probably not-so-coincidentally, he starts just a few days before the 2017 Conference and Campout:
Explore the vast and connected world of seeds at the 2017 Conference & Campout. Seed Savers Exchange staff, along with experts, chefs, seed advocates, and others from across the country will be leading 20+ engaging workshops. We invite you to come along and learn something new about everything from gardening to the inner workings of Seed Savers Exchange to seed saving, food, and beyond!
We have a lot to talk about this morning with new executive director of the Seed Savers Exchange, Lee Buttala.
2017 Monarch butterfly update
Last week, I finally saw my first monarch butterfly of the season. It happened to be in my own backyard, near, but not on, milkweed. I took a photo (which you can see below) and posted on Facebook. Many people responded that, as of early July, they had yet to come across any monarchs, though others said they were encountering them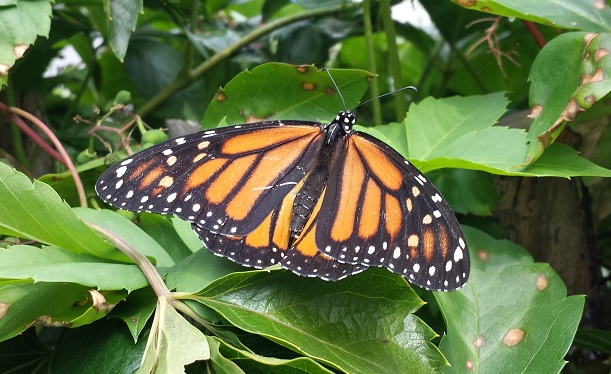 regularly.
So I decided to check with Monarch Joint Venture, which has news and information about monarchs and their life cycle. (I love their Monarch Butterfly Migration Map, which shows in animation how the monarchs have progressed northward from Mexico for the season. UPDATE: Monarch Joint Venture asked us to credit Journey North https://www.learner.org/jnorth/monarch/index.html, an MJV partner organization and creator of the map. )
Unfortunately, but not surprisingly, the news is not good:
This year's measurement of the eastern monarch overwintering population showed a 27% decrease compared to last year, occupying 2.91 hectares of forest in Mexico's transvolcanic mountains during the winter of 2016-17. It is likely that an extreme and unusual winter storm contributed to this decrease. This March storm struck the overwintering colonies just as monarchs were beginning to depart on their journey north.
Events such as last year's 'St. Patrick's Day Storm' are a strong reminder that we must increase efforts to restore and maintain monarch breeding and migration habitat to support a rebounding population that is buffered against such threats.
One of the people who responded to the post was friend of the show Doug Taron, PhD, Chief Curator of the Chicago Academy of Sciences at the Peggy Notebaert Nature Museum. He wrote,
Butterfly monitors are finding monarchs in reasonably good numbers this year. Some of my friends with large prairie patches on their properties are seeing lots of caterpillars right now.
And he suggested that we check with Allen Lawrance, the Associate Curator of Entomology at the Peggy Notebaert, who was on the show in January. Lawrance works in a number of different capacities including managing the butterflies in the Judy Istock Butterfly Haven, rearing locally imperiled butterflies for their butterfly restoration project, and assisting Doug with running the Illinois Butterfly Monitoring Network.
He's a natural to do a monarch update and we welcome him back to the show.
Yes, Virginia, there are trails for canoes and kayaks, too
We don't exactly have white water conditions, but with the Lake Michigan's shoreline, the Chicago River and our numerous local river systems, kayak and canoe enthusiasts in the metro area have some pretty amazing places to paddle. In fact, the northeastern Illinois waterways offer some of the most varied and unique stretches of flat water in the nation. This coming week, the local conservation group Openlands is launching Paddle Illinois Water Trails, and it's what they're calling the first comprehensive guidebook for the canoe and kayak trails of northeastern Illinois.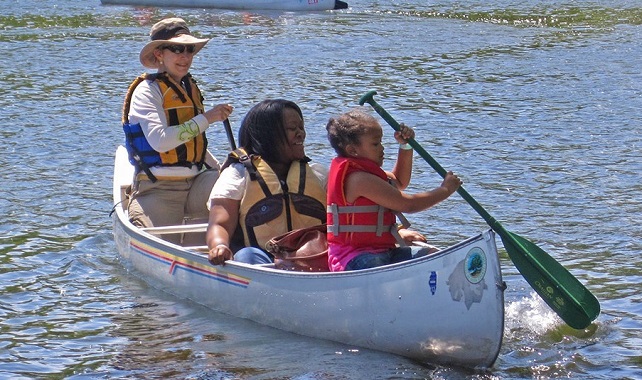 According to Openlands, The Northeastern Illinois water trails system includes 10 waterways, which offer paddlers a variety of challenges and experiences, "ranging from creeks that flow through densely wooded forest preserves to the skyscrapers of downtown Chicago as seen from Lake Michigan and the Chicago River. The water trails of northeastern Illinois present paddling experiences found few other places in the world."
For paddlers of all skill levels (and for those who simply love our waterways), the new guide is an amazing resource to learn about local rivers and plan the next trip. Arranged by county, the online guide is divided by waterway and includes info about paddling the Calumet area and Lake Michigan, as well as the trails along the major river and creek systems, including the Chicago River, Des Plaines River, DuPage River, Fox River, Kankakee River, Kishwaukee River, Nippersink Creek and Salt Creek.
The guide includes an interactive map of each waterway where you can view the water trails, click on launch and dam (portage) sites for details, get info about side-trips and determine the paddling difficulty of a particular stretch of water trail. The guide also includes photos and waterway descriptions, including distances, what to expect, equipment rental info, a feedback section for comments and tips, a way to connect with other paddlers and resources. And the really cool thing is all of this info is also available in the field on a phone or tablet with the mobile version of the online guide.
Laura Barghusen, the Openlands Associate Greenways Director, headed up production of the new guidebook, and she joins us this morning in-studio to explain how they created this new directory and also talk about the one-of-a-kind waterways in the Chicago area and some of the ecological and restoration challenges they face.