July 24, 2016 – LIVE from Christy Webber Farm & Garden!
Let me just start by saying that any day you have Christy Webber on your radio show, it's a good day.
In the interest of full disclosure, Christy and I are not only friends, but she has been an advertiser and supporter of The Mike Nowak Show. She is not currently a sponsor but that's pretty irrelevant (see first paragraph, above). A few years ago, she and I actually co-hosted a broadcast of the annual Chicago Pride Parade on Progresso Radio. I know why she was there, I'm not so sure why I was.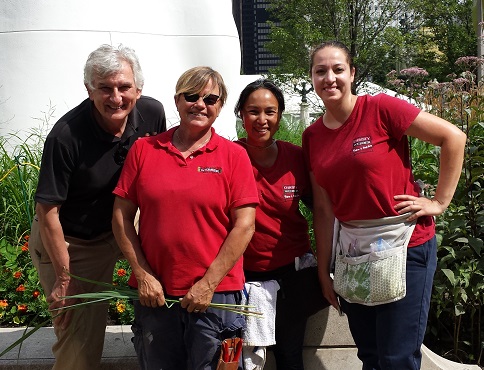 Mike, Christy, Annmaria and Jessica Zeiger in Millennium Park
a couple of years ago
She also happens to run a multi-million dollar business called Christy Webber Landscapes. What you need to know about that company is that it has been sucking up businesses the way an amobea absorbs its food. For instance, in the last seven years, they have acquired RR Landscape Supply and Kinsella Landscape and picked up Grand Street Gardens, which was re-branded as the Christy Webber Landscapes Farm & Garden Center.
And if you're paying attention, that's where we're broadcasting from on this Sunday morning.  Peggy Malecki from Natural Awakenings Chicago will again be co-hosting the program, and we're pretty psyched to be on site and we hope that some of you will drop by and perhaps buy a plant or two…even in the middle of summer!
Christy Webber joins us for the first hour. Among the projects that her company is working on, we  might discuss
UIC Applied Health Sciences Garden: Raised beds where UIC will be teaching their Dieticians and their Nutrition students how to grow vegetables and how those vegetables and herbs will impact the health of their students. This was the sign the last time Mike appeared at
Christy Webber Farm & Garden. Like shooting fish in a barrel.
Clarendon Hills Education Garden: City of Clarendon Hills and Westmont are in the design phase of an educational garden they will both share. It will include an apiary, a permaculture forest garden, hugelkultur beds, regular raised beds and a rainwater harvesting system.
16th Street MLK District Garden: A community garden in North Lawndale located on 16h Street and Ridgeway. This garden is located on 3 city lots. Half of the garden is a production garden that has hugelkultur beds instead of traditional raised beds, the other half is planted as a permaculture forest garden, it uses espaliered fruit trees rows of raspberries, hazelnuts and other fruiting shrubs inside of boxes, instead of fences, and it is used as a place to hold peace circles and where the police/corporate/public/residents gather to promote community trust, and it has a youth urban ag program with After School Matters, and Gardeneers. It is also a training ground for TR4IM's initiative which is a program that reduces trauma incidents in an 8-block area.
We might talk about all or none of the above. That's the beauty of live radio.
But we will talk to Eugene Shockey Funkey (did he make up his own name?), who is Co-Founder and COO of Metropolitan Farms. Their mission is to grow fresh food in the city where it is eaten. Okay, gotcha.
They happen to do it aquaponically  with no synthetic pesticides/fertilizers, hormones or antibiotics. In the City of Chicago. Double gotcha.
Finally, we bring in Annamaria Leon, who has also been on my program in the past. She is a permaculturist who believes that her  methods are
a way to effectively impact food security in every neighborhood no matter where you live and how much land / space you have.  When done well,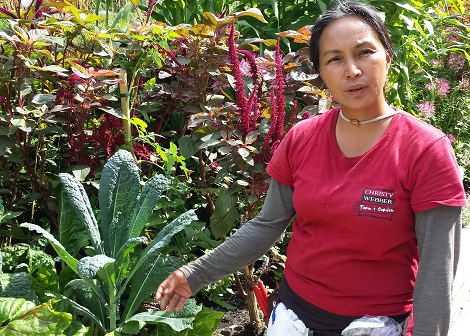 permaculture systems have the potential to benefit every living organism to create perennial abundance. In the long term, workload will decrease and yields increase beyond what was initially expected.  At that point, it is no longer about survival. It becomes about living a life you love and being surrounded by beauty, grace, and ease.

Message received. I think you should tune in to Que4 Radio on Sunday at 9am CDT.