July 23, 2017 – Soil Sisters, Ocean's Daughter

Changing the world one woman farmer at a time
At this time a year ago, Peggy and I talked to farmer and author Lisa Kivirist about the release of her book Soil Sisters: A Toolkit for Women Farmers. The true measure of a book is how many people want to get their hands on your copy of it. I immediately passed it along to a friend of mine who has put it to good use.
Lisa and husband John Ivanko have penned two other books, Farmstead Chef and Homemade for Sale: How to Set Up and Market a Food Business from Your Home Kitchen. They also operate Inn Serendipity Bed & Breakfast at their organic farm near Monroe, Wisconsin.
But that just scratches the surface of the kind of influence Kivirist has in the horticultural world. One of the things she talked about on The Mike Nowak Show last year was Soil Sisters: A Celebration of Wisconsin Farms & Rural Life, now in its sixth year:

For three days and with five unique components and involving numerous farms, the jam-packed SOIL SISTERS culinary event celebrates Wisconsin's family farms and rural life in and around the farming communities of Monroe, New Glarus, Blanchardville and Brodhead, Wisconsin, over the first weekend of August, 2017.
From heirloom tomatoes to cottage food products, sheep to solar energy, bed & breakfasts to beef, the farmers and artisan food producers share a unique diversity of farm experiences showcasing the summer's bounty.  Choose from a variety of activities including Dinner on the Farm, plentiful on-farm "Green Acres" workshops, a Taste of Place culinary event, plus area restaurants featuring specials throughout the weekend.
SOIL SISTERS is a project of the South Central Chapter of the Wisconsin Farmers Union, with major funding or in-kind support from the Wisconsin Farmers Union Foundation, Renewing the Countryside and the Midwest Organic and Sustainable Education Service (MOSES). Peggy Malecki picks up the story from here:
One of the areas that MOSES focuses on is helping current and aspiring women farmers by operating the Rural Women's Project, founded in 2009 by Lisa Kivirist to provide training, outreach and a voice for women choosing careers in organic and sustainable agriculture. The Project "supports women farmers and food-based ecopreneurs, providing resources, networking and collaborative opportunities to champion new business start-ups that support food system change. "  Offerings include resources, farm-day events, workshops and resources.
In Her Boots: Sustainable Farming For Women, By Women, is a unique series of one-day women-farmer-led educational workshops held on women-owned farms across the Midwest offered by the Project. These events open to anyone with an interest in farming, with topics ranging from how to get started in farming (Realizing Your Farm Dream) to in-depth programs for specialty farmers (Grass-Fed Beef & Dairy in a Diversified System).  And for anyone who wants to hear the stories of the women farmers who host the workshops, the Project has launched the In Her Boots Podcast, which Lisa hosts.
Last summer, I attended her first In Her Boots workshop at Prairie Wind Family Farm, in Grayslake, a "get started in farming" workshop hosted by Prairie Wind's Jen Miller and Peg Shaeffer of Sandhill Family Farms. It was attended by not only experienced women farmers, but also by women who were interested in how to get in to organic farming, college exchange students interning on Midwest farms, home gardeners and women who support CSAs and wanted to learn more about the business side of organic farming.  The day included casual yet educational talks, a detailed backstage tour of the farm, discussions of all-season farming methods, the CSA and lots of spontaneous discussion as questions came up. This was a great opportunity for networking and getting questions answered, and everyone who attended made some great connections.
Several In Her Boots events are happening this August, including Market Farming in the Suburbs, scheduled for August 24 at Alison Parker's Radical Root Organic Farm, in Libertyville.
Speaking of Alison Parker, she returns to the show this morning (she was on with me in 2013), along with Lisa Kivirist to talk about how women are changing the farming world.

Now at the Science Desk: Michele Hoffman
Michele Hoffman is back on the show after just a few weeks to take her place at the not-so-official Science Desk of The Mike Nowak Show. We asked her if she would be interested in making regular contributions to the program and, remarkably, she said yes!
In case you're not familiar with her, Hoffman wears a number of hats. She is Director of Education and Advancement for the Hawai'i Association for Marine Education and Research (HAMER); a faculty member at Columbia College, the School of the Art Institute and Roosevelt University, where she teaches and designs oceanography, environmental science and marine biology courses; and she is the Executive Producer of the film Microcosm,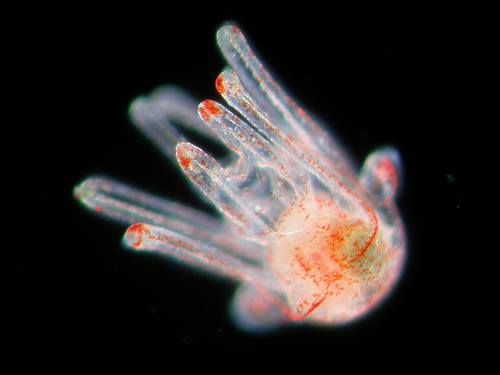 a ninety minute high definition documentary film that reveals a mysterious, almost invisible kingdom within the ocean and instills a sophisticated appreciation for the complex, powerful, yet elegant force that drives it, and which most do not realize exists.
While Michele is likely to comment on all aspects of science, be prepared for some insight into what happens beneath the waves, especially on the microscopic level. She will be leaving for the Gulf of Mexico in the next few days and wrote to us about it:
We are headed down to Florida to meet with researchers at University of Miami who are researching impacts of the Deep Water Horizon disaster, the impacts of harmful algal blooms, and coral restoration/preservation methods.  We are planning to top it all off by drifting in 500ft of water in the pitch black night to witness the greatest migration on Earth where all forms of plankton rise from the deep to put on a spectacular show (but not as spectacular as The Mike Nowak Show with Peggy Malecki)!
I'll ignore that last remark and go to a post on Michele's Microcosm Facebook page:
We cannot wait to get down to Florida next month to experience one of the most incredible events the ocean has to offer….night time plankton dives just like the one described here!
That leads me to a brief IM conversation that we had last week that went something like this:
Michele: holy hand grenades do I have stories for your show! Did some preliminary interviews for Florida and the Deep Water Horizon disaster is far from behind us!!!!!!
Mike: Wow! Big surprise.
Michele: yeah….I know, but most interesting is that only in the last year or so are scientists getting their hands on some of the sensitive data from BP scientists because of court ordered gags due to pending litigation. So essentially the environmental impact was largely swept under the rug for judicial process…..
Mike: Let's see if I get this right. Due to gross negligence and reckless conduct, BP spills five million barrels of oil into the Gulf of Mexico, killing untold wildlife (not to mention eleven humans) and changes the ecology of the region probably forever. They plead guilty to eleven counts of manslaughter, two misdemeanors and a felony count of lying to Congress, are fined 18.7 billion dollars…and yet, probably because they're still indecently rich and well-connected and can buy off people, there's no particular attempt to allow scientific studies to be done in the Gulf, which would likely show that the damage is greater than anybody imagines. Am I close?
Michele: close yeah and don't forget…we are adding chemicals to disperse the oil…chemicals that are untested for their affects on animals and humans…chemicals that did not do what they were alleged to do and probably compounded ecosystemic impacts. and all this went down during an environment friendly government…
I'm betting that we'll have some pretty good conversations on the show.

Planning hanky-panky in the North Branch Industrial Corridor
This is a story that is very complex and that, frankly, we have little time to cover on the show this week. But after hearing about planned zoning changes to the North Branch Industrial Corridor, Peggy and I felt that we at least had to let folks know that the Chicago City Council is about to take a vote that will have an oversized impact on folks who live around the area of Goose Island.
On Friday, Curbed Chicago wrote,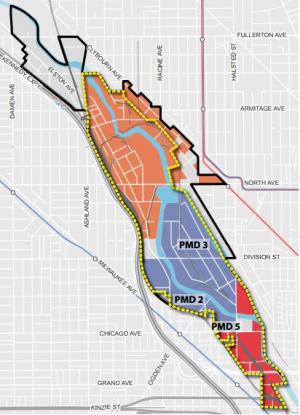 Yesterday, the Chicago Plan Commission approved a measure to redefine the the boundaries of the North Branch Industrial Corridor's Planned Manufacturing Districts (PMDs). The culmination of a year's worth of public meetings and commentary, the piece of legislation was drafted in response to many industrial businesses leaving the 750-acre riverside corridor between Kinzie Street and Fullerton Avenue.
As expected, the latest move aims to open large portions of the zone to new, non-manufacturing uses and has some developers licking their chops. While data collected by the city made a compelling case for repealing PMDs that have out-lived their usefulness, opinions still vary as to what kinds of new development make the most sense for an area bordered by Lincoln Park, Bucktown, River West, Goose Island, and downtown Chicago.
This deal is about as Byzantine as it gets, and that's saying something for the City of Chicago. But the particular concern of The Mike Nowak Show is whether there will be any open space set aside in an area that once was heavily industrialized.
There are a number of people who are concerned about that issue, including Friends of the Parks Executive Director Juanita Irizarry, who calls the proposal "yet another done deal," and 43rd Ward Alderman Michele Smith:
Regarding the Ordinance, Smith says, "The North Branch Industrial Corridor includes a new commitment for 'at least 10 acres' of open recreational space in addition to the river trails, boardwalks and canal and wetland park areas previously proposed. However, the Plan does not contain a mechanism to secure significant contiguous space."
"This could result in a patchwork of acreage tacked onto large developments. Moreover, without knowing the anticipated population, we cannot be sure that this acreage is sufficient. The Plan states: 'Principle 3.5: Create not less than 10 total acres of publicly accessible open spaces within Planned Developments for sports and recreational activities….'"
There are already signs of what some are calling a "land rush" in the area, as buildings are going on the market.
Elaine Coorens, who wrote this story for Our Urban Times, attempts to give us an overview of the soft underbelly of Chicago real estate and politics on this morning's program.