July 2, 2017 – Carpin' About Climate

Asian carp continue to jump into the headlines. Literally. And this morning, Alliance for the Great Lakes president and CEO Joel Brammeier joins us on The Mike Nowak Show to review some of the key issues that could ultimately determine if this invasive species can be kept out of Lake Michigan and the rest of the Great Lakes.
Actually, according to the National Wildlife Federation, the term "Asian carp" is a catchall for several species of carp that originated in southeast Asia, and the silver carp are the jumpers. But more importantly,
Asian carp are fast-growing, aggressive and adaptable fish that are outcompeting native fish species for food and habitat in much of the mid-section of the United States… Asian carp consume up to 20% of their bodyweight per day in plankton and can grow to over 100 pounds. .. Once established in an ecosystem they are virtually impossible to eradicate. Adult Asian carp have no natural predators in North America and females lay approximately half a million eggs each time they spawn.
Invasive to say the least, and on the verge of invading the Great Lakes. Electrical barriers installed in the Chicago Sanitary and Ship Canal, which connects Lake Michigan to the Illinois River, are basically all that's keeping them out. Maybe.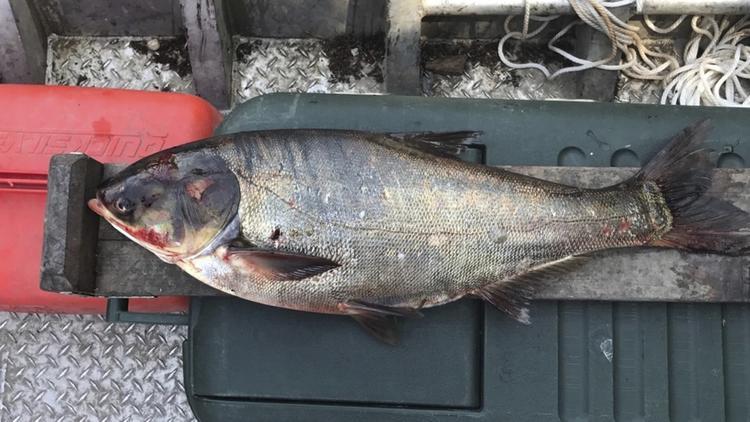 On June 22, an 8-pound silver carp was captured within nine miles of Lake Michigan in the Calumet River, east of the barrier. According to a July 23 release by Asian Carp Regional Coordinating Committee, "The fish was captured with a gill net by a contracted commercial fisherman … as part of the ACRCC Monitoring Response Work Group's seasonal intensive monitoring event." Since then, intense sampling for fish and carp DNA continues. The good news so far is that no additional evidence of carp has been found. Unfortunately, this lone fish is not the first time evidence of carp has been found beyond the barrier. Consider this 8-pound fish an early alert.
In a June 23 release, the Alliance stated:
"Today's announcement is disturbing news and highlights the urgent need for action to stop Asian carp and protect the Great Lakes. Agencies have known for years that the electric barrier is not a foolproof solution. Studies have shown that barges can pull fish through the barrier. There are best practices for vessel traffic moving through the barrier to reduce this risk and they must be implemented immediately.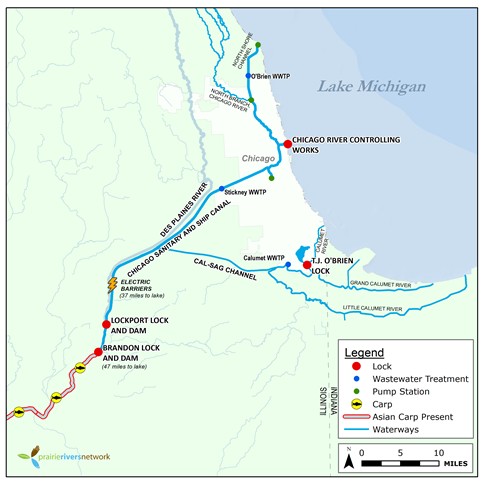 Action is urgently needed on additional protections at the Brandon Road Lock and Dam near Joliet, IL. The facility is a logical choke point location to install control measures to stop Asian carp from moving closer to the lake. The U.S. Army Corps of Engineers has drafted a study on options for Brandon Road. Although the study is paid for and ready for public review, its release has been blocked by the Trump Administration. Legislation was introduced in both the House and Senate this week pushing for the study's release. In light of today's news, we urgently call for immediate release of the study so progress can continue on the development and implementation of protection measures at Brandon Road. The lack of action by the Administration is putting the Great Lakes at risk. Any further delay is unacceptable."
Coincidentally, the day before that fish was caught, bipartisan legislation called the Stop Asian Carp bill was introduced in Congress to push the Trump Administration to stop delaying effort to prevent the carp from invading the Great Lakes and to release a U.S. Army Corp of Engineers study of the Brandon Road Lock and Dam. You can read more details of the bill in this Prairie Rivers Network release.
We'll talk with Joel about the carp bill, which has the support of at least seven cosponsors in the Senate and 31 in the house, plus the support of eight environmental organizations, including the Alliance. Also key to this conversation are proposed massive cuts to funding for the Great Lakes Restoration Initiative.
If you'd like to show your support for the release of the study, head over to the Alliance's Great Lakes Action Website, which currently includes four letters to D.C. lawmakers, including one letter urging the White House to release the Army Corps' Brandon Road Study.

All Hands on Deck for the Great Lakes!
On the morning of July 3rd, people all over the Great Lakes region will head to the shoreline to join hands in solidarity and raise awareness of the critical importance of the lakes, and the need for their protection to be "non-politicized and non-monetized". Here in the Chicago area, the Alliance for the Great Lakes is partnering with the Illinois Sierra Club to support the inaugural All Hands on Deck Event. At least eight events are organized for 9 a.m. CT along the Illinois shoreline, including Chicago, Waukegan, Lake Forest, Lake Bluff, Evanston, and Highland Park, and they are all free and open to the public. A more detailed list is available here.
This event is organized by a newly formed non-partisan, international organization called All Hands on Deck, which, according to their website, has these goals:
Unite communities in a nonpartisan way around the Great Lakes to raise awareness for the need for independent unbiased policy based on science to fund, regulate, and research water challenges.
Coordinate a pledge from Members of Congress and State Legislators to sign that promises that they will write and support policies new and old that are/were created on unbiased science.
Coordinate a petition online and at handhold events that is signed on behalf of citizens who will agree to remain vigilant in raising awareness in recognizing whether decisions have and are being created about water from independent unbiased science.
Provide a platform: through these organized communities to educate themselves about the science behind water issues to increase awareness about local concerns related to water via community handhold groups and established water organizations and activist groups.
As part of our discussion this morning about the Great Lakes, we'll talk with Joel about the significance of this event and how you can get involved.
A Couple of Science Educators Sitting Around and Talking Climate
One of the joys of my long, strange trip in environmental radio for the past nine years has been my collaboration with Meteorologist Rick DiMaio. Through thick and thin, he has made himself available on The Mike Nowak Show for weather reports and climate commentary. Nowadays, you can hear his segment every Saturday morning around 9:49 a.m. on 1590 WCGO.
However, the exception to the rule is today, Sunday, July 2, 2017, when he has agreed to show up to chat with Peggy and me for the entire 10am hour. Why today?
In addition to his meteorological work on this and other radio shows and occasionally on television, Rick is primarily a college instructor, which includes his work as an adjunct faculty member of the Institute for Environmental Sustainability at Loyola University Chicago.
On Tuesday, July 4, he and a group of students will be off across the Atlantic to "Examine the physical processes, economics, and environmental impacts of energy use in Iceland." A brochure from the Institute for Environmental Studies notes that Instructor Richard DiMaio
Introduces students to basic principles and knowledge to explain climate change and climate variability in the context of a high latitude city and country such as Iceland. Students will learn about natural and anthropogenic causes of climate change, the interactions between earth-atmosphere-ocean systems, climate feedback mechanisms, and impacts of climate change on human activity. Students will become familiar with the concepts of airmass, convergence zones, high latitude ocean currents and variable total solar radiation through applications of short-term weather and climatic studies.
All I can say is, "Take me with you!"
Oh, well. At least I will get to see a total solar eclipse later this summer.
Rick is joined this morning by a person who is rapidly becoming a regular guest on The Mike Nowak Show–Michele Hoffman. She is Director of Education and Advancement for the Hawai'i Association for Marine Education and Research (HAMER), on the faculty at Columbia College, School of the Art Institute and Roosevelt University, where she teaches and designs oceanography, environmental science and marine biology courses…and where she has worked alongside Rick DiMaio. In addition, she is the Executive Producer of the film Microcosm,
a ninety minute high definition documentary film that reveals a mysterious, almost invisible kingdom within the ocean and instills a sophisticated appreciation for the complex, powerful, yet elegant force that drives it, and which most do not realize exists.
It was Rick DiMaio, who brought her to the radio studios where I was broadcasting on Chicago's south side about seven years ago, and she has returned to the show from time to time.
As a scientist, Michele has a low threshold for anti-science efforts, including something called Why Scientists Disagree About Global Warming. by the Heartland Institute, a libertarian think-tank (oxymoron alert). This book was sent to 25,000 American science teachers (and more on the way) earlier this year. Frontline reports that
The Heartland initiative dismisses multiple studies showing scientists are in near unanimous agreement that humans are changing the climate. Even if human activity is contributing to climate change, the book argues, it "would probably not be harmful, because many areas of the world would benefit from or adjust to climate change."
The campaign elicited immediate derision from the National Center for Science Education (NCSE), a nonprofit in Oakland, California that monitors climate change education in classrooms.
"It's not science, but it's dressed up to look like science," said NCSE executive director Ann Reid. "It's clearly intended to confuse teachers."
It's even gotten to the point where it isn't even about the science anymore. According to an article in Scientific American called How to Determine the Scientific Consensus on Global Warming, the argument has shifted to whether or not the consensus about the science is accurate. John Cook, a research fellow at the Global Change Institute at the University of Queensland in Australia, who helped to create the blog Skeptical Science. expresses his frustration in the article:
"I expected the criticism from climate deniers because they've been attacking the consensus for 20 years," Cook said. "I'm a bit disappointed that scientists who accept the consensus and who are trying to work towards climate action are criticizing this method of communication because the reason why we did it was based on a lot of social science research."
Meanwhile, if you want to know what NASA's view on scientific consensus is, I suggest that you check out some of their graphs and lists of organizations and agencies under their heading, Scientific consensus: Earth's climate is warming.
I am fairly certain that there will be no shortage of opinions in the studio this morning, from scientists and non-scientists alike. I hope you can join us.