July 16, 2017 – Floating Gardens, Trash Talking Professors

A Wild Idea for Wildlife in the Chicago River
If I told you that you could bring wildlife back to the Chicago River by creating floating gardens that would attract fish, reptiles, amphibians, insects, birds, kayakers, canoeists, fishermen and…well, artists, and that the idea would scoop up $30,000 in KickStarter money in a few short months, you might also think that I have some nice, swampy Chicago bottomland to sell you at a really good price.
But, believe it or not, the scenario laid out in the first paragraph is already under way, thanks to an organization called Urban Rivers, a Chicago-based non-profit organization dedicated to reconnecting communities to urban rivers through ecosystem rehabilitation and education. Just a few days ago they reported that
It's been a wild ride filled with permitting, planning and fundraising, but on June 10-11, 2017, Urban Rivers successfully installed 166 feet of Floating Garden in the Chicago River on the East side of Goose Island. The garden is located just outside of the Lincoln Park Whole Foods.
Four years ago, we set out to create a new destination for kayakers and pedestrians to connect with nature in the heart of Chicago. At the same time, there was a stronger need to provide habitat for the wildlife in and on the Chicago River. We want to give the fish and wildlife of the Chicago River the habitat they need to thrive. The primary goal of this project is to create effective and sustainable habitat for native plants and animals.
And if you think that floating gardens can't withstand the varying year-round conditions on the Chicago River, guess again:
Our hardware is engineered to survive Chicago conditions year-round. Our partner, Biomatrix Water, builds their floating garden structures with the following technical features: 
Marine-grade engineering to withstand all weather conditions 
Locking stainless steel quick connect system, making it easy to add additional gardens 
Fully cross-braced structure 
UV resistant thermo-fused tough floats 
Concrete anchors secured using weighted guide rail
On top of those structures are a variety of plants, including native Illinois wetland and prairie plant species. According to Urban Rivers,
The floating island's design allows us to create diverse habitats because of their ability to grow plants that can take on a wide range of water tolerances in a small area. This gives us tremendous opportunities to create biodiversity and a resilient ecosystem by planting many different food and nectar sources as well as providing protection and materials for the native wildlife.
And what kind of animals do they hope to attract?
Fish (bluegill, largemouth bass, channel catfish and more… including tadpole madtoms, which is actually a fish species that looks like a tadpole. We caught one at our installation while doing fish surveys) 
Birds (mallard ducks, great blue herons, Canada geese and more) 
Mammals (muskrats, field mice, river otters, and more) Reptiles and 
Amphibians (painted turtle, snapping turtle, American toad and more) 
As well as a variety of terrestrial and aquatic invertebrates (crayfish, dragonflies, damselflies and more)
The plan is audacious and ambitious and, darn, I wish I had thought of it.
They've lined up an impressive group of supporters, including Patagonia and Whole Foods Market, the Metropolitan Water Reclamation District (MWRD) of Greater Chicago, engineering partner Epstein Global, Kayak Chicago and Biomatrix Water, which supplies the floating gardens.
Peggy and I are pleased to welcome several members of the organization to the show this morning. Co-founder Josh Yellin installed 50 square feet of floating gardens in the Chicago River in June of 2013, which served as the basis for his Master's research study monitoring urban fish populations. Nick Wesley led the design and installation of aeroponic and aquaponic systems in several restaurants and a farm. Zachary Damato is COO of Niwa; a smart connected indoor grow platform leveraging software, machine learning and hardware to improve our food system. And George Brigandi, who put this radio segment together, worked for The Mike Nowak Show last summer as an intern when we operated out of "Pirate Radio."
Update from Dave Scott and British Columbia Wildfires
On Sunday, July 9, Peggy and I talked to Dave Scott from British Columbia, where wildfires have been raging for at least a couple of weeks. However, you might not know that if you watch U.S. television, which seems to think that weather and other natural processes stop at our northern and southern borders. Don't get me started.
Last week, he reported that he had been evacuated from his home, which he described as "on top of a mountain" in the Cariboo area. 17,000 people have already been forced to leave their homes, with 167 fires burning across the province. High winds and dry conditions aren't helping matters.
Dave posted his own video report this afternoon, and we will talk to him again on Sunday morning. He is, by the way–and this has nothing to do with the wildfire issue–the founder of Spaced Out Radio, which is about Paranormal, Supernatural, UFOlogical kinds of stuff. And they listen to my show.
A Couple of Professors Talkin' Trash
One of the very best shows that Peggy and I have done at 1590 WCGO happened on April 1 of this year (no foolin'!) when we welcomed Carl Zimring to the studios in Evanston. These days, he is an associate professor and coordinator of the Sustainability Studies minor at the Pratt Institute in New York City, but back in April, he was in Chicago to promote his latest book, Aluminum Upcycled: Sustainable Design in Historical Perspective.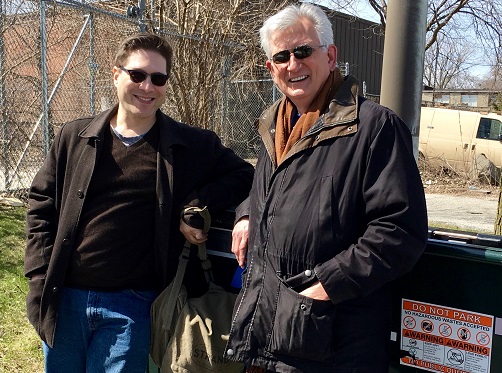 Dull stuff, eh? Not in the hands of Zimring. We had a terrific conversation, and if you want to learn a lot about how recycling plays a role in your life without you knowing it, I suggest you click onto that podcast.
Well, he's coming back to town this week and he's also back on the show. This time, he is doing a presentation for the Illinois Recycling Association. Full disclosure: I am an unpaid board member for the IRA…and I also happen to be the guy who put this event together. Which means you're darned right I'm going to plug it on my radio show!
It's called A Couple of Professors Talkin' Trash! because it not only features Zimring, but Steven Corey, Ph.D., Professor and Chair of the Department of Humanities, History and Social Sciences at Columbia College in Chicago. Dr. Corey served as curator for the noted exhibition "Garbage! The History and Politics of Trash in NYC" while completing his doctorate. And, from what I hear, he's just as entertaining as Carl. In a couple of hours, the two profs will waltz through the history of waste reclamation, and how that history may inform a more sustainable future. Subjects will include many of the cool things we've made out of recycled material, from sports cars to guitars, as featured in Zimring's Aluminum Upcycled book.
The event is Thursday, July 20 at Roosevelt University, 430 S. Michigan Avenue, Room 420 at 6:00 p.m. Carl will have discounted copies of Aluminum Upcycled on hand, which he will autograph, of course. The price is $35, with a $20 ticket for students. Make reservations here.
Peggy and I also welcome Kris Kaar, President of the Illinois Recycling Association to the show today. She is a senior consultant at Resource Recycling Systems (RRS), bringing 30 years of experience in research, planning, communication, and program management in a variety of environmental, solid waste, and recycling programs.