July 10, 2016 – Traditional and Not-so-traditional Garden Walks
It's been a couple of years since I covered the garden walk scene in and around Chicago. So it's a pleasure to welcome back to the show fellow Illinois Master Gardener Laury Lewis. He has a laundry list of horticultural accomplishments, so I'll just hit some of the highlights: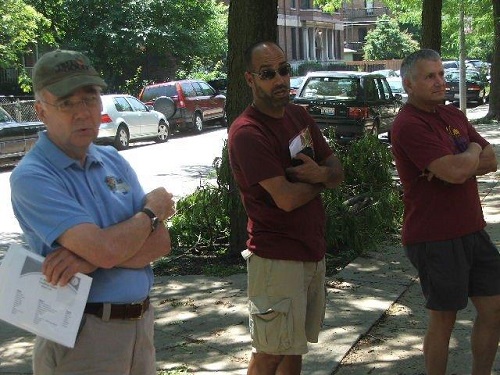 Bill Aldrich, John Eskandari and Laury Lewis judging gardens at the Sheffield Garden Walk a few years ago. Mike was on the team, too, and took the photo.
Chairman of Sheffield Neighborhood Association Beautification program. The Sheffield neighborhood on Chicago's north side is "The Garden District of Chicago"
Co-Chairman of the annual Sheffield Garden Walk, featuring over 90 gardens
Coordinator and teacher for the Blooming Branches program 1999-2004. This was a partnership between the University of Illinois Extension, the Chicago Public Library and the Chicago Botanic Garden, providing 64-84 classes at 14-16 libraries in Chicago
Gardener of the Year and 1st Place in 2000 and 1st Place in 2009 and 2010 in the Single Family Residential category of the  Mayor's Landscape Awards
State of Illinois Outstanding Master Gardener in 2000
Created Foliage Fantasies in 1998, specializing in residential garden design and installation
And that's just a taste of Laury's chops . By the way, don't get either of us started on why Rahm Emanuel decided to pull the plug on the Mayor's Landscape Awards. Let's just say–and this is my own opinion–it reflects where the environment in general and gardening in particular appear on this mayor's list of priorities. That is to say, pretty near the bottom.
But I digress. Or not.
The point is to talk about the 48th Annual Sheffield Music Festival & Garden Walk, which happens in a couple of weeks,  July 23 & 24 at Sheffield and Webster in Chicago. If you judge things from the print size, you would guess that the "garden walk" part of the festival is becoming a footnote.
However, Laury notes that there are 95 gardens on the walk this year, the most in 7 years and that includes 34 new exhibitors. He writes:
I can't explain the increase but there have been a lot of new people moving into Sheffield, younger families who seem to have a greater interest in the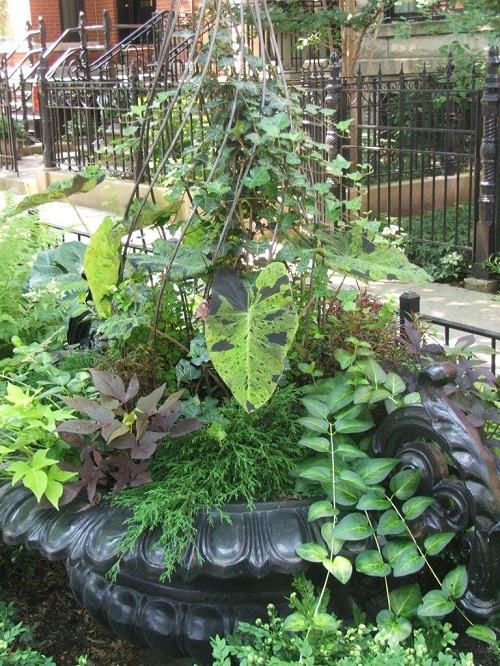 outdoors and are physically able to garden. Among the new gardens there are several that I have tried to get into the walk in the past and finally succeeded this year. A feature attraction is the newly created butterfly garden in Trebes Park that is used as a teaching tool with the kids at Oscar Mayer School which is next to the park. Christy Webber is again the sponsor for the gardens. Brian Shea of Voltaire's Gardener and myself will be doing specialty garden tours with an emphasis on plant selection, design and maintenance.
Of course, the main attraction of the festival, sponsored by the Sheffield Neighborhood Association (SNA), a non-profit community organization, is the music. But there's a lot more going on, including guided Architectural Tours, food and drink, and activities for children at the Kids' Corner.
Laury comes to the opulent Que4 Radio studios this morning not just to promote the festival, but to talk gardening and perhaps even answer a few questions. Feel free to call us at 312-985-7834 or send an inquiry to The Mike Nowak Show on Facebook or tweet us at @MikeNow.
Which takes us to a different kind of garden walk, but one that needs to get more attention.  Go Green Wilmette is, for the fourth year, hosting what they call the Alternative Yard Tour:
Join Go Green Wilmette on July 17th from 9am to noon to view creative, beautiful and practical ways that local residents have put their yards to work growing food, providing native habitat and managing storm water.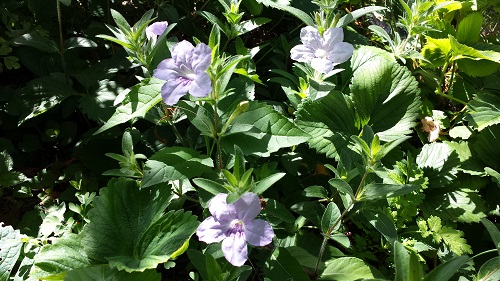 Wild petunia (Ruellia) with Marshall Strawberries in Mike's garden.
Saima Abbasi from Go Green Wilmette joins Peggy Malecki and me on The Mike Nowak Show this morning. As I mentioned before, I hope that you join us in the conversation, too!