January 7, 2018 – Happy Solar Energy and Food Justice!

There are few people I know who will look back fondly on 2017. Here's hoping that the same won't be said about 2018. But The Mike Nowak Show with Peggy Malecki  marks a milestone on this January 7. For the first time in four years, the show starts the year at the same location it occupied the previous year–the studios of 1590 WCGO. That alone is cause for celebration. So with that introduction–and our thanks for your support–we move on to a couple of subjects on today's show that pretty much epitomize our mission.
The future's so bright, I gotta join a solar training academy
Even with the White House poised to announce a couple of decisions that could set back the solar industry, and making ridiculous noises about bringing back coal production, 2017 was a big year for alternative energy sources. According to Inside Climate News, "[m]ore than half of the coal plants in the United States have closed since 2010, and coal's market share continues to decline rapidly. At the same time, renewable energy sources are surging ahead.
In 2016, renewable energy accounted for almost two-thirds of new power capacity globally, and this was another record year. The IEA expects that domination to continue, at least through 2022. That's true in the United States as well. Renewables have been the majority of added capacity since 2014, despite this year's solar dramas such as lobbying for tariffs on cheaper Chinese panels and industry shakeups.
And a lot of attention will be focused right here in Illinois, as the Future Energy Jobs Act, which became law at the end of 2016 and went into effect this past June, looks to hit its stride in the new year. Kari Lydersen (who appeared on The Mike Nowak Show in November), wrote about it for Midwest Energy News in August of 2017.
The Future Energy Jobs Act calls for the installation of about 2,700 MW of solar in Illinois by 2030, a dramatic increase from the state's current 75 MW.
"It's going to be crazy, and it's going to be really exciting,"said Lesley McCain, executive director of the Illinois Solar Energy Association. "We've seen such interest from around the country, from all types of developers focused on helping get this legislation built out correctly."
Another group getting on board the solar energy train is the Midwest Renewable Energy Association (MREA), which notes that the new law will increase the demand for qualified solar workers. The MREA has been offering clean energy training since 1990 and is offering two courses in Illinois starting this month–one in Normal and one in Champaign.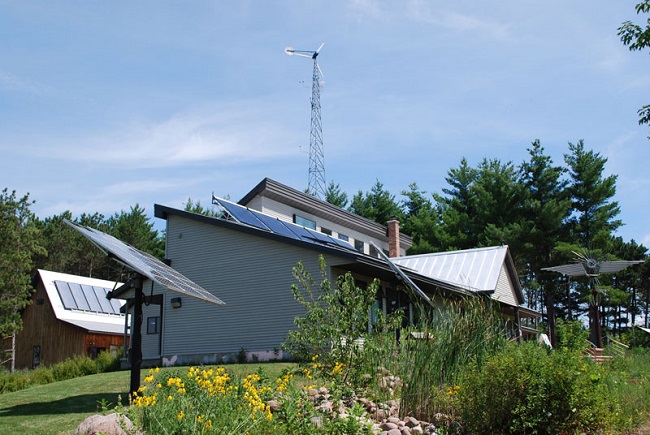 MREA's Solar Training Academy is open to all skill levels and requires no prerequisites or prior solar training. Students will meet one weekend a month, January – March/April 2018 for a series of in-person and hands-on training. Participants  are provided with industry-leading solar technical training, from some of the top solar educators in the Midwest. Topics include photovoltaic (PV) fundamentals, PV site assessment, and PV design principles and considerations. Upon academy completion, students qualify to sit for the North American Board of Certified Energy Practitioners (NABCEP) PV Associate Exam, an increasingly sought-after solar credential valued by the industry.
You can get more information for the Solar Training Academy in Normal here and for the Solar Training Academy in Champaign here.
Peggy and I are pleased to welcome Julie Brazeau, Solar Technical Assistance Coordinator for the MREA, to the program this morning. She is joined by the instructors for the two classes listed above. Clay Sterling, who is currently an assistant professor for renewable energy technology at Kankakee Community College, will be teaching the course in Normal. Alex Jarvis, who writes about renewable energy in Indiana and whose company designs and installs grid-tied and battery-based systems, will handle the course in Champaign.
If it's January, it must be time to talk Food Justice
At the top of this blog, I mentioned the milestone of celebrating a second year in the same radio studio. But regardless of where I have been in the past nine years, it has been my pleasure to welcome Robert Nevel from KAM Isaiah Israel in Chicago's Hyde Park neighborhood to my show around this time each January to talk about how all of us can work together to grow good food create a better society.
Once again, Robert joins me to promote the 9th Annual Martin Luther King, Jr. Food Justice and Sustainability Weekend that will take place on January 13 and 14.
The focus this year is Climate Change and City Parks. The Saturday and Sunday program includes over 16 workshops by leading growers, environmentalists and social justice activists and a community design workshop where a Chicago park will be reimagined. The goal of the weekend is to provide participants with powerful tools for change and a heightened motivation to work toward a greener, more equitable and sustainable world.
All events are at KAMII and are free and open to the public.
The Sunday workshops are always terrific, featuring subjects like urban beekeeping, healthy soils, native plants, food justice advocacy and more. This year, in keeping with the theme of the weekend, there are several workshops that deal with the social and sustainable aspects of public parks.
But what probably sets this event apart from others is the Saturday Community Design Workshop, which brings together experts from various disciplines who are tasked with redesigning an existing outdoor space as a communal place to grow food. This year's workshop is called Reimagining a Chicago Park Park,, An Urban Food Forest Case Study, and features
Renee Costanzo, Program Specialist, Kilbourn Park Organic Greenhouse, Chicago Park District
Noel Deehr, Farm Supervisor, Seminary Hill Farm, Delaware, Ohio
Breanne Heath, Farmer, The Pie Patch
Rob Kartholl, KAM Isaiah Israel Farm Manager Emeritus
Annamaria Leon, Manager, Edible Landscapes, Christy Weber Landscapes
Owen Needham, KAM Isaiah Israel Farm Manager
Robert Nevel (moderator), Founder, KAM Isaiah Israel Food Justice and Sustainability Program
Joining Robert in studio today is Crystal Johnson, one of the KAMII farmers, who has been in charge of the MLK weekend since 2016.