January 7, 2017 – A New Year, a New Radio Station
Note: This week's program is less than than one hour long (52:44)

Ignore the fact that Ron Cowgill (left) from Mighty House looks so dour and Peggy Malecki (right) looks so serious in the above photo. (That's Dennis "Sonar" Greene in the middle.) Ron might be unhappy because he's the guy who re-designed the studio and as for Peggy…who knows?
Regardless, a new chapter of The Mike Nowak Show with Peggy Malecki starts today at 1590 WCGO, Chicago's SmartTalk and we're all pretty happy about it. Right out of the gate, we hope you'll call us at 847-475-1590 and be a part of our program from 10am to noon, or Mighty House, with airs from 7 to 10am before us. This week's show features Robert Nevel from KAM Isaiah Israel, which is hosting its 8th Annual Martin Luther King, Jr. Sustainability Food Justice and Sustainability Weekend from January 13 to 15. He is joined by one of the presenters at this weekend long series of presentations, Dr. V. Bala Chaudhary. We also chat with Carly Persson, who is the Winter Farmers Market Coordinator for an organization called Faith in Place. They're promoting a market opening up in Glencoe on January 8. Last but never least, meteorologist Rick DiMaio stops by our new studios to talk about why there hasn't been a "snowmageddon" this year after so many predictions.
The 8th Annual MLK Food Justice and Sustainability Weekend
If it's January, then it must be time to be thinking about social justice, if only because January 15 is civil rights leader Dr. Martin Luther King, Jr.'s birthday. This year, the national celebration is Monday, January 16. But it seems fitting that KAM Isaiah Israel Congregation in Hyde Park will be holding the final day of its 8th Annual Food Justice and Sustainability Weekend on Dr. King's actual birth date.
Architect Robert Nevel, who has been with the award winning, nationally recognized KAMII Food Justice & Sustainability Program from the beginning (as far as I know), stops by our new studios this Saturday to make an appearance on the program as he has done for most of the past eight years.
I'm honored to say that I have been a part of the KAMII program almost from its inception. Along with at least another dozen institutions in and around Chicago, they keep me in awe with their ability to get things done and to reach the people who need their services most.
The theme of this year's weekend is Climate Change and Water:
The weekend long education and advocacy program includes a keynote address on climate change and a resilient food system, workshops on topics ranging from lead contamination in urban water, to soil carbon sequestration and improved food production, to irrigation management and rain fall mitigation structures. The weekend also features a community design workshop case study at which a three acre urban food forest will be designed for the roof of a big box store. The goal of the weekend is to provide participants with powerful tools for change and a heightened motivation to work toward a greener, more equitable and sustainable world.
One of the presenters is Dr. V. Bala Chaudhary from DePaul University in Chicago. I had the privilege of meeting her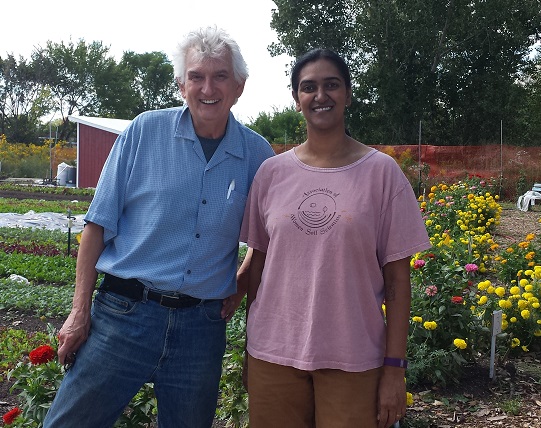 at a workshop called What's In Your Soil? – Soil Ecology Class at The Talking Farm on Howard Street in suburban Skokie. I knew immediately that I was going to have her on my program at some point. So when I found out that she was doing a presentation at the MLK weekend, I got her on board.
I could list all of the presentations that make up the MLK Food Justice and Sustainability Weekend but you can click on the link and view them for yourselves. However, it should be noted that Friday at 7:30 there is a Sabbat service followed by keynote address by the Director of Fresh Taste, Karen Lehman. The title of her talk is Earth, We've Got You Covered: Food System Resilience In the Context Of Climate Change.
Saturday is the Sabbath, but each year it features a Community Design Workshop, where experts from various disciplines come together to map out changes to urban areas, whether or not they actually happen. This year's is titled An Urban Food Forest Case Study, a Big Box Store. If that means they're going to tear down a Home Depot on my neighborhood and put in native plants, I'm all for it. But I suspect that it's more complex than that.
Sunday is devoted to all kinds of seminars and workshops, and it's difficult to choose the ones you want to attend.
So I leave it to Robert Nevel to sell us on the best of the best. He will profess, of course, that all of the seminars are worthy, of course, and who am I to argue with him?
Faith in Place continues to help people find fresh food–even in winter
Peggy and I have promoted the good work of Faith in Place for awhile. This winter is no exception. The organization is sponsoring 16 markets this season. Four have been completed—so there are 12 markets yet to come, most of them in January and February.
They include a market at Northshore Congregation Israel in Glencoe on January 8, 2017. They are sponsoring a LINK Double Value program at the market that allows LINK cardholders to double the value of their purchases by providing them coupons in the amount of their purchases that can be used to purchase additional items at the market. We'll have demonstrations by Big Fish Aquaponics and one of our new vendors for this market is La Farine Bakery.
You can find a link to even more Winter Farmers Markets on The Mike Nowak Show home page at http://mikenowak.net/farmers-markets/. And we're happy to welcome Carly Persson, Winter Farmers Market Coordinator for Faith in Place to the show this morning to talk about their work.
Rick DiMaio weather and climate information continue on The Mike Nowak Show
I'm not sure I could continue to exist as a radio guy if meteorologist Rick DiMiao weren't part of the show. Fortunately, when we told him that we were moving to 1590 WCGO, he said "let's do it," or something to that effect. So he will be with us as we move forward. And Peggy and I couldn't be happier. We will be fighting the climate deniers and, let's face it, the idiots in the next four years. And when it comes to climate science, there's nobody I'd rather have on my side than Rick DiMaio.