January 21, 2018 – Soil Secrets, Flowertales
What's happening in the soil under the snow

A couple of weeks ago, I received an email from Susan Fisk, who is Director of Public and Science Communications for an organization called the Soil Science Society of America. Their mission, as they state on their website is to provide "information about soils in relation to crop production, environmental quality, ecosystem sustainability, bioremediation, waste management, recycling, and wise land use."
The message that Fisk sent was a trio of articles under the banner Under snow, underfoot: soils in winter. I looked over one of the stories, headlined, What happens to soil in winter? Does everything die? by Mary Tiedeman, who is an SSSA member. It had information like this:
Perennial plants that grow in colder climates, such as many grasses, trees, and shrubs, are able to withstand freezing. They develop root systems below the frost layer. The root systems of these plants perform a number of tasks that protect them from the cold. Roots can release a lot of water from their cells into the surrounding soil. This allows roots to endure colder temperatures without the risk of internal water expanding and damaging root cells. Water within root cells also contains higher concentrations of sugars and salts. They both assist in lowering the freezing point of water inside and between the cells (much like antifreeze!)
Because I'm a bit of geek when it comes to stuff like this, I thought, "Cool! I'll post it on The Mike Nowak Show Facebook page." I figured that a couple of people would enjoy it and that would be that.
I was stunned when a bunch of people on both Facebook and Twitter liked and shared it, which made me think that people are hungry for knowledge about how soils works. And if they're unclear about what happens down there when the weather is warm enough for plants to grow, they must be absolutely clueless about what happens during the winter, especially in the temperate latitudes, where snow and ice can create challenging conditions.
And when it comes to places like the Arctic or Antarctica, we might as well be talking about the moons of Jupiter. One of the articles that Tiedeman links to is something that was written in 2014 called Climate change puts spotlight back on Antarctic soils. Try this out for size:
But the word "frozen" implies the presence of hard ice, when all that really defines permafrost is a soil temperature below 0°C (32°F) for two or more years in a row. In other words, while ice is a critical player in Antarctic soils, permafrost can exist without ice in Antarctica. In fact, this "dry-frozen" permafrost is a common occurrence because of the continent's extreme aridity, Bockheim says.
This produces a phenomenon that even soil scientists sometimes struggle to grasp, unless they've seen it firsthand. "In Antarctica, you can easily dig a soil in certain areas, and then you stick a thermometer in, and lo-and-behold, the soil is at minus 30 degrees," Bockheim says. "But it's also loose. You can take a handful of it, and you might find the odd grain of ice. But it's so dry that the soil isn't cohesive."
Along the same lines is this article by Tiedeman, I've heard that soil microbes are living in Antarctica. How can that be? Obviously, we don't have those conditions in the Midwest. But it does make you think about what's happening underground during winter.
And as our recent snow cover disappears on this relatively warm January 21, we might wonder Why is it good to have the ground covered by snow? We'll get some of those questions answered by Mary Tiedeman herself this morning, who joins us on the show. She is a PhD Student of Soil Microbiology in the Earth and Environment Department of Florida International University.
She will be joined by Zhenwei Zhu, who is the Lab Manager/Analytical Chemist in the Institute of Environmental Sustainability at Loyola University Chicago. A couple of months ago, I noticed in a post by Chicago's Advocates for Urban Agriculture (AUA), that Loyola had established the Loyola Environmental Testing Laboratory (LETL).
So why is that a big deal? Well, I'm an Illinois Master Gardener, and one of the things that master gardeners try to convey to gardeners is the important of getting a soil test. The University of Illinois Extension provides a list of soil testing facilities, but it's always a struggle to get folks to take the time to get a test. So any new facility–especially one located within the City of Chicago–is welcome.
Their routine tests feature soil pH (acidity or alkalinity), salinity (salt level), lime, texture class, and plant-available phosphorus and potassium. Tests can also be done for various macro and micro nutrients, as well as contaminants. Find out the full list of tests and get other questions answered here.
Big changes for the 2018 Chicago Flower & Garden Show
Yes, it's January, but March will be here before you know it. And that's a month that features a lot of different events to usher in spring, including the annual Chicago Flower & Garden Show at Navy Pier. The theme this year is Flowertales: Every Garden Has a Story to Tell and, as in past years, it features more than 20 life-sized garden, daily seminars, DIY workshops, the Garden Gourmet Stage, delightfully distracting marketplace and more.
But what might be the most important thing to remember about this year's Flower & Garden Show is that it is now a five day event–Wednesday, March 14 to Sunday, March 18. That brings the Chicago show in line with the vast majority of shows in the country, which is ultimately a good thing for exhibitors, vendors and the public.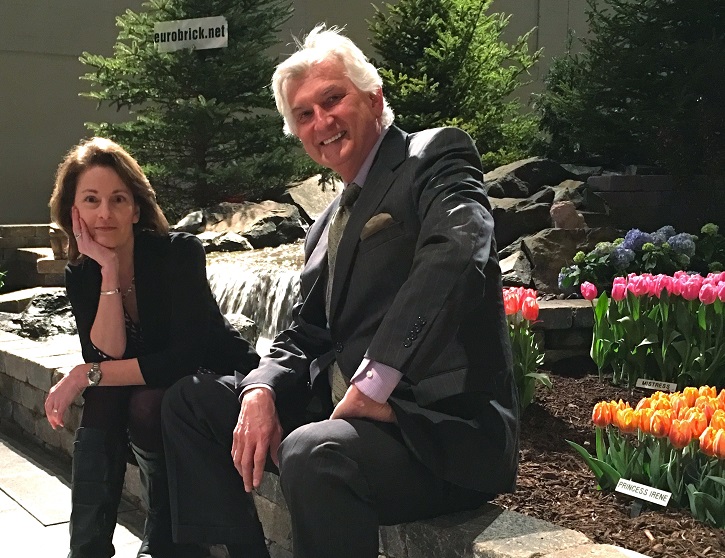 Once again, Peggy Malecki and I will be broadcasting The Mike Nowak Show live from Navy Pier, on Sunday, March 18 from 9-11am, and we'll feature a ton of guests. In addition, Peggy and I will be presenting a seminar together on Friday, March 16 at 11:30 a.m. It's called What's Important and How To Find It, and it's basically a "how-to" about tracking down accurate and helpful gardening information. We'll even take audience questions and track down the answers during our live demonstration, which is really performing without a net…kind of like live radio!
This morning, we welcome the man behind the plan, Tony Abruscato, who is President and Show Director of the Chicago Flower & Garden Show. He purchased the event and brand in 2011, also becoming Owner and President of Flower Show Productions, Inc. And now he's responsible for keeping this event–which has been part of Chicago since about 1847–relevant and flourishing. No pressure at all.
This morning, Tony gives us a preview of the 2018 incarnation of the new, improved and streamlined Chicago Flower & Garden Show.