February 11, 2017 – The Beauty and "Chicugly" of Nature

The Great Lakes Bioneers McHenry County Speaker Series returns to McHenry County College
I have often wondered if there is something in the water in McHenry County, Illinois that makes its citizens so attuned to nature. Or, it might just be, as has been pointed out to me, that McHenry is one of those counties that encompasses land that is urban, rural and natural, depending on where you are, which gives the residents a unique perspective.
McHenry County College and its Sustainability Center help to feed that awareness, with their
Green Community, including how MCC shares with the community resources that improve quality of life,
Green Campus. including physical campus and campus operations,
Green Curriculum, which includes curriculum development for a green economy and training for employees and students about sustainable practices.
As part of the Green Community, each February MCC hosts the Bioneers Speaker Series, as a way to connect MCC employees, students and residents to cutting edge environmental topics that directly impact the local economy and community.
If you're wondering what a "bioneer" is, click on that link, or just know that the phrase was coined by Kenny Ausubel in 1990 to describe "social and scientific innovators who are mimicking nature's operating instructions to serve human ends." There are loosely affiliated bioneers communities across the country, which includes the Great Lakes Bioneers.
This year's series at MCC features three speakers, one of whom has already spoken:
2/7/17 – Dale Sands on Resiliency, Climate Change, and Communities on the Edge
2/21/17 -Tania Schusler, Ph.D., on Engaging Citizens in Civic Ecology Practices
2/28/17 – Shalini Gupta on Building the Social Justice Narrative on our Environmental Crises
The speaker series is free and open to the public. No registration required. All sessions are at 7 p.m. in MCC's Luecht Conference Center in Building B located on the main campus in Crystal Lake.
Peggy and I are pleased to have Kim Hankins, director of MCC's Sustainability Center, on The Mike Nowak Show this morning to fill us in about the Bioneers Speaker Series.
Wild Things 2017 is all about nature…and people
As you can tell by the subject matter of today's show, February is a month that often features a boatload of conferences and talks. One of the most anticipated by friends of nature is the Wild Things Conference, which occurs next Saturday, February 18. That's partly because it comes around only every other year and because it is a full day of seminars–more than 100 of them!–about Chicago natural areas, their flora and fauna, habitat, conservation, preservation, citizen science and more. Here are just some of the titles, in no particular order:
Flutter, Slither, and Buzz: Prioritizing Species Conservation in Chicago Wilderness 
Snakes in the City
Ants in the Prairie 
Urban Wild: The Art and Story of City Creatures
Chicagoland Urban Coyote Project
Chicago's Native Bees
Past, Present and Future: Understanding Climate Change in the Chicago Region
Animal Fears
CLC Introduces Private Property Corridor Mapping: Green Infrastructure Mapping Can be Used to Identify Priority Habitat Corridors
The Myth of the Balance of Nature (Or: If a Species is Trashing the Planet, Why Humans are the Best-Case Scenario)
Singing Insects 101 
Are you starting to get the idea? The presentations run from the arcane to the artistic to the heartfelt to the curious to the challenging. So, do you want to score a ticket to this great event at the UIC Forum? Good luck, the event is sold out! I guess that's what happens when you have a conference that has been going on in one form or another since the mid-1970s!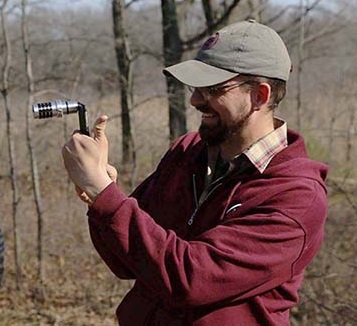 Still, it's good to know that this kind of program is so successful. And Peggy and I are very pleased to have Robb Telfer, Calumet Outreach Coordinator for The Field Museum on the show today. He and Emily Graslie, who is creator of The Brain Scoop video blog and Chief Curiosity Correspondent for The Field Museum. lead off the conference with a talk they call Chicugly: Redefining Natural Beauty in Chicago. Here's how they explain it:
When discussing conservation with the public, often select charismatic plants and animals are used as the faces of the work we are doing. But just like in human society, there's much more to enjoy about the natural world than the conventionally attractive has to offer. This presentation celebrates all that is ugly and unloved by mainstream society as reflected in the flora and fauna of the Chicago region.

Works for me. I'm looking forward to that conversation and to Wild Things next week.