December 17, 2017 – The Gutting of America's Natural Areas

Let's be clear. Our country is under attack from within. To be precise, from 1600 Pennsylvania Avenue. Our democratic institutions are being undermined. Our infrastructure is crumbling. Our educational system is condemning students to decades of debt. The middle class and poor are being robbed of their healthcare, their Social Security, their dignity and their lives, liberty and pursuit of happiness as certainly as if they were being held at gunpoint.
And that's even before we look at what's happening to the natural world around us.
The environment almost always takes a back seat to every other issue that makes the Sunday morning news programs. You might remember that the 2016 presidential campaign was notable for the lack of debate about our natural world. So here we are at the end of 2017, witnessing first hand how, in the United States, elections have consequences.
Earlier this month, the guy in the White House announced that the boundaries of Bears Ears National Monument in Utah were to be shrunk like a wool sweater left in a drier set on high heat.
The monument, a vast, remote stretch of red rock canyons, dotted with Native American sites, was reduced by 85 percent – more than a million acres – and divided into two disconnected parks. The nearby Grand Staircase-Escalante National Monument, designated by President Bill Clinton in 1996, was also diminished by 45 percent.
Eco Watch points out that those acres will immediately be under threat from things like all-terrain vehicle (ATV) use; land treatments like so-called "chaining," in which bulldozers drag enormous chains across the desert to uproot trees; damage to priceless archaeological and cultural sites; and fossils exposed to vandalism.
But the real damage will be done in the name of the real purpose the national monument is being unraveled: energy exploitation.
But the nation's sole uranium processing mill sits directly next to the boundaries that President Barack Obama designated a year ago when he established Bears Ears. The documents show that Energy Fuels Resources (USA) Inc., a subsidiary of a Canadian firm, urged the Trump administration to limit the monument to the smallest size needed to protect key objects and areas, such as archeological sites, to make it easier to access the radioactive ore.
And, apparently, the government isn't particularly shy about letting the world know that they have a new focus. The Wilderness Society writes,
The Bureau of Land Management's flickr page, long a repository of gorgeous parks and public lands photos, appears to have a new focus: coal, oil and other fossil fuels.
In March 2017, the Bureau of Land Management's (BLM) main flickr account uploaded a picture of oil and gas operations on an unnamed tract of land in Wyoming. Since then, as the Trump administration has rolled back environmental rules and catered to special interests, the  popular mypubliclands page has only uploaded photos related to fossil fuel extraction—26 images in all. 
More ominously, this is just the tip of the iceberg, according to an investigation called The Plot to Loot America's Wilderness by Adam Federman of The Nation Magazine. In a piece called This Is How the Trump Administration Gives Big Oil the Keys to Public Lands, Federman states,
Seeking to expand domestic energy production, the Trump administration is rapidly opening up tens of thousands of acres of public lands that were once considered off limits to energy production. President Trump's recent move to shrink the Bears Ears and Grand Staircase–Escalante national monuments has attracted considerable attention, but those are not the only sensitive lands at stake. On December 12, the Bureau of Land Management will auction off more than 66,000 acres in Utah for oil and gas drilling, including parcels very close to Dinosaur National Monument.
In The Plot to Loot America's Wilderness, Federman paints a chilling portrait of James Cason, the associate deputy secretary at the Department of the Interior, who has systematically begun removing veteran civil servants from the DOI's Bureau of Land Management (BLM).
Cason, who once described himself as the department's "regulatory czar," has also overseen the dismantling of rules governing energy development on public lands. The DOI is poised to open up millions of acres to drilling and mining—from Utah's red-rock country to the frigid, perilous waters off Alaska's coast—while stripping away basic environmental protections and reducing transparency. Across the Trump administration, the new mantra is "energy dominance"—a vision of the world in which the United States will amplify its influence with a dramatic expansion of oil, gas, and coal production, whatever the environmental costs.
This is not the first assault on America's natural areas, but because Congress is a rubber stamp for the current administration, it could be the most devastating. Peggy and I welcome Adam Federman to The Mike Nowak Show this morning to talk about his investigation.
A couple of women who are changing the world
It isn't every day that friends of mine decide to run for Congress, so I was pleasantly surprised when I heard that Beth Vercolio-Osmund was throwing her hat in the ring for a seat in the Illinois 16th Congressional District. If her name sounds vaguely familiar to listeners of the show, it's because her husband, Jody Osmund, was on the program just a few weeks ago to talk about the slow food movement.
He and Beth run Cedar Valley Sustainable Farm in Ottawa, Illinois and over the years I have interviewed them a number of times.
Apparently, the idea of joining the legions of women across the country who are seeking office in 2018 came out of the blue for Vercolio-Osmund. Here's what she wrote on her Facebook page on November 29: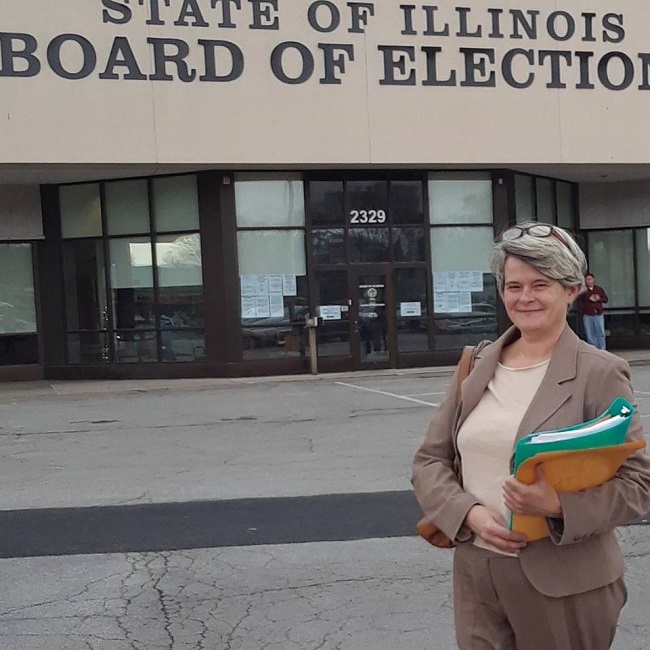 Hey friends,
I'm not going to bury the lede. I need some help and I need it in a hurry.
Fifteen years ago, our family made a huge leap to leave our corporate jobs and suburban lives to start a Community Supported Agriculture farm.
Since then, I've become an activist, educator, and leader in our community. A few weeks ago, a good friend who knows a lot about politics suggested that I run for office. After much mulling (perhaps too much), I've decided that "I'm not throwing away my shot" and am going to try to get on the Democratic primary ballot for U.S. Representative.
To do this, I need 600+ registered voters in the 16th district to sign my petition and I need them in time to turn in to the board of elections on Monday, December 4th.
To make a long story short, a bunch of friends thought this was a good idea and pitched in to help her get it done. Beth will be on the primary ballot on March 20, 2018. And today she is on the show with Peggy and me to talk about the challenge of getting elected next year.
Joining Beth in studio this morning is Whitney Richardson, and all of us have a connection–the Logan Square Farmers Market. Whitney co-directs that market, which is Chicago's only year-round weekly farmers market, and Cedar Valley Sustainable Farm sells their wares there. And I play the role of consumer–I get my sustainable meat products from Cedar Valley at the Logan Square Farmers Market.
By the way, LSFM runs every Sunday from 10am until 3pm from the second Sunday in May through the last Sunday in March, excluding holidays. The Outdoor Season, running May through October, hosts 60 unique local farm and food producers each week. The Indoor Season, currently hosted by Emporium Arcade Bar of Logan Square (2363 N. Milwaukee Ave.), runs weekly from November through the end of March, with 35 unique local farm and food producers each week.
Whitney was on The Mike Nowak Show last year to talk about her role as regional development manager for The Kitchen Community Chicago, which is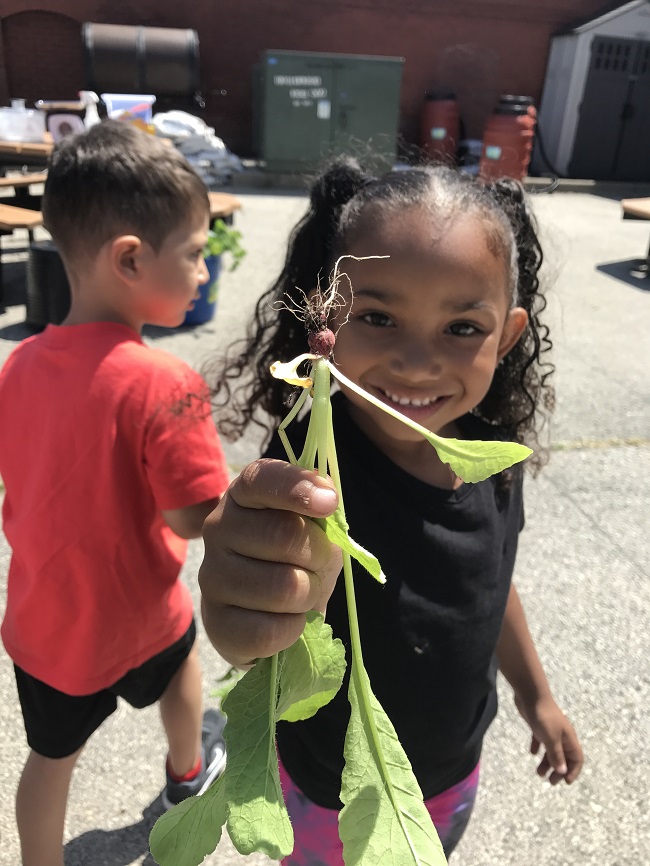 part of a national non-profit operating in several regions across the US. They install and support school-based Learning Gardens– inviting outdoor classrooms centered around long-lasting edible garden beds.
Since 2012, the Kitchen Community has built 154 Learning Gardens across Chicago Public Schools, providing access to Learning Garden Education to over 100,000 CPS students every day. By the end of school year 2018-19, they aim to support 200 Learning Gardens across CPS. After installation, they provide indefinite support to their schools with seeds and seedlings, offer workshops and one-on-one trainings, partnership support, and with custom curriculum and a whole library of standards-aligned garden lessons and activities. They are always available to help figure out what that bug is that's eating their tomatoes or why they haven't had any cucumbers this summer.
By the way, those services are provided free of cost to schools. However, it does take money to make that happen, so any donation you make to TKC Chicago by December 31 of this year will get a 20% match.